Lines have been drawn, calculations have been made, sides have been taken. It's a battle extravaganza in this MBA podcast episode, which pits the GMAT against the GRE. Two special guests join Clear Admit's Graham Richmond in the great business school admissions debate: GMAT or GRE?
Brian Galvin, Veritas Prep's Director of Academic Programs, represents the GMAT.  Since earning a Master's in Education from the University of Michigan, Brian has made the GMAT his full-time course of study since 2006. In addition to his amateur stand-up comedy career and status as a certified Ironman, Brian might very well be one of the foremost GMAT experts in the world.  David Newland, Veritas Prep instructor, tutor and author, will make the case for the GRE.  David has worked with students from every continent except Antarctica in his 13 years with Veritas. He has taught over 200 courses between the GRE, GMAT and LSAT. He has 99th percentile scores on the LSAT, GMAT and GRE—including a perfect 170/ 170 on the GRE.
When it comes to clearing this hurdle in the MBA application process, there are many factors to consider in choosing between the two popular tests. In this episode, Brian and David will help you decide which test is right for you, as they debate the pros and cons of each exam including ease/difficulty, applicability, user friendliness, school preference and more.
Tune in!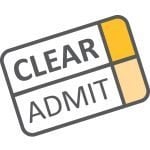 If You Like What You've Been Hearing, Please Subscribe and Rate Us on iTunes!
We have been absolutely delighted to see our listeners tuning into our podcast series in growing numbers. Please, if you have enjoyed what you've heard, won't you take a moment to rate the Clear Admit MBA Admissions Podcast in iTunes? That can really help even more listeners find us. And to ensure that you never miss an episode, why not subscribe?  If you have an idea for a future podcast, feel free to run it by us! Please send your pitch to [email protected].
This episode was hosted by Graham Richmond and produced by Contributing Editor Jonathan Pfeffer. Thanks to all of you who've been joining us! Ranking us in iTunes can help others find us, too, and subscribing means you'll never miss a podcast.