Sponsored Content
Business is more competitive than ever before. As the world gets smaller and more connected, international business isn't just a catchphrase, it's a fact of life. It's almost impossible to work for a company that doesn't have some global reach.
The reality is that business, government, and international relations are tightly intertwined, and yet few job candidates are prepared to adopt a global perspective. To get a leg up on the intense competition in the most attractive jobs and industries, a job candidate has to have something that makes them stand out. And that's why top-notch MBA programs such as Georgetown University's McDonough School of Business exist.
The value of an MBA is different for every candidate, but there's no denying that it's mostly focused on making candidates more attractive to potential employers. According to the Association of International Graduate Admissions Consultants (AIGAC), MBA candidates want to attend an MBA program that:
Helps them acquire new information, skills, and/or knowledge (63%).
Provides access to job prospects (57%).
Grants access to a strong network (57%).
Unfortunately, what most MBA candidates fail to realize is that it's not just the curriculum and faculty that they need to consider to achieve their career goals. The MBA Career Center at their school of choice will be just as important.
The Value of an MBA Career Office
The value of an MBA Career Center, such as the career office at Georgetown McDonough, cannot be overstated. The Center works alongside their academic and student services teams to help produce highly-trained graduates who are attractive to potential employers. Last year, McDonough's Career Center helped the business school earn top rankings regarding career aspirations, according to Bloomberg Businessweek:
1st in the world for having the best-trained graduates,
3rd in the world for having the most creative graduates,
3rd in the world for showing exceptional entrepreneurial skills,
4th in the world for the value of the school's brand,
7th in the world for the diversity of the recruitment pool.
A strong career office can prepare MBA students to be leaders and problem-solvers in the fast-paced world of global business. It's all about how it's integrated into the MBA program and what opportunities are open to students.
The Role of the Georgetown McDonough MBA Career Center
At Georgetown McDonough, the career office plays a vital role in the MBA program from beginning to end.
An Early Start on the Job Search
Georgetown McDonough MBAs begin their experience with the MBA Career Center before they even arrive on campus. During the Summer Webinar Series, students start preparing for their job search immediately.
First, they receive help creating three of essential deliverables for their career marketing portfolio:
An MBA Career Prospectus that helps students define their post-MBA career path and networking strategy.
A career accomplishments record that will be used in the student's resume and will serve as an interview prep guide.
A standard MBA resume that will be tailored throughout the job search process.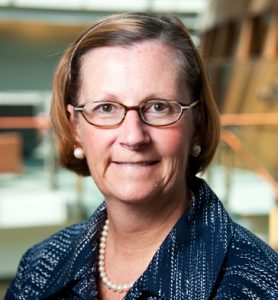 These deliverables are essential to a successful job and internship search, so the MBA Career Center ensures that students have them at their disposal as soon as possible. It's from these documents that McDonough's team of dedicated, certified career management coaches facilitate every student's individual career strategy. In fact, all incoming full-time students participate in their first coaching conversation upon the completion of their deliverables.
"Starting the process early provides a competitive advantage to our students; they are able to accelerate the preparation needed to ensure they are ready and confident when they start encountering employers on campus in September," says Doreen Amorosa, associate dean of McDonough Career Services.
Arriving MBA students also take a Job Search Course with five on-campus modules during orientation and the first term. Topics covered during these modules include job search communication, networking, interviewing, and resource availability. The goal is to ensure that students are prepared to handle every facet of the job search process before they begin deep-diving into the curriculum and gaining new skills, and long before they start the internship process.
Direct Help for Career Switchers
Most MBA students are career switchers. They're pivoting away from their current career function or industry to something else, something better—even if they don't know what that is. Without an MBA, changing careers is incredibly difficult.
That's what McDonough's MBA Career Center is there for—to help you figure out where you want to be in your career and how to get there.
"The MBA Career Center at Georgetown's McDonough School of Business works with each student to create a 'Personalized Job Search Plan,'" explains Amorosa. "With a tailored plan for each individual, students can better focus their time: Targeting the right companies, connecting with the right alumni, and better organizing their searches. They become stronger candidates than they would with a general job search approach."
This personalized job search plan is critical to the career preparation process. It recognizes the fact that every student is unique and that a one-size-fits-all recruitment outline is not effective, particularly for non-traditional candidates. Instead, McDonough MBAs have the opportunity to work hand-in-hand with a certified career coach to ensure that their resume, background, experience, skills, and curriculum path matches their end goal.
Connecting You to Companies, Recruiters, and Alumni
It's about who you know as much as what you know. The relationships you'll build during your MBA program are just as essential as the curriculum. In fact, those relationships are often more important because they will be the basis for your career success for years to come.
A strong career center should expose you to as many MBA career opportunities as possible. You should have multiple chances to expand your global network, meet recruiters, and interact with key players in your targeted functions, industries, and companies. It's about having access to participate in a wide sample of events.
"At McDonough, the MBA Career Center functions under an Industry Practice model," explains Amorosa. "Our career advisors focus on one or more industries, and advise students on every job search facet: resumes, cover letters, mock interviews, etc. They also manage relationships with alumni and employers in those industries. That's a huge advantage to our students, as they can have a much more effective job search strategy conversation for how to best navigate and get in front of their target companies."
For example, McDonough MBAs will have access to industry coaches and peer advisors in 14 different areas:
Consulting
Consumer Goods & Retail
Energy & Clean Tech
Entrepreneurship
Financial Services
Government
Healthcare
Hospitality
International Development
Manufacturing & Transportation
Media, Entertainment, & Sports
Not-for-Profit & Social Impact
Real Estate
Technology
This means students have access to a coach who precisely understands the job search process in their respective industry for much more focused support. It also means students work with an individual who has specific industry knowledge when it comes to managing relationships, recruiting, and career advancement. As a student, you won't have to guess if your resume, cover letter, LinkedIn reviews, interview plan, and networking strategy work for your industry goals—you'll know.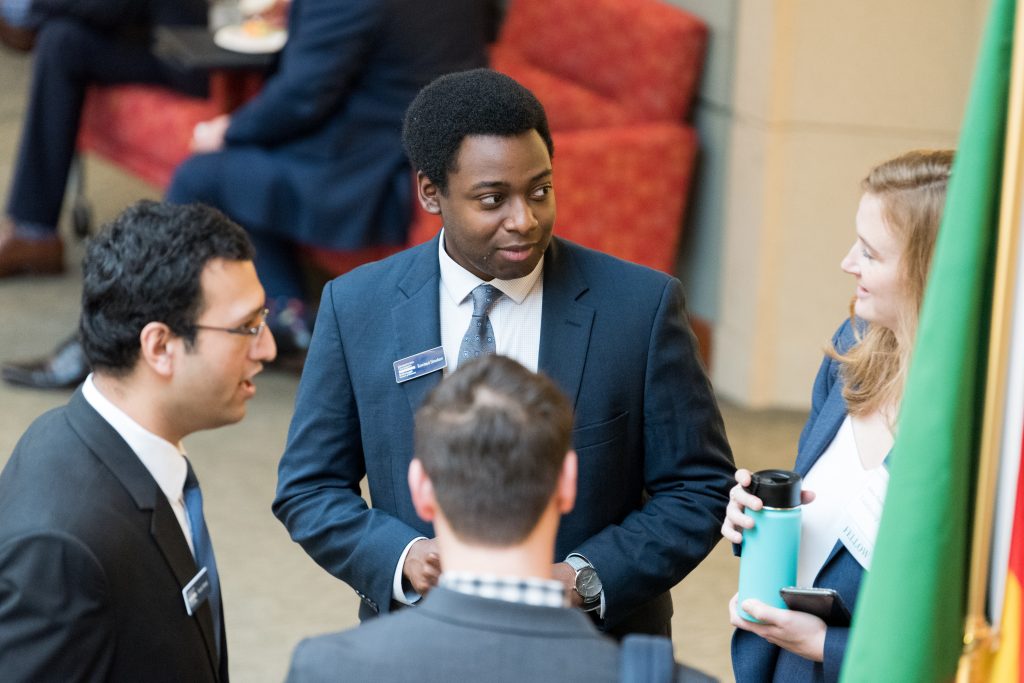 Enhancing Your Job Marketability
An MBA doesn't automatically make you a good candidate in the job market. You also have to be an effective interviewer with a solid resume, extensive work experience, and knowledge about how to position yourself. You might be the most qualified candidate, but if you can't explain to potential employers what you bring to the table, it won't matter.
At the McDonough MBA Career Center, their goal is to prepare students to handle every aspect of the career process. Whether you're interested in switching careers or advancing in your current path, the career office will help you put your best foot forward.
"Our priority is to make our students effective strategic communicators vs. better job seekers," explains Amorosa. "Every aspect of a job search should be considered a strategic communication. Students are more likely to be judged favorably by recruiters based on how they communicate about where they want to go post-MBA and their previous work experience."
Students will learn how to successfully approach potential job opportunities and to strategically use their MBA to advance their prospects. Through certified career coaching, career curricula instructors, and operations staff, they'll learn strategic career advancement techniques and how best to connect with top MBA employers.
"With most MBA students switching something, recruiters are looking for predictors of success," says Amorosa. "'Can I bring this person into our organization and can they be successful?' It comes down to a candidate's ability to communicate accomplishments and build a relationship with the company/organization throughout the process. That takes far more finesse than just being a job seeker, and that's what we aim to teach our students."
Gaining Practical Experience
Lastly, real-world business experience is essential to career success. It's responsible for exposing students to new business areas that they might not otherwise have considered, and it's what makes MBA students more attractive to potential recruiters. And Georgetown McDonough offers many high-quality, practical experience opportunities for students.
The school's Jesuit heritage inhabits the idea of "Learn, Act, Reflect:"
Learn: Individuals learn first in the classroom.
Act: After understanding the new knowledge, students take what they've learned and apply it in a concrete way.
Reflect: Lastly, students reflect on what they experienced.
Ultimately, the McDonough MBA Career Center's goal is to help students become as agile as possible in the job market so that they can respond to the changing nature of business. Here's a little about what that looks like in terms of practical experiential experience.
Workshops, Seminars, and Career Days
MBA students can attend a variety of workshops and seminars with industry experts. Each of these events is a great way for students to gain a first-hand look at a growing area of interest or career opportunity. For example, an alumnus who works as a senior product manager in Silicon Valley visits campus twice a year to host an optional workshop. It provides students with "a day in the life" of his career.
In addition, there are workshops and programs that include Mock Interview Days, Career Fair Prep Bootcamp, Offer Negotiations Workshops, Technology Career Day and more. "Throughout the academic year, we insert career programming to align with what support students need as their internship and job searches progress," says Amorosa.
And every Friday throughout the fall semester, the MBA Career Center arranges Career Days. These one-of-a-kind events offer students the chance to explore various MBA career functions and paths based on their interests. It's a great way to network and gain insight into such areas as:
Consulting
Emerging Markets
Energy
Entrepreneurship
Finance
Global Real Estate
Healthcare
Human Capital
Marketing
Operations/Management
Career Treks
Domestic and international treks take students to employers to learn on-site. Small groups of MBA students travel to an epicenter for their particular industry and meet with recruiters, industry leaders, and alumni in their respective fields to gain first-hand knowledge and experience.
Career Treks head to:
Washington D.C. to visit The World Bank, International Finance Corporation, HelloWallet, Personal, Exxon Mobil, Opower, and more.
New York to visit:

Consulting firms: Deloitte, Capgemini, Accenture, PwC, and more.
Entrepreneurship firms: EverFi, Optoro, Halcyon House, Social Tables, 1776, Trackmaven, Google, CommonBond, Pymetrics, Gotham Ventures, Grand Central Tech, and more.
Wall Street & real estate firms: Tishman Speyer, JP Morgan, Citi, Carlyle Group, Bank of America Merrill Lynch, Deutsche Bank, Goldman Sachs, Nomura, Wells Fargo, BMO Capital Markets, and more.

Silicon Valley to visit Google, Apple, Facebook, Salesforce, Andreessen Horowitz, Citi Ventures, Coinbase, Cloudflare, Rakuten, Netflix, and more.
Houston to visit energy firms, including Shell Corp., Nobel Energy, Capgemini, NRG Energy, and more.
New Jersey, New York, and Boston to visit healthcare employers, including Merck, Novo Nordisk, GlaxoSmithKline, Athenahealth, and more.
New Jersey, Chicago, and New York to visit marketing firms, including American Express, PepsiCo, Citigroup, SC Johnson, and more.
International locations, including Dubai, Hong Kong, London, and Madrid.
"Career Treks provide a view into what corporate cultures and work environments are like. They allow employers to differentiate themselves, and students to envision themselves as employees," explains Amorosa.
MBA Career Centers Are Essential to Success
The Georgetown McDonough's MBA Career Center's ultimate goal is to engage students in the job search process as much as possible. Students will learn about emerging skills, knowledge, and mindsets while, at the same time, developing relationships with recruiters and alumni who can help them in the job search process.
Learn more by visiting the school's website, viewing the 2019 Employment Report or emailing [email protected].