Consultants wear many hats and take on innumerable roles at the behest of their clients. Fortunately, MBA programs, like the one at Cornell Johnson, can prepare career switchers and analysts alike for the demanding expectations of the industry.  In this edition of Real Humans – Alumni, we hear from Peter Akinleye, who wanted to switch careers from consumer goods and retail to consulting, and sought out an MBA as the vehicle to do so.
Akinleye landed at the prestigious Bain & Co., which was founded in 1973 and is established as the third member of the elite MBB.  While Bain employs nearly 11,000 people across 58 offices in 37 countries, it is the smallest and youngest of the MBB.  Their strengths include its focus on learning and mentoring, the intimacy of its alumni network and its track record of delivering measurable results to clients.  They also take the path less traveled, carving out success in unexpected ways compared to their peers. For instance, they hopped on private equity decades ago and become a dominant force in advising the field.
Read on for how the Johnson MBA prepared Akinleye for the dynamic life of a Bain consultant, his advice about graduate management education, and much more.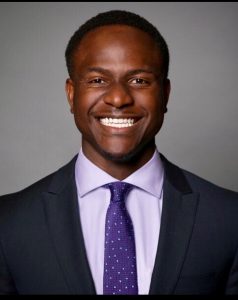 Peter Akinleye, Cornell Johnson '19, Consultant at Bain
Age: 27
Hometown: Wilmington, NC
Undergraduate Institution and Major: Finance – North Carolina A&T State University
Graduate Business School, Graduation Year and Concentration: Cornell Johnson, 2019
Pre-MBA Work Experience: 3 years – 3M Company – CPG & Retail
Post-MBA Work Experience: Less than 1 year – Bain & Company – Management Consulting

Why did you choose to attend business school?
I chose to attend business school for three reasons: to jump-start a career shift, expand my professional network, and improve my leadership skills. While my previous career was rewarding and challenging, I wanted to shift into more of a strategy and operations role in which I would be tasked with re-allocating corporate resources and identifying business development opportunities for the long-term success of an organization.
Business school is also an incredibly efficient and organic way to develop strong ties while widening your professional network. In two short years, I was able to create and cultivate the closest of endearing relationships! Finally, business school forces you to step into multiple leadership roles. This allowed me to get out of my comfort zone, while teaching me to check by blind spots.

Why Cornell Johnson? What factors figured most prominently into your decision of where to attend?
During the business school search, you are faced with numerous decision points. Many of those decisions are difficult. That said, the easiest decision for me was when I decided to come to Johnson! During my search, I was looking for three things: a place where I could jumpstart a career shift, expand my professional network, and improve my leadership skills.
Chatting with Johnson alumni, current students, staff and faculty, it became very apparent that I would find all three of those stated desires at Johnson. The discussions were different, but the messaging carried a common thread. In addition, Johnson's approach to coursework was very attractive. Not only could I learn through the case and lecture methods, but Johnson also offered experiential-based learning that allows students to complete projects with companies in their intended careers while still in school.
What about your MBA experience prepared you for your current career?
As a consultant, it is incredibly important for me to be comfortable working in teams and to be at ease navigating difficult or ambiguous situations. Johnson afforded me the opportunities to practice and hone these skills. Our Core Team process uses algorithms to align with three or four other first-year students to form a team. You spend the entire first year completing classes, competitions, and projects with your team, while each of you take turns leading the efforts. The algorithm matches you with people that you might not have naturally worked with – better simulating a real life work experience.
Additionally, there are no shortages of leadership learning opportunities at Johnson in the form of classes, guest lecturers, community engagement, and on campus clubs. Throughout these opportunities, we are taught how to navigate unfamiliar spaces. We are also instructed about how to facilitate difficult conversations. How to give space and take space to create more equity in our environments is also a priority. The experiences gained from these learning opportunities have been incredible helpful during the start of my consulting career.
What was your internship during business school? How did that inform your post-MBA career choice?
I interned at Bain & Company. After receiving the return offer from the firm, returning to Bain was an easy choice.
Why did you choose your current company? What factors figured most prominently into your decision of where to work?
I chose to work at Bain because of the generalist model and the incredible culture. During my search, I was happy to learn that being a consultant at Bain meant that I did not have to align myself to an industry or functional area out of the gate. This allows me to set my own path, and work across functional areas and industries in search for what I am most passionate about. Lastly, and most importantly, I was excited to join Bain's incredible culture. A perennially top place to work, Bain has a culture that is familial and built on mentorship. As a career switcher, it was important for me to work at a place that cared about the personal and professional development of the employees.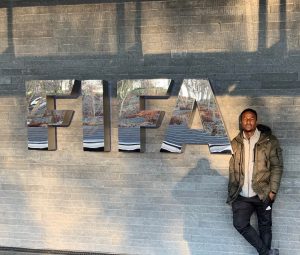 Advice to current MBA students:
–One thing you would absolutely do again as part of the job search?
Fully invest in knowing your story, and be able to articulate it clearly and concisely!
–One thing you would change or do differently?
Ditch the ruler. There is no need to spend time and energy comparing yourself to others. The job search process is largely unique to the individual.
–Were there any surprises regarding your current employer's recruiting process?
The biggest surprise was the amount of resources that were given to interviewees. Once I received an interview, I was aligned with multiple practitioners to give assistance with anything from general interview process questions to case prep. The practitioners were also very responsive!
–What piece of advice do you wish you had been given during your MBA?
During the MBA, we are so focused on the immediate post-MBA role. I wish I had received the advice to increase the consideration of longer term goals. Having an early idea of the second, third, or fourth role out of the MBA will make them that much more attainable. 
What's the best thing about working for your current employer?
At Bain, we have a structure in place that allows us to maintain a culture that keeps the employees inspired, valued, and motivated. That, in addition to our ability to drive extraordinary value for our clients inspires me to come to work every day. I get to work with extremely intelligent and down to Earth people, while working with clients on projects that I can be proud of!