Clear Admit will be hosting a FREE webinar for admitted business school candidates on Friday, May 1st at 12pm ET.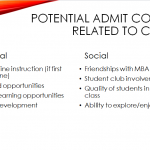 While the 2019-20 MBA admissions season began with bright dreams and clear plans, the COVID-19 pandemic has introduced fear and uncertainty. Our admissions experts, Graham Richmond and Alex Brown, will be addressing concerns admitted candidates may have—based on findings from our admitted students survey (see photo)—about choosing a business school amid this new normal in the webinar.  They will also discuss general best practices for school selection and share key ways that candidates can research these decisions now that they cannot get to campus or meet alumni.
Alex and Graham will conclude the webinar with a Q&A so attendees can have a chance to express their concerns directly and seek further insights.
If you're planning to matriculate this fall or just wondering if you should, don't miss our FREE webinar on May 1st at 12pm ET: