Calling all business school applicants targeting Fall 2021: We're launching a webinar series this summer – the Clear Admit MBA Admissions Academy – and you're invited!
Your dedicated admissions experts, Graham Richmond and Alex Brown, will be hosting a series of six webinars to teach you everything you'll need to maximize your chances of success in the 2020-2021 admissions season. Each hour-long webinar will begin at 12 p.m. EDT.
These webinars will build on each other and are designed to be taken as a complete series (though you're welcome to attend a la carte if you're not able to commit to all six). We'll also be providing opportunities for you to connect with your "classmates" throughout the summer.
See what topics we'll be digging into below, and be sure to register today!
| Webinar Theme | Date |
| --- | --- |
| Applying to B-School During COVID-19 | June 23, 2020 |
| Choosing Target Schools and Balancing Across Rounds | July 7, 2020 |
| Essay Writing 101 | July 21, 2020 |
| Selecting and Managing Your Recommenders | August 4, 2020 |
| Data forms, Short Answers, & Other Materials | August 18, 2020 |
| Zoom/Skype Interview Tips | September 1, 2020 |
You may recognize our hosts, Graham Richmond and Alex Brown, from our weekly Wire Taps  podcast episodes, and they're looking forward to bringing their decades of admissions experience to the MBA Admissions Academy Webinar Series.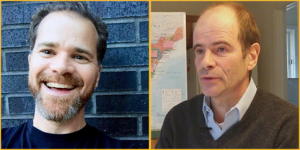 Richmond, a co-founder of Clear Admit and Wharton MBA, also co-founded the Association of International Graduate Admissions Consultants (AIGAC) in 2006 and served as the organization's President for several years. In addition to supporting MBA applicants through the admissions process for decades, he's also presented advice and research to business school admissions stakeholders at the annual conference of the Graduate Management Admissions Council.
Brown began his MBA admissions career as the Admissions Director at the University of Delaware, then served for seven years as a Senior Associate Director of Admissions at the Wharton School. Brown joined Clear Admit after his tenure at Wharton, and has worked as both a consultant, helping applicants develop their best applications, and more recently as community manager for Clear Admit.