Lisa Rios, the Executive Director of MBA Admissions at NYU Stern, joins us in this Admissions Director Q&A to cover the hallmarks of the Manhattan-based MBA program. A member of the admissions team since 2008, Rios works with the Full-time MBA programs. Prior to Stern, she worked in industry at JP Morgan Chase and Liz Claiborne. Such industry ties and experience are also an advantage NYU MBA students can expect to gain during the full-time program. Below, Rios discusses how NYU's location, experiential courses including Stern Solutions and much more, support real-world industry relationships and skill-building.  Read on for what stands out at NYU Stern, what to expect in the admissions process, and how to approach your application essays.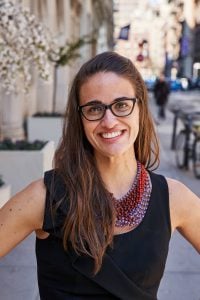 Clear Admit: What is the one aspect of the NYU MBA that you wish applicants knew more about?
Lisa Rios: Students who choose to come to Stern's MBA program develop the skills and mindset to embrace and drive change, and immerse themselves in an environment that fosters an entrepreneurial mindset. With our deep ties to industry, they gain access to the organizations and executives leading innovative solutions across global brands, nonprofits and startups throughout their MBA experience. For example, Stern Solutions experiential learning courses and projects give students opportunities to help a corporate partner solve a real business challenge in real time. Past partners have included Citi Ventures, the CFDA and BMW, to name a few. Students can also get involved with Endless Frontier Labs, a program at Stern for early-stage science and technology-based startups who apply from around the world, and through an affiliate course they can have a hands-on, front-row seat to learning how to scale a startup.
Stern's agile, entrepreneurial spirit has served our community well in this current time of so much rapid change. When the pandemic began this spring, Stern was able to adapt nimbly and quickly and created SternWorks, a major new initiative to connect MBAs with vital small businesses in need of help to share their skills and give back to the NYC community. We also launched a new faculty virtual lecture series for MBAs on the business impact of the coronavirus, called Faculty Insights: Covid-19 and New York City, as an added real-time learning opportunity.
Lastly, both the two-year full-time MBA and Andre Koo Technology & Entrepreneurship MBA programs are STEM certified.
CA: How might the NYU MBA applicant experience look different this year due to COVID-19? How would you advise candidates to get to know your MBA program and student community if they aren't able to visit your campus?
LR: The application process has always been a great opportunity for self-reflection and evaluation. We anticipate that prospective students will continue to use the application process as a way to reflect on their professional experiences, personal values, and to set career goals. The best way to get to know Stern and our community to decide if it's the best MBA for you is to join us for one of our many upcoming virtual events. You can connect with current students at virtual information sessions and coffee chats. You can hear tips from the Admissions Committee and ask your application questions at upcoming webinars and presentations. More information can be found in the Meet with Us section of our website – check back frequently as we are continuously adding new events.
Also new this year, in addition to accepting the GMAT, Executive Assessment (EA) or GRE, we will now also be accepting the Medical College Admission Test (MCAT), the Law School Admission Test (LSAT) and the Dental Admission Test (DAT). Test scores, which are a predictor of academic readiness, are just one component of our holistic admissions process, but we hope this expanded range of options gives applicants added flexibility.
CA: Walk us through the life of an application in the NYU MBA admissions office from an operational standpoint. What happens between the time an applicant clicks "submit" and the time the committee offers a final decision (e.g. how many "reads" does it get, how long is each "read," who reads it, does the committee convene to discuss it as a group, etc.)?
LR: We have four application deadlines, but we employ a rolling notification process, which makes us different from other schools that have a round system. Each application deadline has a corresponding initial notification deadline as to when we will get back to you, but that's the latest possible date and we try to release our initial notifications as soon as we have them. We understand that this can be an anxious process, and we don't make people wait longer than necessary.
Every application is considered by the Admissions Committee and every application is reviewed more than once, so it's not just a single individual's decision. And, in some cases, the committee will debate quite a bit. In every case, we just try to ensure that every application is reviewed holistically and is seen from more than one perspective.
What sets "Sternies" apart is our emphasis on IQ + EQ. The Stern community is filled with individuals who possess both intellectual and interpersonal strengths – those who develop great ideas, can turn those ideas into action and inspire those around them. Our application process highlights the importance of this combination; it is holistic and we consider candidates across three areas: Academic Potential, Professional Achievements & Aspirations, and Personal Characteristics.
A few elements of our admissions process are unique and help us to gain insights into an applicant's EQ. The first are our EQ Endorsements, which should be written by individuals who can objectively assess an applicant's potential for success in Stern's MBA program and future career, and who can also act as a persuasive advocate of their EQ strengths. In fact, they are asked to provide one specific and compelling example to demonstrate the applicant's emotional intelligence.
We then have an invitation-only interview process, which I explain in more detail in one of the following questions.  Regarding the application process as a whole, people have three initial notification possibilities: invitation for an interview, offer to be on the waitlist or denial. After an interview, we typically get back to the candidate within three weeks.  If someone is being offered a space in the class, our interviewers will try to call them first with the good news! These are special calls to make and one of the best parts of our day.
CA: How does your team approach the essay portion of the NYU MBA application specifically? What are you looking for as you read the essays? Are there common mistakes that applicants should try to avoid? What is one key thing they should keep in mind as they sit down to write?
LR: In the same vein of emphasizing IQ + EQ, our Committee also gets insight into the applicant's personality and emotional intelligence through our "Pick Six" visual personal expression essay, where applicants must describe themselves to the Admissions Committee and their future classmates using six images and corresponding captions. Applicants can use this to show us what is important to them, what makes them who they are. Our team really enjoys "reading" this part of each application.
In general, for all of our essays, we want the candidates to be authentic. Tell us the truth. Tell us who they are, what is important to them. They should be sure to answer the questions being asked and, in doing so, first do their research: think about their goals specifically, why the Stern MBA, and how the Stern MBA will get them to those goals.
CA: Could you tell us about your interview process in NYU MBA admissions? Approximately how many applicants do you interview? Who conducts the interview (students, admissions officers, alumni) and what is the nature of the interview (blind, non-blind)?
LR: The interviews give us a chance to learn even more about an applicant's story, as well as to give the applicant a chance to further demonstrate their IQ + EQ. First – the interview is not optional, it is required. Second – the interview is by invitation only. About 30 percent of applicants are invited in for an interview, so it's a good sign if an applicant receives an invitation!
In past years, most of these interviews have taken place in New York City, but this year to accommodate applicants given the circumstances around Covid-19, all interviews in the Fall will be conducted virtually by one of our admissions professionals.
In preparing for the Stern interview, it's important to remember that the interview is not blind. The interviewer has already reviewed the candidate's application, and wants the conversation to go deeper than what is on the resume. We want to take advantage of these 30 minutes to talk about more than what's in the application and really get to know each candidate.
CA: Tell us briefly about two notable professors at your institution.
LR: NYU Stern Management and Organizations Professor Dolly Chugh is the Jacob B. Melnick Term Professor, author of the recent book, "The Person You Mean to Be: How Good People Fight Bias," and 2019-20 NYU Distinguished Teaching Award recipient. Her research focuses on the psychological constraints on the quality of decision-making with ethical import, a phenomenon known as "bounded ethicality." Professor Chugh currently teaches MBA courses in leadership, management and negotiations. Her 2018 TED Talk was viewed more than 1.5 million times in its first month online and ranked as one of the 25 most popular TED Talks of the year. Her recent virtual conversation with Dean Raghu Sundaram on how to fight unconscious and systemic bias, different approaches to pursue social change and social justice, and the value of being a good-ish person can be viewed here. On a personal note, Dolly has been an incredible partner with our team from hosting events with us to leading a discussion of her book with our team as part of our Summer Book Club.
NYU Stern Assistant Professor of Marketing Xiao Liu  started teaching "Data Driven Decision Making" in 2016 to a class of 40. Now she is teaching three sections of 70 students with a waitlist. In the course, Professor Liu helps students turn a fear of data into confidence through Tableau and R. Professor Liu says students often tell her they use the code she wrote for them in class to create solutions for their companies. Her cutting-edge research in AI, big data and machine learning is breaking new ground in marketing.  For example, she leverages unstructured data to research how voice shopping and Livestream shopping impact consumer behavior and collaborates with e-retailer giant Alibaba to build dynamic pricing algorithms using deep reinforcement learning.
CA: Anything else you'd like to highlight about the NYU MBA admissions process or program?
LR: In the Fall, Stern introduced a new brand call to action all around embracing change. You can watch the animation video here. Stern also introduced Change:Studio, a new co-curricular program designed to help MBAs become adept at understanding, impacting and driving change.