Located on the shores of Lake Geneva in Switzerland, IMD maintains a small class size of about 90 MBA students each year. To talk more about the leading MBA program, Anna Farrus, the Director of MBA Recruitment and Admissions, joins us for this edition of our Admissions Director Q&A series. Farrus has worked in business schools for almost 20 years. Before joining the MBA team at IMD in 2018, she spent almost 12 years at Oxford Saïd Business School heading up their Admissions and Financial Aid team, and before that worked in the MBA Admissions team at IESE Business School, in Barcelona where she is originally from.
Read on for more about the tight-knit community at IMD, what to expect in admissions and more.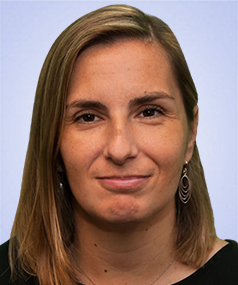 Clear Admit: What is the one aspect of your program that you wish applicants knew more about?
Anna Farrus: The power of a small class and the strength of the bonds created. Participants are surprised every year that they end up not just with 89 other classmates, but with very close friends as well.
Moreover, the learning that they can get from over 600 years of shared professional experience combined with the professional input and expertise of our faculty, is something that is highly underrated, especially when added to our 1:2 MBA faculty ratio, which enables professors to get to know each participant, their profiles and future aspirations, personally.
Our leadership stream is of course well known to all, but what many don't realize is that it includes access to 20 hours of individual psychoanalyst time where you can explore the deeper parts of who you are. And for many that is the challenge of a lifetime.
CA: How might the applicant experience look different this year due to COVID-19? How would you advise candidates to get to know your MBA program and student community if they aren't able to visit your campus?
AF: While we have tried to maintain our admissions process and limit disruptions as much possible, we did have to make some changes. First, we moved all of our recruitment and admissions events to a virtual format. Luckily, we were able to make this transition very quickly and our well-known assessment days have been delivered via zoom, with some new exercises that work well on a virtual setting, whilst still allowing us to assess the different elements as in a face-to-face setting and hopefully giving them the chance to get to know us better too.
We are also allowing candidates to submit their application without the GMAT or GRE score, but in order to receive a full offer they will be required to take it.
If unable to visit the campus, my advice is to reach out to our current MBAs and alumni, join our online events and virtual campus tour and program presentation, as well as to read the MBA blog to get daily insights into the program.
CA: Walk us through the life of an application in your office from an operational standpoint. What happens between the time an applicant clicks "submit" and the time the committee offers a final decision (e.g. how many "reads" does it get, how long is each "read," who reads it, does the committee convene to discuss it as a group, etc.)?
AF: The IMD MBA admissions process is very straightforward. Applicants need to submit their application by one of our four deadlines (1 Feb, 1 May, 1 July, 1 Sep). Once the application is submitted, the admissions team ensures all the information needed is there. The Admissions Committee then receives and reviews the application and decides who to invite for an interview. These decisions are communicated to the candidates approximately two weeks after the application deadline.
The interview is actually part of a full Assessment Day, which takes place in either Lausanne or abroad. The Admissions Committee then reviews the applications again alongside the information gathered during the Assessment Day and makes a final decision. We aim for the process to last less than 8 weeks from submission to final decision.
CA: How does your team approach the essay portion of the application specifically? What are you looking for as you read the essays? Are there common mistakes that applicants should try to avoid? What is one key thing they should keep in mind as they sit down to write?
AF: The essay is a very important part of the application as it allows candidates to tell us a bit more about who they are. It should therefore be very personal and written by the candidates themselves, as we are interested in learning more about their own experiences told using their own voice. Ideally, we will gain some insight into who the person really is.
CA: Could you tell us about your interview process? Approximately how many applicants do you interview? Who conducts the interview (students, admissions officers, alumni) and what is the nature of the interview?
AF: Despite the steady increase we have seen in applications, with the current online assessment format, we are still able to interview about 37% of applicants. All of the interviews are conducted by members of the recruitment and admissions team, including myself. Our interviewers have read the application before the interview and are very familiar with the applicant's background. This helps us to keep the assessment days dynamic and to really focus on key areas of the individuals and their backgrounds that are of interest to us.
CA: Tell us briefly about two notable professors at your institution (ideally one student favorite, and one up-and-coming).
AF: Our Spanish Finance Professor Arturo Bris, is extremely popular. Finance can be a tough subject for many, but his dedication, sense of humour and warm personality combine with an ability to build bridges that help even those with limited knowledge gain a solid foundation in the subject while still inspiring finance and tech enthusiasts.
Professor Alyson Meister is a Professor of Leadership and Organizational Behavior. A dual Canadian/Australian national she is an expert in leading diversity and change and managing evolving and boundaryless career trajectories. She has a contagious enthusiasm and energy that is widely appreciated in the MBA program's Leadership stream.
CA: Anything else you'd like to highlight about your MBA program or admissions process?
AF: I have the best job in the world. I get to meet amazing people from all over the world who want to join the IMD MBA program and become the leaders of tomorrow. We are in the business of changing people's lives and that is very rewarding.