In this edition of our Admissions Director Q&A, Ruthie Pyles Stiffler, the associate dean of graduate enrollment management for WashU Olin Business School at Washington University in St. Louis, digs into the value and culture of their full-time MBA program. Ruthie oversees the admission, recruitment, reporting, financial services and talent acquisition divisions for Olin's graduate programs.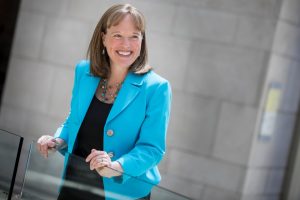 Ruthie spent the first 18 years of her life and career taking on a variety of roles in the entertainment industry and traveling extensively throughout Europe and Asia. After completing her bachelor of fine arts in theater at the University of Southern California, she dabbled in several industries, including higher education, health care, law, marketing and public relations. It was through this exploration that she identified her core business values that focus on coaching and mentoring, managing people and relationships and influencing people through language and ideas.
Ruthie completed her masters in communication management with an emphasis in corporate and strategic communication at the University of Southern California and eventually returned to higher education. She has worked as an admission professional serving undergraduate and graduate populations for almost 18 years. Prior to joining the Olin family, she held the role of director of graduate admission, recruitment & financial services at the W. P. Carey School of Business at Arizona State University. Ruthie has been a proactive member of the Graduate Management Admission Council (GMAC) and currently serves as past chair on the business advisory board for the Educational Testing Service (ETS).
Read on for Ruthie's illuminating insights into the WashU Olin MBA.
Clear Admit: What is the one aspect of your Full-Time MBA program that you wish applicants knew more about?
Ruthie Pyles Stiffler: Our truly global and hands on MBA experience!
In 2019, WashU Olin Business School launched a re-vamped curriculum that empowers values-based, data-driven global leaders equipped to change the world, for good. We integrated a global experience into the beginning of the program gives students a greater understanding of business concepts—and how they apply in an international, real-world setting.
In addition to this global experience, each student receives a crash course in self-awareness and self-reflection through consistent and timely feedback from faculty, coaches, advisors and peers—all while learning the importance of diversity and team dynamics as they travel around the world in 38 days. Upon their return to St. Louis, the students start fall classes with a greater appreciation for the core business courses and have a more comprehensive understanding of their strengths as a leader, their contribution on a team, and have multiple experiences and examples to use as they begin their fall internship interviews.
Students and companies cite this hands-on experience as "impactful" in the internship search process. Throughout the program, students have multiple opportunities to gain hands-on experience at home or abroad through our Center for Experiential Learning, student club leadership or community engagement opportunities.
In summary, here is what I wish applicants knew about Olin: We have taken a long, hard look at what companies seek in leaders. We thoughtfully develop values-based, data-driven leaders and we understand that a combination of curriculum, coaching and experience inspires change. It's the diversity of people and experiences that challenge you to do more—and to do what is right.
Because of the size of our class and the commitment we have to the WashU Olin experience, this is not a place where you can fly under the radar. At Olin, you will be known by name and by story. You will be challenged to do more. You will have a voice. You will have a team standing behind you and with you to help when you fail, celebrate when you succeed and hold you accountable to do what is right. And please know this: It goes both ways. We expect you to be a part of this experience, provide feedback and work with us to make the WashU Olin Full-Time MBA an unforgettable, transformational experience that will serve you well throughout your life and career.
CA: How might the applicant experience look different this year due to COVID-19? How would you advise candidates to get to know your Full-Time MBA program and student community if they aren't able to visit your campus?
RPS: The WashU Olin recruitment team and community focuses on a very personalized engagement experience. We nurture several partnerships such as the Consortium, Forte and Inside the MBA, and we also participate in a wide range of MBA events hosted by QS, the MBA Tour and Access MBA. In addition to our partnerships, we also host a Diversity and Women's Weekend Event, military-focused events, Olin club-sponsored events, webinars, information sessions and one-on-one admissions counseling and financial services advising appointments. While we have always focused on one-on-one engagement, our travel calendar has historically limited the amount of meetings we could host in the fall.
With many partners going virtual because of COVID-19, we are being creative and thoughtful with technology to provide greater access and opportunity for personal engagement. We anticipate being able to offer more opportunities to connect with our office and our community virtually, as well as connect to companies and our global and US-based alumni. Check our website or reach out by email or phone.
In challenging times, our community seeks unique opportunities for positive change. I am confident our prospective students will continue to experience the enriching and engaging recruitment experience Olin is known for.
CA: Walk us through the life of an application in your office from an operational standpoint. What happens between the time an applicant clicks "submit" and the time the committee offers a final decision (e.g. how many "reads" does it get, how long is each "read," who reads it, does the committee convene to discuss it as a group, etc.)?
RPS: Our office takes a personal approach to the recruitment and admission process. We strive to get to know people by name and story. Once a student hits "submit" on their application, one of our recruiters will reach out to the student (if they haven't connected already) to connect and verify that we have everything that we need. In those conversations, our recruiters strive to learn more about what's important to the student so they can be an advocate and help them put their best foot forward in the admission process.
Simultaneously, our admission team is doing a first review and sending out invitations to interview. If anything is missing or we have questions, the recruiter may reach out to the student to learn more. Once a student has interviewed and their file is complete, the file will go through two more committee reviews before the final decision is rendered. The individuals who participate in final committee reviews include recruitment and admission leadership and senior leaders from enrollment management, student affairs, the Weston Career Center and the dean's office.
CA: How does your team approach the essay portion of the application specifically? What are you looking for as you read the essays? Are there common mistakes that applicants should try to avoid? What is one key thing they should keep in mind as they sit down to write?
RPS: Every year, the enrollment staff reviews the application to ensure it is up-to-date and that we are gathering the information necessary for a thoughtful decision. When reviewing the essays, we have two primary objectives. First, are we asking questions that help us learn as much as we can about an individual—their story, their goals and their obstacles? Second, do the questions reveal something about who we are and the type of education students can expect to receive at Olin? This is a true partnership. We want to ask questions that resonate with the applicants in the same way their words resonate with us.
With that in mind, it is important to remember that we are very thoughtful about the questions we ask, just as we anticipate that the applicants are thoughtful about where they apply. When we read the essay, this is our first opportunity to really see a student and hear their story. I encourage all of our applicants to read and respond to the question. Then, they should share their answer with someone who knows them really well—and someone who doesn't. Did each of these individuals hear the same thing? Was the feedback authentic to the student and their story?
Some other helpful hints that can be very important: Don't forget to spell check. Make sure to attach the essay for the right school to the application. It's very easy to accidentally upload an essay for another school, so I encourage students to take their time and double check.
CA: Could you tell us about your interview process? Approximately how many applicants do you interview? Who conducts the interview (students, admissions officers, alumni) and what is the nature of the interview?
RPS: Interviews are by invitation only. We usually extend an invitation after the first review of the application. The number of interviews varies from year to year, but our process remains consistent. Interviews are hosted primarily by our recruitment team, however, it is possible that our student affairs team, career coaches, current students and student advising staff will also participate. We truly are a family at Olin.
In all instances, the interview is a blind process, meaning the only aspect of the file that has been shared is the resume and essay. The interview consists primarily of behavioral interview questions. We are interested in learning more about how a student's background and experiences will be relevant in the MBA experience.
In addition, we want to learn what attracts a student to our community and the obstacles they anticipate before, during and upon completion of the program. I encourage all applicants to spend some time prior to the interview really thinking about why they are attracted to the school and their career objectives. I encourage them to think of strong examples of leadership, teamwork, agility, etc. Having examples top of mind will help to craft in-depth responses that will help us learn more about an individual's strengths and opportunities for growth.
CA: Tell us briefly about two notable professors at your institution (ideally one student favorite, and one up-and-coming).
RPS: Dennis Zhang was recently granted tenure and promoted to associate professor of operations and manufacturing management at WashU Olin. Professor Zhang joined Olin in 2016 and is a two-time winner of the Olin Award—in 2019 and 2020—given to researchers whose work is judged to have the most immediate practical application to business. His research focuses on operations in innovative marketplaces and in the public sector. Prior to joining the Olin faculty, Professor Zhang finished his PhD from Northwestern University and worked at Google as a machine learning software engineer.
Hillary Anger Elfenbein is the John K. Wallace Jr. and Ellen A. Wallace Distinguished Professor and Professor of Organizational Behavior at WashU Olin, where she has been on the faculty since 2008. Olin's Women and Leadership is a favorite class among Olin's full-time MBAs and Professional MBA students, with fierce competition to obtain a coveted seat during course registration. Professor Elfenbein is also a multiple winner of Olin's Reid Teaching Award and the area chair among Olin faculty for organizational behavior. Before beginning work on her PhD, Professor Elfenbein worked at Monitor Company management consulting for two years, and spent half a year doing nonprofit work in India.
CA: Anything else you'd like to highlight about your MBA program or admissions process?
RPS: Pursuing an MBA is a significant investment in yourself and your future. It's important to take time to understand the difference between what you want out of an MBA program and what you need. It is very easy to get distracted by rankings and scholarships, or to be influenced by what others want for you. It is easy to lose sight of what's important to you and what you need to be successful.
At Olin, we know we may not be the right fit for everyone. But as a community, we are committed to helping you understand whether we could be the right fit for you. At Olin, we can help you gain a broader perspective and an appreciation for differences. We champion better decision-making, looking carefully at what will be gained and what could be lost. We give you the knowledge, experience and courage to make tough decisions and see them through because we know the importance of having mindful, responsible and accountable business leaders who are determined to do more. At Olin, we are here to empower, educate, challenge and support you however we can. If we can help you, we want to and we will. We look forward to hearing from you and helping you on your journey.