Jasmine Johnson, Rice MBA Class of 2022
Age: 32
Hometown: Atlanta, GA
Undergraduate Institution and Major: Indiana University, Bloomington
Pre-MBA Work Experience (years, industry): 7 years, Energy Industry
Why business school? Why now?
I am an entrepreneur, Sparrow Energy Services, my husband (Brandon Johnson, also Rice MBA 2022 candidate) and I run the company. Our dreams for the company surpassed our capacity, thus we decided an MBA would best suit us. We researched Rice and the Lillie Lab and realized it was the place for us!
Our goal is to create generational wealth and show underrepresented populations that "the sky is the limit." We believe that ownership is the way to success.
Why Rice Jones? What factors figured most prominently into your decision of where to attend?
Rice University is in the "Energy Mecca," being in Houston. The school is a top-tier school with an excellent reputation. We like the city of Houston's diversity. The most important reason we decided to apply to Rice was due to the love, genuineness, and personable care we received from the staff, professors, and students at Rice.
The people at Rice treated us like "people," not a number, paycheck, or status for their reputation.
What do you think is your most valuable or differentiating contribution to the Class of 2022?
I believe that a valuable contribution I bring to Rice is my audacity. I have beaten the odds thus far and plan to continue to reach for the stars. I will encourage all of my classmates to do the same.
Fun fact that didn't get included on your application?
My hands and feet sweat!
Post-MBA career interests?
Post-MBA, My husband and I will continue to run our company. We are a national company with plans to take it global.
Advice to current prospective applicants:
–One thing you would absolutely do again as part of your application process?
I would absolutely visit the school 3 times during the process. We visited the school prior to applying and after applying. I would suggest seeing the school in a few different lights prior to accepting. It also gives you ample face time with admissions.
–One thing you would change or do differently?
One thing I would do differently would be only applying to Rice. I applied to Emory as a "backup" because I lived in Atlanta. I had no intentions of going to Emory, didn't even want to go to Emory.
–Part you would have skipped if you could—and what helped you get through it?
I would have skipped the wait-list portion. We were wait-listed. This was an agonizing portion of the process. We got through it with prayer and peace. I knew that whatever God wanted for us would be for us.
What is your initial impression of Rice Jones's students/culture/community?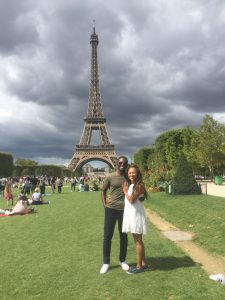 My first impression is a true community of unity. We entered Rice during a time of civil unrest, social injustice, and racial tensions. Everyone I interacted with showed concern and support for all students (international and minority).
One thing you have learned about Rice Jones that has surprised you?
I was surprised at the close-knit community of Rice. They sold us on the idea of the community and network prior to being admitted to the program but it was actually TRUE! I have walked down the halls and been greeted by deans and faculty alike. I appreciate the access to such a network!
Thing you are most anxious about in your first year?
I was most anxious about getting good grades (and keeping my scholarships).
Thing you are most excited about in your first year?
Getting engaged with and plugged into the Lillie Lab. I look forward to pitching at competitions and getting in front of venture capitalists.