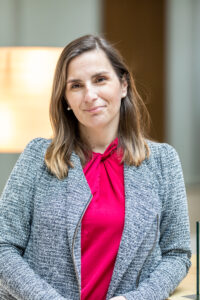 In this edition of our Admissions Director Q&A series, we take a trip to Switzerland to learn all about IMD from Anna Farrus, the Director of MBA Recruitment and Admissions there. Anna has a long history in the management education space, beginning at IESE in Barcelona, which is also her hometown. She then led the admissions team at Oxford Saïd Business School for nearly 12 years. Anna has been heading up admissions at IMD since 2018.
Read on for her insights into the business school's application process, interview style and what stands out about IMD.
Clear Admit: What is the one aspect of your program that you wish applicants knew more about?
Anna Farrus: The leadership and personal development stream is really part of the DNA of the program, yet it is frequently underestimated. We feel that today's challenging environment places even more importance on the value of effective leadership and we aim to foster the development of reflective and responsible leaders.
The IMD MBA integrates classes, live business cases, personal coaching, and company projects across the globe. Over 40% of the program is experiential. All of our participants work with a local start-up, complete Leadership, Digital Analytics and Innovation Labs, take part in a two-week Discovery Expedition and resolve issues in a global setting over a seven-week International Consulting Project. On top of this they each have an optional 20 hours with a psychoanalyst to help them develop self-awareness as part of their personal development and leadership journey.
CA: Will the applicant experience look different this year due to COVID-19? Will prospective students have the opportunity to visit campus?
AF: The pandemic forced us to move all of our admissions activities online. However, after 18 months of online recruitment and admissions events, we feel very comfortable with the experience we give to our candidates. We have been able to continue with our extremely personalised approach, and while nothing beats the in-person interaction, we have worked very hard to maintain the same levels of rigour in the admissions process. We hope we can start offering in person events soon, but it all depends on travel restrictions. Prospective candidates who want to visit the campus can contact us, as certain conditions apply.
CA: Walk us through the life of an application in your office from an operational standpoint. What happens between the time an applicant clicks "submit" and the time the committee offers a final decision?
AF: Once an application and all required documents are submitted, the admissions committee reviews it and decides if we want to invite the candidate to one of our assessment days. The assessment day typically involves several members of the Admissions team, myself, a member of our career development center and the MBA Dean. The admissions committee then reviews the application once again and makes a final decision.
CA: How does your team approach the essay portion of the application specifically? What are you looking for as you read the essays? Are there common mistakes that applicants should try to avoid? What is one key thing they should keep in mind as they sit down to write?
AF: The essay is a very important part of the application as it allows the candidate to tell us more about themselves and helps us to understand their motivations a bit better. Ideally we want to get a glimpse of their personality. We want candidates to reflect on their own experiences and what they have learnt from them. It is supposed to be a very personal essay, so we look for authenticity and self-awareness. My best advice to candidates is that they avoid telling us what they think we want to hear and focus on just being their true self.
CA: Could you tell us about your interview process? Approximately how many applicants do you interview? Who conducts the interview (students, admissions officers, alumni) and what is the nature of the interview (resume-based, application-based)?
AF: We interview any candidate who we think has the potential to fit in our program, so there is no set number or percentage.
Our interview process is quite unique and so much more than just an interview. Shortlisted candidates are asked to participate in an assessment day which has been designed to help us really get to know each individual very well, and to see them in action.
We invite between 4 to 8 candidates per assessment day. First, they have a one-to-one interview with a member of the admissions team. After that, they participate in a number of individual and team exercises,. including a case study discussion, where they have to analyse data and arrive at a consensus with the rest of the team.
During this time, we observe their interactions and how they collaborate with each other, t their communication and listening skills, their cross-cultural awareness, their drive and their assertiveness, among other things. These are very intense events that and the information we gain helps us decide if they are a good fit with our program.
The interviews are conducted by admissions officers, who have a solid understanding of the kind of skills we are looking for. Each interviewer is very familiar with the candidate's profile as we all read the applications several times before the actual interview takes place.
CA: Tell us briefly about two notable professors at your institution (ideally one student favorite, and one up-and-coming).
AF: One of our most liked professors is Arturo Bris, who teaches Finance in the MBA. He is not only a student-favourite, but he somehow makes Finance a fun subject. Arturo also leads the IMD World Competitiveness Center.
Another professor who is quickly making an impact on our MBAs is Alyson Meister, who teaches Leadership and Organisational Behaviour. Alyson has been recognised as a Thinkers50 Radar thought leader in 2021, and continues to inspire us with her research on leading diversity and change, high-performing team dynamics.
CA: Is there anything else you'd like to highlight about your MBA program or the IMD admissions process?
AF: Leadership development and a very personalised approach are at the core of the IMD's MBA. Our admissions process is designed to highlight those and to give us a real understanding of who each one of our candidates is. This in turn helps us to create a diverse but balanced class of experienced, mature, and globally minded participants who can learn from and work with each other, open networks to each other, and form life-long bonds.