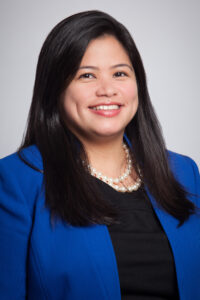 We head to College Park, MD, for this installment of our Admissions Director Q&A series to learn all about the University of Maryland's Robert H. Smith School of Business. Maria Pineda has been with UMD Smith for 15 years. As the Senior Director of Admissions, Maria manages the recruiting efforts for Full Time MBA and Specialty Master's Programs.
Read on for her insights into the admissions process, what to expect during the interview, and more.
Clear Admit: What is the one aspect of your program that you wish applicants knew more about?
Maria Pineda: We are a not-so-hidden gem! We are located between Baltimore, Maryland and Washington, D.C. Our campus is picturesque — what one would expect from a 1,200-acre suburban campus — lush green lawns, traditional campus buildings, sports arenas, centers, dining halls… The works! All this and we are so close to Washington, D.C. There's a College Park Station connected to the DC metro system. At Maryland Smith, students can enjoy the traditional campus setting while still having access to major metropolitan areas.
CA: Will the applicant experience look different this year due to COVID-19? Will prospective students have the opportunity to visit campus? 
MP: Like last year, we will have opportunities for applicants to engage with our community. We will continue to host virtual events. If state and local policies allow, we will host in-person information sessions, meet and greet events, receptions, as well as an open house or two. We are eager to get to know applicants and introduce them to our community. We understand in-person events are ideal for many and we want you to experience Smith in person. Thus, we are working hard to ensure your experience, whether it is virtual or in person, will be a safe and memorable one.
CA: Walk us through the life of an application in your office from an operational standpoint. What happens between the time an applicant clicks "submit" and the time the committee offers a final decision (e.g. how many "reads" does it get, how long is each "read," who reads it, does the committee convene to discuss it as a group, etc.)?
MP: Once an application is received and deemed complete, it is independently reviewed by two admissions officers. Every aspect of the application is considered at this stage — pre-MBA career, aspirational goals, potential academic success, etc. If we have further questions, we will invite the applicant to an interview, which can be conducted via Zoom or in person.
The interviewer can be a faculty member or an admissions officer. Since the academic assessment happens during the first two reads, the interviewer will only review the candidate's resume and essay(s). During the interview, we want to get to know you, learn about your goals and career plans. We also want to learn about your potential contribution to the community as well as how Maryland Smith can help you succeed both in the short and long term.
After the interview, all applicants are assessed by the admissions committee, where final admissions decisions will be conferred. The committee is composed of leadership from several departments. All want to ensure all future Maryland Smith MBA students will meet the academic rigor of the program, contribute to the community, and secure a post-MBA position that aligns with his/her goals.
CA: How does your team approach the essay portion of the application specifically? What are you looking for as you read the essays? Are there common mistakes that applicants should try to avoid? What is one key thing they should keep in mind as they sit down to write?
MP: At least three admissions committee members will read your essay, so make sure it conveys your truths. Help us understand your thought process, future plans and your expectations. Communicate your understanding of how Maryland Smith can help you grow as a strong individual. Hearing your perspective helps us learn more about you.
Be authentic. We want to know who you are and where you want to go. If we know these facts, we can determine if Maryland Smith can bridge the gap between where you are now, and your post MBA goals.
When you sit down to write your essay, remember that this is the only forward-thinking aspect of your application. All other components that you will submit are historical information. Use this real estate to shed light on who you really are and where you want to be.
CA: Could you tell us about your interview process? Approximately how many applicants do you interview? Who conducts the interview (students, admissions officers, alumni) and what is the nature of the interview (resume-based, application-based)?
MP: Interviews are hosted by faculty and admissions staff members. Some faculty members hold dual positions, so you may interview with a faculty member who is also your academic director for the program. You may not know who will conduct your interview, but that's ok. We do not need you to prepare on who you will be speaking with; we want you to prepare for the program.
Think of the admissions interview as a job interview. You are going into the interview to show the interviewer that you can do the job, regardless of who the interviewer may be. Be confident in what you have to offer and humble enough to know you do not know everything, just yet! Interviewers will have access to your resume and essays. Thus, during the interview, we will have a baseline understanding of your profile. You then get to guide us towards what you want to do during and after the MBA.
CA: Tell us briefly about two notable professors at your institution (ideally one student favorite, and one up-and-coming).
MP: Student Favorite: Dr. Nicole Coomber, Assistant Dean of the Full-Time MBA Program
Dr. Coomber's work resonates well with her students — through her research focus on leadership, team dynamics, and experiential learning, and through her teaching courses like Leadership in Action and Cross-Cultural Challenges in Business. She also is dedicated to helping women manage their complex lives more effectively. She believes that the strategies focused on time management and negotiation and communication she teaches in her MBA classrooms at Maryland Smith can help women navigate both their careers and families.
Up and coming: Dr. Vijaya Venkataramani, Associate Professor of Management and Organization
Dr. Venkataramani has been distinguishing herself in our program through some cool and exciting research focused on creativity and innovation in organizations. This especially pertains to understanding how informal social relationships and social networks in the workplace enable employees' ability to develop and implement creative ideas. She has found that when leaders have strong ties to colleagues, even in an informal social context, it makes everyone more committed to the organization, more satisfied with the work they are doing, and more engaged.
CA: Is there anything else you'd like to highlight about your MBA program or admissions process?
MP: We want to get to know you. Throughout the admissions process, connect with us. Admissions officers can be your first point of contact and would love to share more about Maryland Smith. Current students can tell you about their experience. We want you to know about the great offerings we have at Smith and how it can help you transform your professional and personal life!