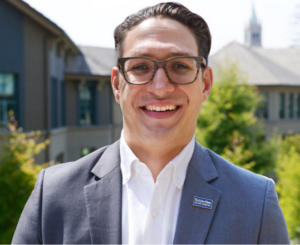 In this edition of our Admissions Director Q&A series, we learn the ins and outs of admissions at the UC Berkeley Haas School of Business. Eric Askins, Executive Director of Admissions, leads the admissions and enrollment efforts at Berkeley Haas. Eric has spent over a decade in higher education with a mission of advancing access and opportunity. At Haas, he partners with students, faculty and staff to recruit a diverse student body.
Read on for Eric's answers to our questions about Haas, changes due to COVID-19, what to expect in the admissions interview, and more.
You can also hear many more admissions tips and additional program information from Eric in our podcast episode (hosted by Graham Richmond and produced by Dennis Crowley) below – or in your favorite podcast app.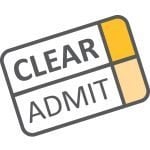 Admissions Director Q&A: Eric Askins of Berkeley's Haas School of Business
Clear Admit (CA): Will the applicant experience look different this year due to COVID-19?

Eric Askins for Berkeley Haas (EA): We have been beyond thrilled to welcome back the Class of 2022 and welcome the Class of 2023 back to campus for full in person coursework.  There are masking restrictions in our indoor spaces and we will follow the state guidelines for as long as they remain in place. We're fortunate enough to have a central courtyard and temperate weather that enables us to gather outside year-round. 
We invested heavily in remote instruction technology over the course of the quarantine period in order to move business education forward. I believe at this point we may be among the highest ranked programs to have offered a flexible pathway to the MBA. Though geared for working professionals, the Flexible MBA | Evening & Weekend MBA is something I'm very proud to share. 
CA: Will prospective students have the opportunity to visit campus?

EA: For now, we've decided to reserve campus space for our student community only. to allow the community to get re-acclimated and provide the safest environment for the students. 
We are excited to offer a virtual campus visit experience, which includes recorded class visits, student experience presentations, live student coffee chats, a virtual campus tour and access to schedule time with the admissions staff. These offerings allow prospective students the opportunity to engage with our campus community at their own pace and schedule. 
We've been keeping a close eye on health regulations here in the state of California. We anticipate revisiting in-person campus visits for the spring. Though, I expect we will continue to offer the virtual campus tour as well. 
CA: Walk us through the life of an application in your office from an operational standpoint. What happens between the time an applicant clicks "submit" and the time the committee offers a final decision (e.g. how many "reads" does it get, how long is each "read," who reads it, does the committee convene to discuss it as a group, etc.)?

EA: The Berkeley Haas Admissions team focused on supporting applicants to submit their strongest applications. This begins in advance of a candidate hitting submit, through application preparation events, our application bootcamp and our Application bootcamp slack community where our team field questions…and in true Berkeley Haas fashion, other applicants go beyond themselves to crowdsource suggestions.  It's usually the case that by the time an applicant has hit submit, they've been engaged with our team for a bit of time.  Once that application submission data passes, our admissions operations team does a comprehensive review of each application to ensure that they contain all required documentation and the application is eligible for review. If for any reason an item is missing, our team will reach. We will guide applicants in ensuring the right materials are present.  Complete applications are reviewed at least twice. Once by a member of our team who has experience with the industry or job function or by someone on our team familiar with the country in which the undergraduate education was completed. This allows us to understand the context of the academic performance or professional journey.  Each application is then given a secondary review without those industry or undergraduate filters. If an applicant demonstrated academic readiness, leadership attributes and solid career plan our team will mark them for an interview. Interviews are pre-recorded or live (remote) with members of the Haas community that have gone through extensive training on implicit bias and evaluative techniques.   Once an interview assessment has been completed, there is an admissions committee deliberation where one member of our team, typically the individual who conducted the 2nd read, advocates for the candidate and the other committee members explore areas of growth in the application.  
CA: How does your team approach the essay portion of the application specifically?

EA: Our team has worked hard to take the mystery out of the essay portion of applications. We've simplified our prompts and spaces for students to share without constraints.  
Essay One: What makes you feel alive while you are doing it and Why? Gives our applicants an opportunity to share their motivations, their passions, or hobbies. We welcome insights into what inspires their professionals journey or what they do to wind down.  There are no wrong answers. Though the best advice I can give here is to focus as much on the "why" as the "what."  We want to know why that experience is important to you. 
Essay Two: The definition of successful leadership has evolved over the last decade and will continue to change. What do you need to develop to become a successful leader? The best part of essay #2 is we invite the applicant to define success. The statement at the front end, leadership has evolved…it's an opportunity for applicants to tell us what they believe a good leader is or how leadership has changed. Applicants can then share how they will become that leader in the framework they defined. Applicants can lean into examples of their leadership attributes or engage critically with their areas of growth and explore how an MBA will fill those gaps. 
CA: What are you looking for as you read the essays?

EA: Each member of our team approaches the application differently. We don't define one order of review – though we do have a rubric with specific competencies that need to be evaluated. I begin my review with the essays and the short career goals statement. These pieces typically provide me with the narrative arc of the applicant's journey. The rest of the application I treat as evidence in support of their journey. Exceptional essays provide insight into an applicant's motivations for pursuing their goals and an understanding of their leadership attributes and that guides the rest of the review process.  At times that may feel like a tall order, but applicants who engage with the prompts authentically typically produce strong essays. 
CA: Are there common mistakes that applicants should try to avoid?

EA: Among the hardest things we ask applicants to do is curate their stories. We all, myself included, hold multiple interests and have many different goals. However, with only 300 words per essay, we encourage applicants to go deep into one aspect or one topic rather than attempt to cover a lot of different separate thoughts in one essay. This is not an easy task, as there will be personal and important moments lost to the editing process. 
CA: What is one key thing they should keep in mind as they sit down to write?

EA: Despite the variety of essay prompts among our peers – there's an underlying theme across all of them: Why an MBA and Why Now? If you are clear on your why, you can explore the various facets of that why — whether it's leadership or personal passion. Oftentimes, I encourage applicants to go back to the moment they decided to pursue an MBA and explore that decision – before they received advice from multiple sources and saw examples of strong essays. Try not to move away from or complicate that initial reason. 
CA: Could you tell us about your interview process?

EA: Applicants to Berkeley Haas are invited to interview after a thorough review of their applications by our admissions committee. Invitations are sent to those candidates who we believe would be impactful additions to the Berkeley Haas community. Invitations are communicated via e-mail and through our application portal and candidates are offered pre-recorded or live (remote) interview formats.
CA: Approximately how many applicants do you interview?

EA: There are no quotas or guidelines for our interview process. Every candidate  who surfaces in our review process as a potential Haas MBA is considered for an interview. That being said, in most years this is between a quarter and third of our applicant pool. 
CA: Who conducts the interview (students, admissions officers, alumni) and what is the nature of the interview?

EA: Interviews are conducted and assessed in a variety of ways. Applicants who select the prerecorded interview will hear their interview questions coming from the friendly faces of the admissions staff. If they've selected a live (remote) interview then they will speak with a member of the Haas community— likely a second year MBA or alumnus. 
Every interviewer is put through a rigorous implicit bias training and regularly reviewed by staff. Interviewers are not provided the full application – just the resume to avoid developing opinions on applicants before the interview and allowing for a more organic conversation where applicants don't have to worry about "repeating themselves." Pre-recorded interviews are reviewed by the same pool of interviewers who will complete the same assessment form.  What ultimately makes its way to the admissions committee for deliberation is the same set of documents, regardless of interview format.  
CA: Tell us briefly about two notable professors at your institution (ideally one student favorite, and one up-and-coming).

EA: It's very difficult to point to any one faculty member when so many of our faculty are doing amazing work.  This includes the faculty who developed and are team teaching our new core course in Business Communication in Diverse Work Environments, which came out of faculty desire to address a real world need. I could point to the 10 new faculty we recently hired from top PhD programs this past fall.  Our faculty pivoted quickly to remote instruction and were still receiving incredible professional accolades in the midst of redesigning their coursework for the new format. I think this focus on fantastic faculty can be seen in the number of faculty that have been tapped to step away from Haas to work in the new presidential administration. I'm proud of all the above but I think this comes from the top with our school being led by a renowned economics professor in Dean Ann Harrison. 
CA: Is there anything else you'd like to highlight about your MBA program or admissions process?

EA: One of my favorite questions to answer when chatting with prospective students. What is Haas known for?  Haas is well known to candidates pursuing positions within Tech. Others look to Haas as among the best places to tap into the entrepreneurial ecosystem. Among the highest percentage of career outcomes are consultants. When it comes to finance, Haas has the most number of investing banking internships of any school on the west coast. Given the broad array of professional journey's here – it's difficult for our team to point to one industry. Instead we answer this question in terms of mindset.  Haas is known as an institution that values and supports leaders who are both innovative and inclusive. Leaders who understand that sustainability must be a part of every conversation. The common thread is that these mind sets are present across all professional journeys. Inclusive leaders are essential in tech, sustainability is fundamental to finance, innovation is valuable in consulting.