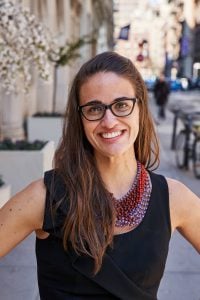 In this Admissions Director Q&A, we hear from Lisa Rios, Assistant Dean of NYU Stern MBA Admissions. As a member of the Admissions team since 2008, she has evaluated nearly 50,000 Full-time MBA applications and seen nearly 5,000 new full-time students start their MBA journey. Lisa has also coordinated the Admissions team's systems & operations, customer service, event planning, recruiting and marketing.
Prior to Stern, Lisa worked in industry at JP Morgan Chase and Liz Claiborne. She earned her MA in Higher Education Administration at NYU Steinhardt and her BS in Business Administration from the University of Richmond.
See what NYU Stern looks for in their visual "Pick Six" essay, inviting hallmarks of the program and what to expect from the admissions interview and more, as Lisa shares her excitement about the school and meeting potential "Sternies."
Admissions Director Q&A: Lisa Rios of NYU Stern
Clear Admit (CA): What is the one aspect of your program that you wish applicants knew more about?
Lisa Rios for NYU Stern School of Business (LR): One of NYU Stern's values that we're particularly proud of is that we're uncommonly connected – through our NYC location and access to NYU's global network, we have built deep connections that lead to hands-on experiential learning opportunities for students as well as strong employment outcomes. Students gain access to a diverse array of organizations and executives leading innovative solutions across global brands, nonprofits and startups throughout their MBA experience. In fact, this year marked the 20th year of Stern's experiential learning portfolio, which the School calls Stern Solutions. Through Stern Solutions courses and projects students have the chance to help a corporate partner solve a real business challenge in real time. Two recent corporate partners included The Wall Street Journal & Dow Jones and Rocket Mortgage by Quicken Loans. Students engaged with these organizations through a new "Tech Solutions" Stern Solutions course that leveraged a hyper-focused problem-solving sprint approach. Students can also get involved with Endless Frontier Labs, a program at Stern for early-stage science and technology-based startups who apply from around the world, through an affiliate course that gives them a hands-on, front-row seat to learning how to scale a startup. Another example with which I am personally involved is Stern's Leadership Accelerator, a program designed to develop our world's future leaders. This summer, the Leadership Accelerator debuted its first live case, an emerging educational form Stern is trailblazing to hone Full-time MBA students' leadership and agility skills.
In addition to being connected to NYC and industry, Stern is a deeply connected community, an aspect of the culture that students take great pride in and influence directly. This starts right from the beginning of the admissions process where applicants can schedule virtual chats with a current Sternie to learn about the experience from their perspective.
Lastly, both the two-year full-time MBA and Andre Koo Technology & Entrepreneurship MBA programs are STEM certified.
CA: Will the applicant experience look different this year due to COVID-19? Will prospective students have the opportunity to visit campus?
LR: To best meet the needs of candidates, we have refined the 2021-2022 application and also created a new element that is especially relevant. As we've found many applicants are ready to apply earlier than ever, we moved up our first two application deadlines by a month because we're eager to provide decisions to those individuals as soon as we can. As far as our essays, we introduced a new prompt based on Stern's brand call to action around embracing change – a prescient call we launched before the pandemic whose relevancy increased by the day. This essay gives candidates a creative opportunity to demonstrate how they align with our values and respond to change, a skill which is more important than ever for their future careers.
Stern has always taken an applicant-centric approach. This includes being on the forefront of offering students standardized test flexibility without compromising our ability to assess academic readiness for our rigorous MBA. Stern was among the first top schools to accept the GRE in addition to the GMAT, and later added the Executive Assessment, LSAT and MCAT to our test options. For the 2021-2022 application, Stern has extended the standardized test waiver that was introduced in response to the coronavirus pandemic last year. The overwhelming majority of applicants for Fall 2021 submitted a standardized test even with last year's option to request a test waiver. For complete application instructions, please visit the Admissions section of our website.
We anticipate that prospective students will continue to use the application process as a way to reflect on their professional experiences, personal values, and to set career goals. Our Admissions team has been busy getting to know them all and created a variety of new virtual events for them to get to know us. They can connect with current students at virtual information sessions and coffee chats. They can hear tips from the Admissions Committee and ask application questions at upcoming webinars and a mock application session. More information can be found in the Meet with Us section of our website – check back frequently as we are continuously adding new events. If an applicant has already applied and been invited to interview – be on the lookout for emails about other ways to get to know Stern.
CA: Walk us through the life of an application in your office from an operational standpoint. What happens between the time an applicant clicks "submit" and the time the committee offers a final decision (e.g. how many "reads" does it get, how long is each "read," who reads it, does the committee convene to discuss it as a group, etc.)?
LR: Let me walk you through the cycle of an application. We have four application deadlines – this year, we moved up our first two deadlines as a way to better support our candidates and help them receive an admissions decision sooner. One interesting thing to note about our process is that we employ rolling notifications, which makes us different from other schools that have a round system. Each application deadline has a corresponding initial notification deadline as to when we will get back to you, but that's the latest possible date and we try to release our initial notifications as soon as we have them. We understand that this can be an anxious process, and we don't make people wait longer than necessary.
Every application is considered by the Admissions Committee and every application is reviewed more than once, so it's not just a single individual's decision. And, in some cases, the committee will debate quite a bit. In every case, we just try to ensure that every application is reviewed holistically and is seen from more than one perspective.
I talk about it a lot, but it's important to note that what sets "Sternies" apart is our emphasis on IQ + EQ. The Stern community is filled with individuals who possess both intellectual and interpersonal strengths – those who develop great ideas, can turn those ideas into action and inspire those around them. Our application process highlights the importance of this combination; it is holistic and we consider candidates across three areas: Academic Potential, Professional Achievements & Aspirations, and Personal Characteristics.
A few elements of our admissions process are unique and help us to gain insights into an applicant's EQ. First – our "Pick Six" visual essay, where applicants must describe themselves to the Admissions Committee and their future classmates using six images and corresponding captions. Applicants use this to show us what is important to them, what makes them who they are. This is one of our favorite parts of the application because this is where we really see their whole self come to life. Then, our Change essay is a space where they can show us how they align with our ethos on change. Lastly, our EQ Endorsements, which should be written by individuals who can act as a persuasive advocate of their EQ strengths.
We then have an invitation-only interview process, which I explain in more detail in one of the following questions. Regarding the application process as a whole, people have three initial notification possibilities: invitation for an interview, offer to be on the waitlist or denial. After an interview, we typically get back to the candidate within three weeks. If someone is being offered a space in the class, our interviewers get to call them first with the good news! As you can imagine, these are fun calls for us to make and definitely brighten up our day.
CA: How does your team approach the essay portion of the application specifically? What are you looking for as you read the essays? Are there common mistakes that applicants should try to avoid? What is one key thing they should keep in mind as they sit down to write?
LR: If you remember anything from this response, please know that for all of our essays, we want candidates to be authentic. Tell us the truth. Tell us who they are, what is important to them. The application and its essays are telling us a story. Candidates should spend time developing that story – considering what they want their career journey to look like, what they want their MBA journey to look like. And, before putting pen to paper (or fingers to a keyboard!), they may need to do some research: think about their goals specifically, why the Stern MBA, and how the Stern MBA will get them to those goals.
Remember – IQ + EQ are both critical to the Stern community, and the essays are one of the first times that applicants will be able to showcase their EQ. The "Pick Six" visual essay and our Change essay are cool, new ways they can express themselves to the Committee. Everyone at Stern has a chance to share their personal brand call to action; mine is Change. Do It. I really think that actions speak louder than words and part of innovating is being comfortable experimenting and trying new things.
CA: Could you tell us about your interview process? Approximately how many applicants do you interview? Who conducts the interview (students, admissions officers, alumni) and what is the nature of the interview?
LR: I love the admissions interviews because they give us a chance to meet the person behind the application and really get to know them through a deeper conversation. Our interview isn't blind – the interviewer has already reviewed the candidate's application, and wants the conversation to go beyond what is on the resume. We want to take advantage of these 30 minutes to talk about more than what's in the application and really get to know each candidate. A tip for applicants – a candidate should re-read their application in advance so they remember what they have shared!
The interview is by invitation only. About 30 percent of applicants are invited in for an interview, so it's a good sign if an applicant receives an invitation! In past years, most of these interviews have taken place in New York City, but this year we will again be accommodating applicants given the circumstances around COVID-19 and all interviews in the Fall will be conducted virtually by one of our admissions professionals.
I joke that you have to love people and their stories to work in Admissions, and it's true! I have read thousands of applications and met thousands of applicants, and being given the chance to have 30-minute one-on-one interviews with them is such an honor.
CA: Tell us briefly about two notable professors at your institution (ideally one student favorite, and one up-and-coming).
LR: Just like parents can't choose a favorite child, it is really so hard to pick a favorite Stern professor – I am constantly blown away by their level of expertise in particular subject matter as well as their commitment to the students and the School. I can, however, share great examples of how impressive the Stern faculty are. Take Amal Shehata, NYU Stern Clinical Associate Professor of Accounting, who teaches courses in financial accounting and auditing and recently created a new course, "Accounting and the Blockchain," that explores how this technology will impact many dimensions of the accounting industry. She also serves as the Academic Director of the BS/MS Dual Degree CPA Program at Stern. Professor Shehata is passionate about teaching and was a recipient of the 2021 NYU Distinguished Teaching Award. She began her career in public accounting as an auditor at PricewaterhouseCoopers (PwC) in Washington, D.C., This real world experience that Professor Shehata brings to her classroom is a great example of how Stern is uncommonly connected.
We are also impressed by NYU Stern Associate Professor of Finance Alexi Savov who teaches the "Foundations of Finance" core course to MBAs in their first semester, breaking down complicated concepts into intuitive applications. He integrates the real world into the classroom, including GameStop, SPACS, the bond market and more, to bring concepts to life. Professor Savov's PhD research, "Asset Pricing with Garbage," found the amount of trash people produce tracks the stock market better than other consumption measures, helping to solve the equity premium puzzle and grabbing headlines in the WSJ and others. Recent research explains why the 1970s runaway inflation is unlikely to happen today. Professor Savov holds editorial positions with and has published in top finance journals, winning numerous awards, including two honors with the prestigious Journal of Finance.
CA: Is there anything else you'd like to highlight about your MBA program or admissions process?
LR: Our intelligent, empathetic community supports and advocates diversity, inclusion, equity and belonging of all people and ideas. We call it IQ + EQ at Stern and it's one of our four core values.
For example, under the leadership of Gary Fraser, Dean for Diversity and Inclusion, all incoming students complete an assessment that evaluates their capacity to adapt to others who may be different from them based on social identities like race, sexual orientation, gender identity, and nationality, to name a few. I am fortunate enough to be one of the Qualified Administrators who meets with students 1:1 to share, interpret and reflect upon the results of their assessment, as well as to share an action plan to continue developing their intercultural competence throughout their time at Stern and beyond.
Stay tuned for the Admissions Director Q&A podcast interview with Lisa Rios of NYU Stern.