In another installment of our Admissions Director Q&A series, Bruce DelMonico, Assistant Dean for Admissions at the Yale School of Management, joins us to discuss admissions and more about the MBA program. He joined Yale SOM in October 2004 and has led the Admissions Office since November 2006. Before joining Yale, Bruce was an attorney focused on First Amendment, white collar, and commercial litigation. Bruce holds a BA in Honors English from Brown University, an MA in Literature from the University of Texas at Austin, and a JD from the University of Virginia School of Law.
In addition to Bruce's written answers, be sure to tune into the podcast below for more insights into Yale SOM, what to expect during admissions and more.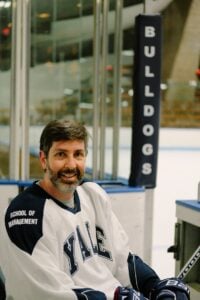 Clear Admit: What is the one aspect of your program that you wish applicants knew more about?
Bruce DelMonico: I feel as though there are a good number of misconceptions about Yale SOM – that we are a non-profit school, a finance school, a policy school. We are each of these things, and more – a marketing school, an entrepreneurship school, a technology school, a healthcare school, and others. And I think that's the misconception, that we are any one thing. The truth is that we are an exceptional general management school that leverages all of the resources that Yale University has to offer to enable you to achieve your career aspirations, in whatever industry or sector they may lay. I think more and more people are appreciating the true scope of the expertise here at Yale SOM across a range of disciplines, but there are still many people who only think of one area when they think of us, and I hope that will continue to change.
CA: Will the applicant experience look different this year due to COVID-19? Will prospective students have the opportunity to visit campus?
BD: The applicant experience will look largely the same as past years despite the ongoing pandemic. The main difference, not surprisingly, is that we will continue to conduct all interviews virtually and have not yet begun to welcome visitors back to campus. But the scope of our virtual offerings has greatly increased during the pandemic, and the vast majority of the application process other than the interview is online, so I am hopeful that there is minimal effect on the applicant experience. And we are looking to begin to dip our toes back in the water in the new year with on-campus activities, starting with some Class of 2024 events, so that will hopefully be a positive change in 2022!
CA: Walk us through the life of an application in your office from an operational standpoint. What happens between the time an applicant clicks "submit" and the time the committee offers a final decision (e.g. how many "reads" does it get, how long is each "read," who reads it, does the committee convene to discuss it as a group, etc.)?
BD: I would start by saying that we do not begin reviewing applications until after the deadline passes, so you should take as much time as you need to complete your application – there is no advantage to applying to us early. Once the deadline does pass, the first thing we do is to sit down as a committee (there are roughly 15 of us) to go quickly through the entire pool to get a sense of it. Then we begin reading and sending out interview invitations almost immediately. Applicants are reviewed by at least two different members of the admissions committee. A subset of the committee meets early in the round to review most applicants for interview decisions, and then the entire committee meets at the end of the round to make decisions on candidates who have been interviewed. Candidates can take different paths through the process – we try to make sure we're moving people through the review process as expeditiously as possible, which means we at times have parallel processes at work to enable that to happen – but everyone gets a thorough and sifting review by the admissions committee.
CA: How does your team approach the essay portion of the application specifically? What are you looking for as you read the essays? Are there common mistakes that applicants should try to avoid? What is one key thing they should keep in mind as they sit down to write?
BD: We've been using our current essay prompt – "Describe your biggest commitment" – for several years now. As some people may know, we developed it in conjunction with Amy Wrzesniewski, a prominent faculty member in our Organizational Behavior department whose researches focuses on the meaning of work. In conjunction with the question itself, Professor Wrzesniewski helped us construct a rubric for evaluating essays. The rubric focuses less on the commitment you chose – we're not really making value judgments about what is and is not a worthy commitment – and more on the ways in which you have demonstrated that commitment. Students at Yale SOM have a bias toward action, and we want to make sure the applicants we admit to our community share that disposition.
The mistakes people make tend to fall into a number of different areas. One obvious one is not answering the question, but rather trying to re-purpose another essay for our prompt. Another, somewhat related, mistake is trying to use the essay to answer "Why an MBA?" and "Why Yale?"  We've constructed our application very intentionally and ask for different, complementary pieces of information at different stages in the process; you don't need to fit everything into the essay. Focus on the commitment and don't worry about tying it to your MBA aspirations. And finally, another mistake is trying to use an umbrella commitment – even if worthy and noble – to fit in a number of different experiences. We really want you to focus on one thing, one commitment, and be very specific about that commitment rather that articulate an overarching concept or ideal and include a list of things that fit into that larger concept. We're less likely to get a sense of your demonstrated behaviors from this latter structure.
CA: Could you tell us about your interview process? Approximately how many applicants do you interview? Who conducts the interview (students, admissions officers, alumni) and what is the nature of the interview?
BD: Depending on the year, we interview roughly a quarter to a third of the applicant pool. Interviews are conducted primarily by trained second-year students, although members of the Admissions Committee do conduct some as well. Our interviews are "blind," meaning that the interviewer has reviewed your resume, but has not seen the rest of your application. The idea is for this input to be as independent of the other reviews as possible. The interviews themselves are 30 minutes in length and structured in format – every interviewee receives the same questions in the same order. Research consistently shows that structured interviews are far more predictive than unstructured ones, which is why we adopted this format many years ago. Interviewers also use a highly structured rubric in evaluating candidates, to heighten inter-rater consistency, decrease bias, and increase the fairness of the process. The questions themselves are largely behavioral in nature – we ask about past experiences and how you handled certain situations, as well as about your MBA aspirations. The goal, as with the rest of our application, is to elicit the information that is most helpful at that time and in that format, and that complements the rest of the application. I would note that although the interview is the last thing you will do as an applicant, that does not mean that it is the most important aspect of your candidacy or that it will determine the outcome of your application. It is just one more data point, and the one piece of advice I would give to applicants is not to put too much emphasis on it, as you shouldn't any single element of your application – nothing by itself will make or break your candidacy.
CA: Tell us briefly about two notable professors at your institution (ideally one student favorite, and one up-and-coming).
BD: There are so many professors I could highlight, but the two I would note are Nick Barberis and Cydney Dupree. Nick teaches behavioral finance and is the Stephen and Camille Schramm Professor of Finance here at Yale SOM. His research focuses on using cognitive psychology to understand investor trading behavior. He is one of the really seminal figures in behavioral finance and behavioral economics, along with Robert Shiller, and was one of the early finance faculty members to join us here at Yale from Chicago Booth (followed by others such as Toby Moskowitz, Bryan Kelly, Stefano Giglio, and Kelly Shue). He is one of the most popular teachers at the school, and importantly is just an incredibly nice person. Cydney is a more junior faculty member in the Organizational Behavior department, but has already made a name for herself through her research on reducing divisions between social groups and increasing the inclusion of under-represented minorities within and across organizations, which is an incredibly important area. She is definitely someone to keep an eye on in the future!
CA: Is there anything else you'd like to highlight about your MBA program or admissions process?
BD: I would just like to wish all of the MBA aspirants who read this piece the best of luck in the application process. I know that it feels very high-stakes and involves a great deal of effort and anxiety, but just know that those of us on the other side of the process are rooting for you and are hoping to help you take this next step in your professional development.
Now, listen to the podcast episode (hosted by Graham Richmond and produced by Dennis Crowley) of our Yale SOM Admissions Director Q&A here or in your favorite podcast app to hear more from Bruce.