In this edition of Fridays from the Frontline, gain in-depth firsthand insight into the Wharton MBA and its real estate program from current student, Nicolle Lee. Nicolle digs into how Wharton, its offerings, community and more have prepared her for a successful career in the field.
Finding Community and a Career Through Wharton's Real Estate Program
By Nicolle Lee, Wharton MBA '22
When I applied to Wharton nearly two years ago, I applied as a real estate major with the intention of pursuing a career in real estate investment banking. Professionally, I had over five years of work experience in financial services across various functions, including banking, venture capital, and corporate development. My prior experience in real estate had been through nonprofit leadership tackling issues in affordable housing in NYC. While I was open to exploring other career paths and it is common for MBAs to switch intended majors and careers, once I matriculated it became clear that I had to take advantage of Wharton's best-in-class real estate program. Through my exploration of real estate as a new career path, I was also on a journey of self-discovery and had the opportunity to pursue my passions for finance, social impact, diversity, and women empowerment.
Discovery: Putting Myself out There Early on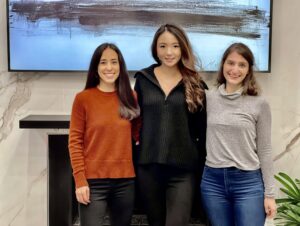 Given the amount of resources available to Wharton students, it was daunting when first getting started, but the key to my success was putting myself out there right away and talking to as many people as possible.
One of the first people I spoke with was my career advisor, Colleen France. She was helpful in offering advice that was practical, yet also encouraging. Her candid advice was to think about internships as small pivots that would eventually lead to my dream job, and to leverage my past work experience in finance to make the industry switch into real estate. This framework led me to my first MBA internship in PropTech at Nine Four Ventures, where I interned for the spring semester. I leveraged my past experience working with and investing in startups to make an impact for the firm from day one while also taking time for myself to learn about the real estate industry from a venture capital lens.
Another major resource for students studying real estate at Wharton is the Zell/Lurie Real Estate Center, which brings academia and industry leaders together to create a unique community. The Ballard Executive Speaker Program was invaluable in creating opportunities to develop connections with leading real estate professionals. It was through several one-on-one coffee chats with managing directors from top investment banks that I began to seriously consider real estate investment banking. The Zell/Lurie center also hosts formal career fairs where students have the opportunity to get to know many top firms across real estate.
Informal coffee chats were also very helpful in learning about the different paths students could take. While many of the alumni I spoke with pursued typical paths, such as real estate private equity and development, I was surprised to learn that a few of them also pursued more entrepreneurial routes. These conversations really broadened my long-term career thinking and stretched my own personal appetite for risk. In conducting these informal coffee chats, I made sure to cast a wide net. I not only reached out to alumni from Wharton, but also other MBA programs. In total, I had coffee chats with over 100 alumni from Wharton, HBS, Columbia, Kellogg, UNC, and others. I found that real estate MBAs had a community of its own and everyone was very friendly even across programs.
Reflect: Taking Pause and Asking Myself What Excited Me the Most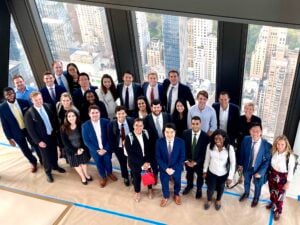 During classes and coffee chats, I made time to reflect about the topics within real estate that made me most excited. In Ari Shalam's Real Estate Entrepreneurship class, our first assignment was to call up brokers from major cities and to inquire about commercial properties. Upon reflection, it became clear that I really enjoyed cold-calling and sales, especially when it involved working with other high-energy people. This experience inspired me to take my real estate sales license exam in New York and fulfill my "Million Dollar Listing" aspirations. It was also helpful taking time to get to know professors outside of the classroom. My development professor Alan Feldman often hosted dinners after class and it was during one of these dinners that I was able to learn more about how his real estate investment banking experience led him to running his own real estate company.
Last year, I competed in several case competitions and although my teams did not always place first, competing was still crucial to my process of finding what parts of real estate I was most passionate about. For example, after competing in the Urban Land Institute's 19th annual urban design case competition, I realized that I enjoyed cross-collaborating with the UPenn Weitzman students to bring buildings to life. The competitions were also usually sponsored by major development firms such as Hines or investment firms like Invesco and were really great opportunities to get to know firms outside of traditional on-campus recruiting. Through the 2021 Miami Herbert Impact Investing in Commercial Real Estate case competition, my team developed a project concept that was both socially conscious and commercially viable. It also gave us a chance to connect with faculty at Penn and experts in the Philadelphia community to explore how we could incorporate creative financing, anchor institutions, and community-centric uses. Our final proposal, "17th Street Crossing," was for a transit-oriented, business and workforce development hub in North Philadelphia. The passion clearly showed through our presentation and we ended up placing first. I learned that when you are passionate about something, that is when you are able to shine the most.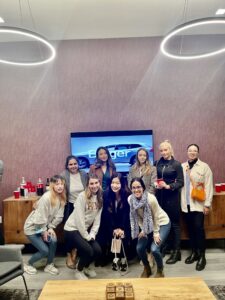 Accelerate: Partnering with Talented Peers and Never Giving Up
Through my involvement with Penn Students Women in Real Estate ("PSWiRE") and Wharton Real Estate Club ("WREC"), I was always asking peers coming from industry questions about their experiences and learning as much as possible from everyone around me. This meant taking advantage of all of the networking and social events.
Once it became clear that real estate investment banking was what I would like to pursue for my summer internship, I aligned myself with classmates who also were recruiting for investment banking. I asked for help from my close friends (who I had met through the real estate club) about their experiences and they even went so far as to help me prepare examples of deals for my interviews. Although the hundreds of hours of networking events and interview preparation was grueling, I was always energized by the talented classmates I surrounded myself with. Drilling technical questions with the best talent I could find made me better and more motivated to learn and be the best I could be. I wouldn't be where I am today without my peers' help.
What is so special about Penn is how various communities within real estate connect across schools. Through PSWiRE, I have been really lucky to learn from women not just at Wharton, but also at Penn Law and the Weitzman School of Design. PSWiRE also hosts conversations with alumni on their experiences navigating the industry and speaker panels that showcase the diversity of leaders, perspectives, and passions in real estate. It has helped me think about real estate from different vantage points: as a matter of design and architecture, planning and social equity, legal transaction, and financial investment.
Taking everything I had learned from Wharton into my summer internship at Morgan Stanley, I had a blast using my financial skills and real estate knowledge to execute live transactions. I also had the opportunity to mentor and work with an undergraduate summer analyst from Wharton. It was awesome to see the Wharton woman network in full-effect and made me realize what a special place Wharton is. Looking forward, I'd like to continue creating impact through my commitment to diversity and women empowerment within real estate.