From humble beginnings as the "Disney Brothers Cartoon Studio," The Walt Disney Company (Disney) has grown into a multinational entertainment and media conglomerate. Disney has woven magic and wonder into global culture. Do you remember your favorite movie or cartoon character as a kid? Now, imagine, as an adult, what it would be like to work there. In this edition of Real Humans – Alumni, Stephanie Sorensen, Chicago Booth Evening MBA '20, delves into her part-time business school experience and reflects on what helped her become a senior associate at Disney.
Stephanie Sorensen, Chicago Booth MBA '20, Senior Associate | Global Business Development & Strategic Partnerships at Disney
Age: 31
Hometown: Lombard, Illinois
Undergraduate Institution and Major:  Knox College, Major: Economics, Minor: Studio Art
Graduate Business School, Graduation Year and Concentration: Booth 2020; strategy, marketing and entrepreneurship
Pre-MBA Work Experience: 5.5, commercial banking
During MBA Experience: 2.5, commercial banking
Post-MBA Work Experience: 2, strategy consulting & marketing
Why did you choose to attend business school?
I wanted to make the transition from finance to strategy or marketing. At the time, the companies I was talking to said they only hired top-tier MBAs.
Why Chicago Booth? What factors figured most prominently into your decision of where to attend?
I have a liberal arts undergrad degree and wanted to go to a quant business school. After sitting in on a couple of Booth classes, it was clear Booth was the school for me. I loved the collaborative nature of the students and the passion of the professors. I was truly impressed by everyone around me. I wanted to be a part of that community that respectfully challenged each other to collectively be better.
What about your MBA experience prepared you for your current career?  
Ability to challenge assumptions
Confidence to share my ideas with executives
Exposure to working with clients in innovative fields
Connecting data to dive even deeper to create recommendations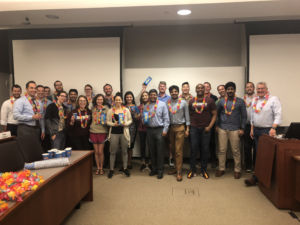 What was your internship during business school?  How did that inform your post-MBA career choice?
I was a part-time student and went to business school in the evenings. I continued working in commercial banking full-time during my MBA experience.
Why did you choose your current company? What factors figured most prominently into your decision of where to work?
I wanted to work for a firm that brings joy to people on a global scale. I also wanted a place that values creativity and crazy ideas. It's amazing to me that I went to the stereotypical quant school and came out with such an imaginative role.
How has COVID–19 impacted your industry/career plans?
Yes and no. Out of Booth, I started in strategy consulting with a firm based in New York City. While I was working remotely, the plan was to move to New York City and eventually move over to a streaming service there. Since I did not make the move and start to plant roots, I was able to broaden my job search scope and accepted an offer in Florida. Instead of focusing just on streaming in New York, I now get to work across the entire Disney portfolio of assets (theme parks, studios, products, etc.).
Advice to current MBA students:
-One thing you would absolutely do again as part of the job search?
Be curious, genuine, and bold in reaching out to people for informational coffees. Come to those prepared with thoughtful questions and with an attitude of learning. Always thank them and do your best to build a meaningful relationship over time.
-One thing you would change or do differently?
Do not have your heart so set on getting to a certain team or title. You will evolve during business school and the role you thought was perfect may not be when the time comes. Take a diverse array of classes and explore new interests.
-Were there any surprises regarding your current employer's recruiting process?
An alum gave me the great advice that teams within the same company can value MBAs differently. Network with a variety of divisions, geographies and functions to see what's the best fit for you. I also did not go through the traditional MBA recruiting. I had many informational coffees and focused on building relationships. When this job posting opened, I was able to reach out to one of my relationships, and I am grateful they went up to bat for me.
-What piece of advice do you wish you had been given during your MBA?
Keep a little black book of your favorite life lessons from peers and profs during your MBA experience. You are not a failure if you don't go into IB, PE or consulting! Those are great options, but they are are not the only paths post-MBA!