Karin Bailey, Carnegie Mellon Tepper MBA '17, had reached a pivotal point in her career in manufacturing, and she needed to decide to go all-in or switch things up. In this edition of Real Humans: Alumni, Karin talks about how business school empowered many changes, including a switch to tech and full-time job at Google.
Karin Bailey, CMU Tepper MBA '17, Solutions Consultant at Google
Age: 35
Hometown: York, Pennsylvania
Undergraduate Institution and Major: University of Pittsburgh, B.S. Industrial Engineering
Graduate Business School, Graduation Year and Concentration: Carnegie Mellon University, Tepper School of Business, 2017
Pre-MBA Work Experience: 5.5 years, manufacturing
Post-MBA Work Experience: 4.5 years, tech
Why did you choose to attend business school?
I was at a pivotal point in my career where I needed to decide if I wanted to go all-in on my current path or make a switch. I didn't quite know what I wanted to do, but I wanted the opportunity to explore. I wanted to live in a new city, try a new industry and see how else I could use my skillset. After a lot of research, I decided business school was the right path for me.
Why Tepper? What factors figured most prominently into your decision of where to attend?
I had a spreadsheet with all of my decision-making criteria and the appropriate weights. I researched rankings. I had coffee chats, and I looked at the classes offered and companies that recruited at the different schools. I was ready to make a data-driven decision (already thinking like an MBA), but ultimately it came down to my gut. Tepper was the business school where I felt at home. The community is what sold me, and it's what still makes me happy. Almost six years out, and I would still pick Tepper today.
What about your MBA experience prepared you for your current career?
Influencing without authority. At Tepper, I was the vice president of our Graduate Business Association, and in this role, I had to work with my peers to enhance the community, empower our classmates and coordinate events. There was no hierarchy, and we had to work through disagreements and conflicting priorities. Mastering these skills in school made it so much easier at work.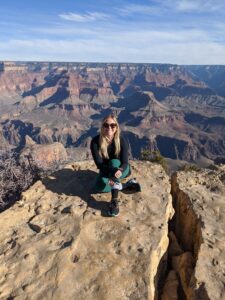 What was your internship during business school? How did that inform your post-MBA career choice?
I interned in FinOps at Google in Sunnyvale, California. I had such an amazing time that I decided to go back to my team full-time. The people were wonderful, the work was interesting and I really loved the company's values. 
Why did you choose your current company? What factors figured most prominently into your decision of where to work?
I had such a fabulous summer, and it would've been hard to choose any other company. Google was the first company I've worked for where I could really bring my whole self to work. I've been able to grow, not only in my career, but as a person. I've built so many strong relationships, and I am truly excited to go to work every day. 
How has COVID–19 impacted your industry/career plans?
During the pandemic, my husband and I took the opportunity to move back east to be closer to friends and family, and we actually had our first child in June 2021. 
Advice to current MBA students:
–One thing you would absolutely do again as part of the job search?
I had a very targeted approach. I did a lot of research and only applied to a few companies – just like my approach to applying to business schools. Narrowing my focus allowed me to spend more time at club events, doing group work, or socializing. 
–One thing you would change or do differently?
I was too intimidated to reach out to the alumni at the companies I interviewed with. But now that I am an alumna, I love talking to current students.
–Were there any surprises regarding your current employer's recruiting process?
I was surprised that the interviewers actually wanted me to do well. 
–What piece of advice do you wish you had been given during your MBA?
It's okay to not know exactly what you want to do. I still don't quite know, and I'm not sure I will. It's nice to just see where the path takes me.