We are excited to kick off our annual Admissions Director Q&A series, in which MBA admissions directors shed light on their program's application process, essays and more. To start the 2022-2023 round of exclusive Q&As, Lisa Rios, Assistant Dean for MBA Admissions at the NYU Stern School of Business, joins us to discuss the Stern application, interview & much more.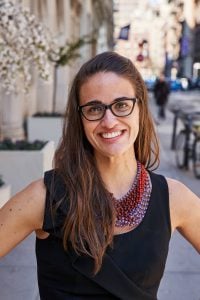 Lisa leads a team of 20 professionals, overseeing the core admissions function for Stern's full-time MBA programs, as well as marketing and operations. Lisa joined Stern in 2008 and has evaluated nearly 50,000 full-time MBA applications and seen nearly 5,000 new full-time students start their MBA journeys during her nearly 14 years at Stern.
In addition to her role leading the MBA Admissions team, Lisa also serves as a program chair for a cohort of MBA students as part of Stern's Leadership Fellows Program. She also hosts one-on-one sessions with students to help them understand their individual Intercultural Development Inventory® (IDI®) results and development plan as part of Stern's commitment to diversity, inclusion, belonging, and equity.
Read on for Lisa's insights into the NYU Stern admissions process, advice on how to approach the essay portion of the Stern application & much more below.
Clear Admit: What is the one aspect of your program that you wish applicants knew more about?
Lisa Rios: I know that applicants care deeply about the ROI (return on investment) of their MBA experience – they are making an investment in their future and want to know that it's worth it. At NYU Stern, an essential element of this ROI is access. One of Stern's values that we're particularly proud of is that we're uncommonly connected – with our NYC location and access to NYU's global network, we have built deep connections that bring CEOs and business leaders into the classroom, generate hands-on experiential learning opportunities for students, and lead to incredible summer internships and full-time employment outcomes post graduations. Students gain continual access to a diverse array of organizations and executives leading innovative solutions across global brands, nonprofits and startups throughout their MBA experience. For example, through Stern's experiential learning portfolio, which the School calls Stern Solutions, students have the chance to help a corporate partner solve a real business challenge in real time. Two recent corporate partners included creating a plan to grow Ford's iconic Mustang brand, and helping Viacom launch a new streaming channel.
Another key element to the ROI of a Stern MBA is the leadership skills our students build that will help them thrive in an ever changing world as well as propel them into more senior roles for many years after they graduate. Stern's Leadership Accelerator is designed to develop our world's future leaders, and students start working with it as early as Day 2 of their orientation with a simulation led by Professor Nate Pettit. The Accelerator is an initiative that I am especially proud of because I serve as a Program Chair for one of its programs – Leadership Fellows. (I also love talking about it, so feel free to ask me more!).
CA: Walk us through the life of a Stern application in your office from an operational standpoint. What happens between the time an applicant clicks "submit" and the time the committee offers a final decision?
LR: Let's walk through the admissions cycle, starting with our application deadlines: we have four. and something to note about our process that is unique is that we have rolling notifications, which makes us different from many other schools. Each application deadline has a corresponding initial notification deadline as to when we will get back to you with next steps, but that deadline is the latest possible date you'll hear from us and we try to release our initial notifications as soon as we have them. We don't make people wait longer than necessary because we know that this can be an anxious process.
Every single application is considered by the Admissions Committee, and every application is reviewed more than once, so it's not just a one person – or one perspective – making a decision about an application. And, in some cases, the Committee can have quite a bit of a discussion. In every case, we just try to ensure that every application is reviewed holistically and is seen from more than one point of view.
I talk about it a lot, but that's because it's important: what sets "Sternies" apart is our emphasis on IQ + EQ. We seek it, screen for it, and build a class with this value top of mind. Our community at Stern is built with individuals who showcase both intellectual and interpersonal strengths – people who develop great ideas, can turn those ideas into action, and then inspire those around them. The application itself highlights this combination; it is holistic and we consider candidates across three areas: Academic Potential, Professional Achievements & Aspirations, and Personal Characteristics.
There are a few pieces of our admissions process that are unique and give insights into an applicant's EQ. One of our favorites is our "Pick Six" essay, where applicants describe themselves using six images and corresponding captions. With this, we see what is important to applicants, what makes them who they are. This quickly became one of our favorite parts of the application because we really see their whole self come to life.  Several years ago, we also replaced the more traditional recommendation with an EQ Endorsement, to get an external perspective on a candidate's EQ as well.
We then have an invitation-only interview process, which I explain in more detail in one of the following questions.  Regarding the application process as a whole, people have three initial notification possibilities: invitation for an interview, offer to be on the waitlist or denial. After an interview, we typically get back to the candidate within three weeks.  If someone is being offered a space in the class, our interviewers get to call them with the good news! As you can imagine, these are fun calls for us to make!
CA: How does your team approach the essay portion of the Stern application specifically? What are you looking for as you read an essay? Are there common mistakes that applicants should try to avoid in the Stern application? What is one key thing they should keep in mind as they sit down to write?
LR: If applicants remember anything from this Q&A, please remember… be themselves! Tell us the truth. Tell us who they are, what is important to them. The application and its essays are their stories, and candidates should spend time developing that story. What do they want their career journey to be? What do they want their MBA experience to look like? And, before putting any words on the page, they may need to do some research: think about their goals specifically, why the Stern MBA, and how the Stern MBA will get them to those goals.
Remember what I said earlier – IQ + EQ are both critical to the Stern community, and the essays are one of the first times that applicants will be able to showcase their EQ. The "Pick Six" essay and our Change essay are fun, new ways they can introduce themselves. Everyone at Stern is invited to share their personal brand call to action about how they will respond to change; mine has consistently been Change. Do It. I feel that actions speak louder than words, and part of innovating is being comfortable experimenting and trying new things.
CA: Could you tell us about your interview process? Approximately how many applicants do you interview? Who conducts the interview (students, admissions officers, alumni) and what is the nature of the interview (resume-based, behavioral)?
LR: I often say that you have to love people to work in Admissions, and it's true! I have read thousands of applications and met thousands of applicants, and having the chance to have one-on-one interviews with them is such an honor.
In these conversations, we get to meet the person behind the application and really get to know them through a deeper conversation. Our interview isn't blind, meaning that the interviewer has already reviewed the candidate's application, and directs the conversation beyond what is already on the resume. We want to take advantage of these 30 minutes to talk about more than what's on paper. A tip for applicants – they should re-read their application before the interview so they remember what they have shared!
Now logistics – the interview is by invitation only and is required to be admitted. About 30 percent of applicants are invited in for an interview, so it's a good sign if an applicant receives an invitation! In the past, most of these interviews have taken place in New York City, but this year we will again be accommodating applicants given the circumstances around Covid-19.
CA: What is your testing policy?  Do you offer exam waivers as part of the Stern application?  Why or why not?
LR: Stern will continue to offer the option for applicants to apply for a standardized test score waiver. The standardized test is a required part of the Full-Time and Focused MBA program applications, and one of the tools Stern uses to evaluate the academic readiness of applicants. However, if an applicant is not able to prepare for or take a standardized test and is able to demonstrate academic readiness without a standardized test score, they may request a standardized test waiver for these programs.. Those who provide examples of academic readiness (e.g., strong analytical or quantitative undergraduate or graduate majors, professional work experience, certifications, etc.) may be more likely to receive a standardized test waiver.
CA: Tell us briefly about two popular courses at your institution.
LR: There are so many courses I could mention here, but there are two that are especially interesting right now.
NYU Stern Professor Amy Webb teaches Strategic Foresight and Predicting the Future of Technology, one of the only MBA-level courses in the US that trains students to become futurists. In the course, students learn strategic foresight, long-term trends research, quantitative modeling, and scenario planning. The first half of the semester focuses on mastering the methodology of these skills and in the second half, they put it into practice, working live cases with companies such as PayPal.
Another is Climate Finance, taught by Johannes Stroebel, who was awarded the prestigious Andrew Carnegie Fellowship this year. The course is informed by his research and policy work on the economic and financial impacts of climate change and helps students understand how they will navigate the many ways it will impact their careers.
CA: As we learn to live with COVID-19, campuses have opened up and students are back. What about prospective students? Will they have the opportunity to visit campus? Will admissions interviews be conducted virtually?
LR: We were thrilled to be able to invite and host admitted students on campus this Spring for Preview, our admitted student day. The students were so excited to experience Stern in person, and the event helped solidify their decision to enroll! Currently we are still awaiting COVID policy updates for prospective students to be able to visit campus. Please check our website for opportunities to meet MBA Admissions and stay tuned for any updates.
CA: Is there anything else you'd like to highlight about your MBA program or admissions process?
LR: In addition to being connected to NYC and industry, Stern is a deeply connected community, an aspect of the culture that students take great pride in and influence directly. The people are also the reason that I have worked at Stern for nearly 15 years! Relationship building starts right from the beginning of the admissions process where applicants can schedule virtual chats with a current Sternie to learn about the experience from their perspective.