In this edition of our Admissions Director Q&A, get an inside look at MBA admissions and opportunities at The Ohio State University's Fisher College of Business. Chris Adams is the Director of Recruitment and Outreach for graduate programs at OSU Fisher and has the scoop on what makes the university and its Columbus, OH, base so attractive. Chris began his career as a marketing professional and PROSCI-certified change management consultant, launching real-world solutions in industries ranging from higher education to finance. Over the last six years, he's been helping students take the next step in their careers through graduate education. He's a notable expert in admissions, recruitment, end-to-end experiences, business intelligence, digital advertising, inbound marketing, project management, and marketing tools/technology.
Read on for insights into the Fisher MBA.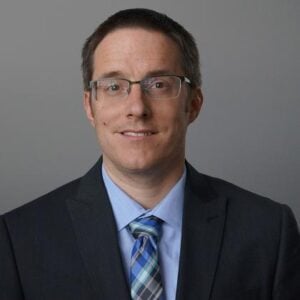 Clear Admit: Walk us through the life of an application in your office from an operational standpoint. What happens between the time an applicant clicks "submit" and the time the committee offers a final decision? 
Chris Adams: After a student hits submit within their target round deadline, They need to make sure their checklist listed on their Fisher application portal's home page is finished. Once done, the application will show 'complete' and goes to review by the admissions committee. The committee will take a holistic approach looking at all parts of an application to gauge fit within the class. They will then release admission decisions on the posted decision dates for each round. It is advantageous to apply early to allow for conversations around funding or other topics.
CA: How does your team approach the essay portion of the application specifically? What are you looking for as you read an essay? Are there common mistakes that applicants should try to avoid? What is one key thing they should keep in mind as they sit down to write? 
Chris: The essay should be used to provide insight about short and long term goals. It should also give us a sense of your experiences and thought processes. Common pitfalls would be not answering the questions asked, or submitting an essay with another schools name in it.
CA: Could you tell us about your interview process? Approximately how many applicants do you interview? Who conducts the interview (students, admissions officers, alumni) and what is the nature of the interview (resume-based, behavioral)? 
Chris: We utilize a video interview feature within our application that everyone completes, which consists of you responding to several pre-recorded questions and one written question.  Live interviews are extended to those the admission committee is considering and can be done in-person or virtually.
CA: What is your testing policy?  Do you offer exam waivers?  Why or why not?
Chris: We do offer GMAT/GRE waivers to ensure we identify all future leaders. While a test waiver may benefit some MBA candidates, individuals should consider that the rest of their application will carry more weight without a test score, including their undergraduate GPA. The GMAT and GRE are standard benchmarks for applicants wishing to signal their suitability for a rigorous MBA program. A good test score is also beneficial when seeking merit-based funding in our Full-Time MBA program. Waivers are more common in our Working Professional MBA program, where individuals typically have more work experience to highlight quantitative ability.
CA: Tell us briefly about two popular courses at your institution.
Chris: We have a lot of popular courses, but two that come to mind are Ohio State's/Fisher's Global Applied Projects (GAP) course and Negotiations. GAP allows students to make an impact by working for 14 weeks as a consultant with an international company, including one week over spring break in-country. We encourage students to take GAP, which is an optional elective. Negotiations is also popular because it is a good skill set that works for a wide range of interests and is highly applicable in the real world.
CA: As we learn to live with COVID-19, campuses have opened up and students are back. What about prospective students? Will they have the opportunity to visit campus? Will admissions interviews be conducted virtually?
Chris: We've adapted well to a world dealing with COVID-19. Ohio State is at the forefront of proper response. Because of this, we are doing individual campus visits, Fall Preview Days, and more on-campus. Admissions interviews will be available on-campus and in-person. Of course, we prioritize student safety, following recommendations and adjusting as needed.
CA: Is there anything else you'd like to highlight about your MBA program or admissions process?
Chris: At Fisher College of Business, students benefit from experiential learning, curriculum personalization, and the breadth of resources available at Ohio State, one of the nation's top research universities with 580,000 alumni in more than 150 countries. As one of the country's largest universities, you'll have access to the resources needed for success while being a part of a small, tight-knit MBA program. Don't forget that you'll earn your MBA in a booming city! Columbus is home to 16 Fortune 1000 companies – multinationals, nonprofits, and startups.