We have another informative Admissions Director Q&A for you, this time with Chris Healy, the Head of MBA Marketing & Recruitment at Alliance Manchester Business School (AMBS) at the University of Manchester. Chris has 15 years of experience in graduate management education and a passion for GME that has only grown over time. He's implemented and developed marketing and recruitment strategies both domestically and internationally, to meet the academic and commercial objectives of the school. During this time, he's gained experience and insight in the UK, Western Europe, Central Asia, Middle East, North America, Africa, and Asian markets. He works with individual candidates as well as global corporates looking to attract, develop and retain talent, particularly in the banking, energy, manufacturing, pharmaceutical and telecommunication industries.
Read on for insights into the culture at AMBS, what to expect during the MBA program, and more about their admissions.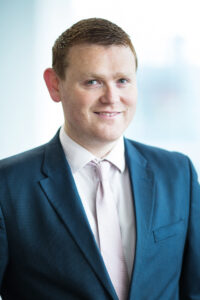 Clear Admit: What is the one aspect of your program that you wish applicants knew more about?
Chris Healy: That we are one of the most if not the most practical MBA programmes in the world. Yes, we teach all our students the fundamentals in business and allow them to specialize in the second half of the MBA as do all MBAs in the world. But, what we do that is so unique is we have our students working on Live Client Consultancy Projects from Day 1.
First, they begin with a Not-for-Profit Consultancy that is done with the likes of the National Football Museum and Royal Commonwealth Society.
They then go on to undertake a Commercial Business Consultancy that is often with a Start-Up or SME.
Finally, they embark on an International Business Consultancy, which entails our students travelling all over the world, depending on who their respective clients are. These clients are often multinational organisations, such as BP or Mastercard, that have to dedicate a budget of approximately $20,000 for each group to undertake their consultancy and research overseas.
These three Live Client Consultancy Projects give Manchester MBA students 900 hours of client facing time, more than any other MBA in the world.
CA: Walk us through the life of an application in your office from an operational standpoint. What happens between the time an applicant clicks "submit" and the time the committee offers a final decision?
CH: We offer a very personalized service at Alliance Manchester Business School, our Recruitment Team hope to individually speak to each potential applicant before they apply to either encourage or discourage an application. Once an application has been submitted, our Admissions Team take over and will personally then reach out to each applicant in order to build a relationship.
The Admissions Team will work with applicants to ensure they have submitted all their documents and to invite them to take our Online Video Assessment. From there an interview is arranged with one of 5 members of the Admissions Committee with a decision given to each applicant within two weeks of interview.
CA: How does your team approach the essay portion of the application specifically? What are you looking for as you read an essay? Are there common mistakes that applicants should try to avoid? What is one key thing they should keep in mind as they sit down to write?
CH: The key thing for us is for applicants to ensure they find a way in their essays to demonstrate the 'impact' they have had in their roles and organisations. Not to merely list their responsibilities etc., we want to see tangible 'impact'. Quality professional experience is integral for the Manchester MBA given how practical our programme is. Our students will be in high pressurized environments on our MBA with the level of clients they will be working with, therefore paramount for us to be sure that our students will have been in similar situations previously in their careers.
CA: Could you tell us about your interview process? Approximately how many applicants do you interview? Who conducts the interview (students, admissions officers, alumni) and what is the nature of the interview (resume-based, behavioral)?
CH: Our interviews are conducted by the 5 members of our Admissions Committee. Our Admissions Committee consists of our Admissions Director, MBA Programmes Director, Assistant MBA Programmes Director, Head of Postgraduate Careers and myself. We take a personalised approach to our interviews, with many of the Admission Committee having different styles ranging from competency based questions to a more conversational style.
We are considering introducing alumni interviews at some point over the next 12 months.
CA: What is your testing policy? Do you offer exam waivers? Why or why not?
CH: The majority of our students undertake a GMAT or GRE. The historical exception has been our domestic students as we endeavor to increase the amount of British Nationals on our Full-time MBA, therefore we often remove the barrier of a GMAT/GRE to those individuals.
CA: Tell us briefly about two popular courses at your institution.
CH: Mergers & Acquisition Project
This simulated project develops our students knowledge of business analysis, UK/global mergers and acquisitions, strategy, accounting and finance. It also tests their negotiation skills. Their team will act as the acquisitions function of a major corporation. They will analyse the company and its markets, formulate an acquisition growth strategy, value the company and select an acquisition. Next, they formulate and negotiate a merger. Will the board of directors, represented by AMBS faculty, accept their deal?
International Business Consultancy
The International Business Consultancy Project (IBP) takes MBAs around the world, from Toronto to Tokyo. Our students build their own team, choose from a list of exciting global briefs, then pitch against other MBA teams.
Groups will undertake a piece of professional international consultancy for a live client. This will take them around the world and give them access to senior figures at some of the world's most prestigious companies.
The IBP is their chance to apply everything they've learned and prove themselves in a high-pressure, high-risk business challenge.
CA: As we learn to live with COVID-19, campuses have opened up and students are back. What about prospective students? Will they have the opportunity to visit campus? Will admissions interviews be conducted virtually?
CH: Our Full-time MBA students started back on campus in April 2021. We have welcomed prospective students and applicants back onto campus in the second half of 2021. Having invested over a $100 million dollars on our new campus in Manchester, we welcome as many prospective students to come on campus. We have a Hyatt Hotel at our new and improved campus, which is a 30-second walk to the business school, so very convenient when we welcome guests.
Our interviews are conducted face-to-face and virtually. We are now back 'on the road' attending different MBA events across The Americas, Africa, Asia and Europe and where possible we will conduct interviews face-to-face and when not possible we do them online.
CA: Is there anything else you'd like to highlight about your MBA program or admissions process?
CH: I'll give readers three pieces of advice…
One piece of general advice is to think about 'timing', just because you meet the minimum entry requirements of three years of professional experience, does that mean that 'now' is the time for you to do an MBA? It's a common mistake that many candidates make in thinking they need an MBA 'right now' when arguably they would benefit from gaining a couple more years of professional experience. This is not to say we don't have students with three years of experience, we do, but the key point is it's about the quality of that experience.
Secondly, I would encourage applicants to reach out to business schools directly and speak to their admissions staff. We are a collegial industry with integrity and we at Manchester along with my colleagues from other business schools around the world will advise you accordingly. If they think you're the right fit for their respective programme, they will say and encourage you to apply; equally, if they think you would be better suited elsewhere at a competitor programme, we/they will advise you to focus your applications on those schools.
Finally, research is key. You do not want to be spending a large amount of your time working on MBA applications for programmes and schools that are not the right fit for you. Are you looking for a purely classroom/theoretical based MBA or do you think you would thrive with a more practical MBA that also takes you outside of the classroom regularly? Look at rankings, look at the reputation of a school, but more importantly in my eyes, look at the programme structure and find out what is unique about that MBA.