We head to California to learn about University of California, Irvine's Paul Merage School of Business (UCI Merage) from Lindsay Haberman, Associate Director of Recruitment and Admissions for the Full-Time MBA Program, in this edition of our Admissions Director Q&A series. Lindsay joined the Merage School in April 2015 and has worked primary with the FEMBA and Full-Time MBA students. She has held multiple roles, starting as a coordinator and now in her current role working with MBA Recruitment and Admissions. Her main responsibilities include recruitment, event management and marketing. Prior to the Merage School, Lindsay worked in the banking industry for over 15 years, her roles included business development, relationship management, sales, and management.
Read on for insights into the offerings at Merage, what to expect in the admissions interview and more.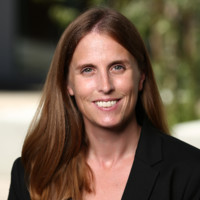 Clear Admit: What is the one aspect of your program that you wish applicants knew more about?
Lindsay Haberman: We bring in prominent resources from industry to set our students up for success. Some of these resources include expertise in presentation skills, case interview preparation and effective team coaching. The student feedback is so positive that some of these partnerships span almost 20 years. Development of presentation and communication skills starts right away during orientation. Our students get group and individual coaching sessions with our experts. Our students are video recorded while giving their first presentations and that recording is used as a baseline for improvement. Our students have various check in and feedback sessions throughout the first year of the program. These experts prepare our students to excel in their internship opportunities. Employers have validated that this mechanism for feedback and individual coaching has differentiated our MBAs in the marketplace.
CA: Walk us through the life of an application in your office from an operational standpoint. What happens between the time an applicant clicks "submit" and the time the committee offers a final decision?
LH: Our admissions coordinator reviews each application for completeness and provides detailed status updates throughout the admissions process. Once the application is submitted and complete (test scores, resumes, letters of recommendations), the application will be moved to the first read stage. Our admission officers (including MBA student ambassadors) complete two reads of the application before we decide to invite an applicant to continue in the process by inviting them to interview. During the interview we want to learn more about the candidate's goals as it relates to their current experience and their interest in Merage. After the interviews, the applicants go to an admissions committee that consists of the Admissions Officers, Assistant Dean of Masters programs and the Executive Director of our Merage Career Center. Using the application, reviews and interview notes the committee makes a final admission decision. This entire process typically takes 6 to 7 weeks from the time the application is complete.
CA: How does your team approach the essay portion of the application specifically? What are you looking for as you read an essay? Are there common mistakes that applicants should try to avoid? What is one key thing they should keep in mind as they sit down to write?
LH: The essays give us a chance to learn a lot about our applicants and their career goals. We have two required essays; one is a video and the second is written. The objective is to get to know our applicants outside of their test scores, transcripts, and resume. The essays allow candidates to tell their story and provide why an MBA at Merage will help them get to their goals. A common mistake we see made is applicants writing what they think we want to read instead of telling their authentic story. Applicants should think about their uniqueness and make sure that is represented in their essays.
CA: Could you tell us about your interview process? Approximately how many applicants do you interview? Who conducts the interview (students, admissions officers, alumni) and what is the nature of the interview (resume-based, behavioral)?
LH: We use the interview to evaluate if an applicant is going to be successful in the program, represent our school well in the marketplace and provide value to their peers. We are looking for students that match with the school's strengths and determine if they will be an engaging member of our community. We also look for strong industry and functional matches – i.e. candidates who are seeking opportunities at companies that we have strong relationships with.  We conduct interviews with about 1/3 of our applicants. Admission officers conduct the interviews, although you will meet students, alumni, and members of our career service team throughout the process. Interviews can be conducted virtually or in person, and for candidates that can come to campus we like to set them up with a tour and meeting with student ambassadors, showcasing what the culture and community at Merage is like.
CA: What is your testing policy? Do you offer exam waivers? Why or why not?
LH: Similar to last year we will offer a GMAT/GRE waiver. Receiving a GMAT/GRE waiver does not guarantee admission to the program. Applicants should consider several factors before submitting a GMAT/GRE waiver request including their overall candidate profile. Test scores are often a beneficial data point considered by the Admissions Committee when determining merit-based scholarships. There are some employers who may request a GMAT/GRE score as part of their MBA hiring screening process. This is particularly true in industries such as consulting or finance. Candidates are encouraged to consider all factors before submitting a GMAT/GRE test waiver request. Candidates who do request a GMAT/GRE waiver will be required to submit an additional essay outlining your qualification for the waiver. At this time, candidates may request a GMAT/GRE waiver if they have a least a 3.0 GPA (on a 4.0 scale) and at least 2 years of full-time, professional work experience.
CA: Tell us briefly about two popular courses at your institution.
LH: The Merage School curriculum offers you the high-caliber, holistic preparation you will need to become an effective leader in a digitally driven world. Core and elective courses now examine how technology is disrupting all aspects of business across a diverse range of industries, from manufacturing and finance to healthcare and retail. Our focus on innovation allows you to prepare now for the careers of tomorrow. Two popular courses are:
Applied Consulting:
This practicum course provides students an experiential learning opportunity to put into practice, concepts, skills, and tools acquired in other parts of the MBA program, by participating in project teams working on strategic management projects, sponsored by well-known large corporations. Teams conduct research and analyses, develop innovative digital strategies and initiatives to compete in this complex environment, and deliver real value to the project sponsoring firms. Project topics are carefully selected across a variety of industry sectors (from medical devices, to high-tech, to financial services, to consumer goods, to automotive, and others), and address current technology developments, disruptive business models, and other important management challenges in different parts of these organizations.
Competitive Intelligence:
In a world increasingly defined by the exponential growth in computing power, students learn how to design, build, and operate a competitive intelligence program. A competitive intelligence program assesses a competitor's strengths and weaknesses across products, advertising, and brand platforms upon which digitally-driven strategies and execution tactics are developed, assessed, and modified. Through a combination of case studies, guest speakers and live working examples of how companies are increasingly using this process, students learn to utilize tools and practical examples to define, gather, analyze, and distribute actionable intelligence about products, customers, competitors, and any aspect of the environment needed to support executives and managers in strategic and tactical decision making for an organization. With these tools, students will be able to assess a company's external environment, including the industry and relevant competitors, using traditional as well as the technically advanced AI/ML tools to discern elements key to establishing trends and appropriate responses for companies in a variety of industries. The class concludes with the globally renowned "War Game."
CA: As we learn to live with COVID-19, campuses have opened up and students are back. What about prospective students? Will they have the opportunity to visit campus? Will admissions interviews be conducted virtually?
LH: In the spring of this year, we were able to welcome prospective students back in person after a long 2 ½ years. We have offered campus and class visits, as well as hosted events. We love hosting candidates on campus, and it is one of the best ways to assess culture and community at the business school.  Interviews are held virtually throughout the week. We do conduct interviews on Saturdays in person, on campus, as well as virtually.
CA: Is there anything else you'd like to highlight about your MBA program or admissions process?
LH: I always encourage prospective students to reach out and connect with the schools they are interested in. We pride ourselves on providing students with a high touch personalized experience, and this ties in very closely to our community and culture at the school. I think this is a very important factor to consider when choosing a program.