We continue with our Admissions Director Q&A series with Bailey McChesney, the Director of MBA Admissions at Vanderbilt Owen. As part of her role, Bailey manages the application evaluation process, incoming student onboarding experience and MBA Recruiting & Admissions Fellows.
Bailey began with Vanderbilt Business in March 2011 in an admissions operations role in which she facilitated many of the operational procedures for the department and planned a national MBA recruiting tour. Prior to her current role, she enjoyed traveling and recruiting students to join the Vanderbilt MBA program and serving as the Owen Orientation Chair.
Read on for Bailey's insights into the MBA program, what to expect in admissions and more.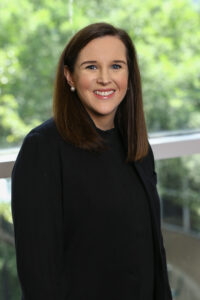 Clear Admit: What is the one aspect of your program that you wish applicants knew more about?
Bailey McChesney: Our brand-new Vanderbilt Business building sits right in the heart of Nashville, Tennessee. Walkable to many restaurants, places to live and hot spots, campus is in an area of the city called Midtown. Students come to Vanderbilt and fall in love with living in Nashville. The city is vibrant and friendly with amazing opportunities to see live music, sports and experience the arts. As one of the fastest growing cities in America, Nashville continues to be a draw for young professionals. Oracle is moving their headquarters to Nashville and Amazon selected the city for their new Nashville Operations Center of Excellence.
CA: Walk us through the life of an application in your office from an operational standpoint. What happens between the time an applicant clicks "submit" and the time the committee offers a final decision?
BC: Our program has a thoughtful and comprehensive evaluation process to ensure we are evaluating the full potential of each applicant. We recognize the energy and time that goes into crafting an MBA application and take great care to ensure we evaluate your application with that same energy. Upon submission, we offer interviews by invitation to give you the opportunity to bring your story to life. Each part of the application is evaluated by multiple individuals to ensure we have a comprehensive overview of your background and potential.
Our Admissions Committee is comprised of individuals from our Career Management Center and the Recruiting & Admissions Team, including a team of Application Evaluators. We look for individuals who can successfully manage the academic rigor of the program, add value in and out of the classroom and become leaders as they take the next step in their career through their post-MBA career search.
CA: How does your team approach the essay portion of the application specifically? What are you looking for as you read an essay? Are there common mistakes that applicants should try to avoid? What is one key thing they should keep in mind as they sit down to write?
BC: We recognize that essays are the part of the application where the candidate has the most control. We have two required written statements in addition to a video response. Our career- focused statement allows you the ability to expand on your career goals and potential. We also offer you the chance to highlight something about yourself that is not shared in the application using our second written statement. This gives you the opportunity to draw attention to personal or professional successes or stories. As you sit down to write your statements, we encourage you to think about what you are hoping to convey in the essays and then focus on being authentic. This is an opportunity to give us more insight into you as an applicant.
CA: Could you tell us about your interview process? Approximately how many applicants do you interview? Who conducts the interview (students, admissions officers, alumni) and what is the nature of the interview (resume-based, behavioral)?
BC: We love hearing your story! The interview gives you the chance to share your skills and experiences, showcasing who you are beyond your resume. Our Recruiting and Admissions Fellows, 2nd year MBA students, approach the interview like a conversation, diving into your goals and background. Interviewers have access to your resume and the conversation is structured a lot like a job interview. You will want to be prepared to speak about your professional experiences and highlight successes. Make sure you can articulate why you are considering an MBA and the path that has led you to apply.
CA: What is your testing policy? Do you offer exam waivers? Why or why not?
BC: We require an official GMAT, GRE, or Executive Assessment exam or an approved test waiver as a part of our application process. It is essential that incoming students can manage the academic rigor of the program and this application component gives the admissions committee an additional data point to review when looking at your academic potential. We want the MBA application process to be as accessible as possible. For candidates that are unable to take the GMAT, GRE or Executive Assessment, we offer a test waiver request process. This opportunity allows you to showcase your academic abilities through alternative ways.
CA: Tell us briefly about two popular courses at your institution.
BC: Sports Analytics is a popular course within our Operations and Analytics concentration. Michael Lapré centers the course on applying quantitative methods to problems in sports, focusing significantly on baseball, football, and soccer, while also covering sports such as golf and Formula One. The course concentrates on using data to analyze and answer typical questions in sports analytics including future performance, team rankings, and how much a player is worth. Even if a student is not interested in seeking a role in the sports industry, the course is an opportunity for students to gain experience in applying quantitative methods and further their analytical skills to approach problems in any managerial context.
Michael Burcham's Launching the Venture course has long been a favorite among students. In the course, students examine the stages of a new venture understanding how one might design, plan, and fund a new venture by working in teams to actually identify and create a concept, and pitch it to a team of real investors. It is a crash course for entrepreneurship, and I have heard multiple students talk about how the structure and innovative nature of the course challenged them to think creatively about applying foundational business skills.
CA: As we learn to live with COVID-19, campuses have opened up and students are back. What about prospective students? Will they have the opportunity to visit campus? Will admissions interviews be conducted virtually?
BC: We are excited to offer prospective students the chance to visit us in our brand-new building beginning this fall. We will be offering on-campus visits as well as on-campus weekend events to provide candidates the chance to interact with our community and envision life at Owen. While we will be offering applicants the opportunity to visit our campus, we have elected to continue to offer interviews virtually, and for those that are unable to visit, we will continue offering virtual sessions for candidate to learn about and engage with our program. We believe that the flexibility of virtual interviews and virtual sessions allows our process to be accessible to all.
CA: Is there anything else you'd like to highlight about your MBA program or admissions process?
BC: Vanderbilt Business is intentional about creating a program that is personalized from the very beginning. We seek to create world-class business education on a personal scale. This rings true from the moment you begin working with the MBA Recruiting & Admissions Team and throughout the program. Your entire experience can be customizable, from the curriculum to the leadership development program. An MBA program is a transformative experience, and our program offers you the opportunity for that experience to be personalized and collaborative.