This edition of our Admissions Director Q&A takes us to Athens, Georgia, to learn all about the University of Georgia's Terry College of Business MBA program from Cara Sonnier, the Director of Admissions. Cara began working for Georgia Terry in the alumni relations and development office managing events for the college. Working with the Full-Time MBA program on prospective student and alumni events was where she developed an interest in working for the program. Cara then joined the Georgia MBA office in January 2012 as an admissions counselor where she managed all front-line communications for the program. Now, as Director of Admissions, she manages application evaluation process and all aspects of the applicant to enrolled experience.
Read on for her insights into the MBA program, what to expect during admissions and more.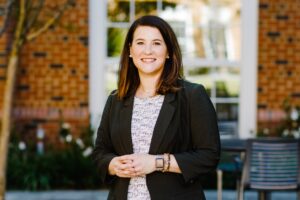 Clear Admit: What is the one aspect of your program that you wish applicants knew more about?
Cara Sonnier: Athens is truly the perfect backdrop for an amazing MBA experience. Athens and UGA have a lot to offer – including engaging electives, social impact and corporate projects, vibrant nightlife and music scene, and Gameday tailgates with classmates and alumni. Athens is also home to 300+ nonprofits and a thriving startup and tech community that generates more than $250M in revenue annually. Students have an amazing opportunity to impact the local community while gaining perspective and experience while they're here. Whether you're participating in our Non-Profit Board Fellows program, engaging with a local business on an applied learning project, completing your required community service hours, or enjoying a great meal with classmates and friends, this town allows our students to grow personally and professionally and have a great time doing it!
CA: Walk us through the life of a Georgia Terry MBA application in your admissions office from an operational standpoint. What happens between the time an applicant clicks "submit" and the time the committee offers a final decision?
CS: After each deadline passes, applications are randomly assigned to readers for review. After that first holistic review, candidates are recommended for interview and the Admissions Committee finalizes those interview invites. During the Committee review process, applications may get a second read before a decision is reached. The interviewer reviews the application before meeting with the candidate, so that is the second read. After candidates are interviewed, the interviewer makes their recommendation to the Admissions Committee. The Committee then meets to discuss all candidates recommended for admission. Once acceptance decisions are reached, the Committee then evaluates candidates for merit aid awards so that decisions and awards can be issued at the same time. All candidates not chosen for interview in that first batch are then reviewed individually by the Director before the end of the application round and final decisions are released.
CA: How does your team approach the essay portion of the application specifically? What are you looking for as you read an essay? Are there common mistakes that applicants should try to avoid? What is one key thing they should keep in mind as they sit down to write?
CS: We have 2 required essays and 1 optional essay. Simply put: we are looking for you to answer two questions: 1) What accomplishments and activities are you most proud of, and 2) What are your career goals post-MBA? The application process is the beginning of your journey to becoming a better manager and leader. To achieve that success, you must be able to articulate what motivates you, what you enjoy doing, and how your past experiences have prepared you for your future goals. We are interested in how our program can help you achieve these goals. We are also aiming to understand how much you have thought about these ideas already. Your goals may change (and that's okay with us), but we want to understand what matters most to you and that your goals are realistic and achievable with our help. For the second required essay, applicants can choose from two prompts. What we want to learn here is how you have tried to leave a place better and more welcoming than you found it, whether that be at work, a volunteer engagement, or a personal experience. This is an opportunity to show us your ability to empathize with those different from you, put yourself in their shoes, and create positive change by acting on that knowledge.
CA: Could you tell us about the Georgia Terry MBA admissions interview process? Approximately how many applicants do you interview? Who conducts the interview (students, admissions officers, alumni) and what is the nature of the interview (resume-based, behavioral)?
CS: All candidates being considered for admission are interviewed by admissions staff. This piece of the application is really important to us and is a candidate's best opportunity to show the Admissions team who they are as a person. Our interviews are mostly behavioral, but candidates should also be prepared to discuss their goals, why they think it is the right time to pursue an MBA, and why they are interested in our program.
CA: What is your testing policy? Do you offer exam waivers? Why or why not?
CS: We're still in the process of evaluating the impact of test score requirements. For Fall 2022, we waived test scores for candidates that had 3+ years of full-time work experience along with other demonstrated academic success or quantitative skills. Applicants can find the Fall 2023 test requirements within our application and on our website once the application is live.
CA: Tell us briefly about two popular courses at your institution.
CS: While our project courses, where our students work on real-world issues with corporate partners, tend to be very popular. However, some of our course offerings are very popular because of our incredible faculty. Each year MBAs vote to select recipients for the Hugh O. Nourse Outstanding MBA Teacher Awards. This year, Dr. Marisa Pagnattaro, who taught LEGL 7010 – Legal & Regulatory Environment of Business, and Dr. Mike Pfarrer, who taught MGMT 7011 – Leading Evolving Organizations, won these awards.
CA: As we learn to live with COVID-19, campuses have opened up and students are back. What about prospective students? Will they have the opportunity to visit campus? Will admissions interviews be conducted virtually?
CS: We are excited to be bringing back our Campus Visit Days this fall! Admissions interviews will be offered virtually and in-person.
CA: Is there anything else you'd like to highlight about your MBA program or admissions process?
CS: What I love about the Georgia MBA, and why I love my job so much, is that our program is so dynamic. We're constantly asking ourselves how we can better support our students in meeting their goals. Being able to flex to the needs of our current students and the needs of the market is one of our greatest strengths. When you add in affordability, world-class researchers and educators, and the beautiful city of Athens, there aren't many that compare!