In this edition of our Admissions Director Q&A series, Taya Sapp, Senior Associate Director of Admissions at Michigan Ross, shares insights into admissions and more at the MBA program. Taya earned her undergraduate degree at the University of Michigan and then, seeking to return to her alma mater and Ann Arbor, joined the Ross full-time MBA program in 2011. Prior to Michigan Ross, she spent eight years in undergraduate admissions at another university in Michigan. She loves the Michigan Ross community, working with students, and helping prospective students decide if Ross is right for them.
Read on for more about the Ross MBA program, what to expect in admissions and more.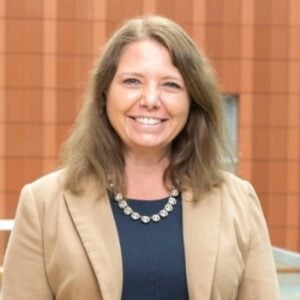 Clear Admit: What is the one aspect of your program that you wish applicants knew more about?
Taya Sapp: I wish applicants were truly aware of the breadth of hands-on, action-based learning opportunities that students can participate in through classes, co-curricular activities, and clubs at Michigan Ross and the University of Michigan. These opportunities allow students to gain tangible experience leading organizations, planning global events, managing millions of dollars in real money, and engaging with their classmates, peers from across the university and beyond, faculty, alumni, and industry leaders. Here are a few examples:
Multidisciplinary Action Projects (MAP)
Taken by all first-year MBAs at the end of the first year, MAP is a signature action-based learning experience at Michigan Ross. Students engage in a seven-week consulting project where they work full-time with fellow classmates to tackle a real business challenge or opportunity for a sponsor company. The MAP course, which celebrated its 30th anniversary this year, is designed to help students hone their analytical, project management, and leadership skills, while being guided by faculty members. There are projects available in virtually every sector, industry, and function, so students can find the project with the right experience for their career.
This year, MBAs tackled 78 projects with diverse sponsoring organizations from 13 countries spanning five continents. The organizations represent a diverse range of industries, from technology to sustainability, media entertainment and sports, healthcare, and financial services. Michigan Ross alumni continue to engage with MAP, and 42 projects were sponsored by alumni this year.
Student-run funds – the most at any business school
At Michigan Ross, MBAs are able to manage our many student-run investment funds in all aspects of their operations. The newest fund is the Michigan Climate Venture fund, which was launched by Michigan Ross MBA students and faculty. The fund will invest in early-stage climate tech companies that have potential to make a real difference on climate change. Another recently launched fund is the International Investment Fund, developed in partnership with the William Davidson Institute, and is the first of its kind at a business school. It invests in and supports small- and medium-size enterprises in emerging economies, starting with India and expanding worldwide. Other funds include the Social Venture Fund – the first student-led impact investing fund at a business school – and the Zell Founders Fund, which supports graduating or recently graduated U-M student entrepreneurs.
Opportunities at the centers, institutes, and initiatives at Michigan Ross
Michigan Ross is home to a number of world-class centers, institutes, and initiatives, which provide innovative and interdisciplinary programs and opportunities for action-based learning across a range of focus areas. Many of MBA students' favorite co-curricular programs are offered through them, including the Sanger Leadership Center's Leadership Crisis Challenge and Story Lab and the Business+Impact's +Impact Studio.
Last October, we formally announced the launch of our new Business+Tech initiative, which is aimed at preparing students for thriving careers at the intersection of business and technology. Along with hosting established annual events, such as the Datathon, FinTech Challenge, and SportsTech Conference, Business+Tech organized many new events and programs this year, including a +Tech Innovation Jam. There was also the +Tech Literacy Download at the beginning of October, which allowed students to develop their tech literacy skills from a selection of 25 sessions, covering everything from blockchain and artificial intelligence to cybersecurity and analytics, and digital branding and marketing.
Finally, we also launched a Pinkert Healthcare Accelerator a few years ago that aims to support needed innovation by helping students develop and launch their creative ideas for addressing major challenges in healthcare. The accelerator — which is managed by the Zell Lurie Institute at Michigan Ross — provides student teams with seed funding as well as mentorship from U-M faculty, staff, and alumni.
CA: Walk us through the life of an application in your office from an operational standpoint. What happens between the time an applicant clicks "submit" and the time the committee offers a final decision?
TS: There's a "first read," an interview, and a "second read." We typically start each read with the applicant's resume to give us a big picture of who the candidate is. Then we delve into the transcripts, essays, and letter of recommendation. Every member of the admissions committee reads applications of candidates from all different regions and backgrounds to get a sense of the strength of the pool.
The two things we focus on in the first read are academic ability and the nature of their work experience. We're trying to assess whether they can take on the rigor of the MBA coursework, and whether they'll be able to contribute to the learning experience of their classmates. Based on the first read, some applicants are invited to interview and their application is moved on to a second read, which is done following the interview. For second reads, we assign evaluations based on applicant backgrounds so the reader can utilize their expertise on the backgrounds of different groups. Those who do not receive an interview invitation are reviewed again by another reader. This latter group could be waitlisted and invited to interview in a subsequent round or denied at the conclusion of the round in which they applied.
All applicants invited to interview will have the opportunity to interview with an alum — interviews will continue to be virtual to help with accessibility and scheduling for alumni and applicants. Following the interview, the admissions committee will meet for two group discussion sessions. The first is typically a calibration session. The second is a multi-day final decision review session.
CA: How does your team approach the essay portion of the application specifically? What are you looking for as you read an essay? Are there common mistakes that applicants should try to avoid? What is one key thing they should keep in mind as they sit down to write?
TS: The essays are intended to give us a sense of who the applicants are and the experiences that have shaped them — outside of what we learn about them through their resume.
Some common "mistakes" we see in essays are: (1) applicants think they need to share a "hero" story – i.e., one in which they demonstrate how they saved a project or helped someone in need so they "look good"; and, (2) career goal essays that are vague or general. The essays should give us a fuller picture of who an applicant is, not to share an accomplishment that isn't in their resume. We want to see that applicants are reflective and self-aware, as those are important aspects of leadership. The career goal essays that fall short are the ones that don't clearly explain why they are interested in a particular career. We want to know how an applicant's experience, interests, and skills influenced their goal.
The thing applicants should be sure to share are the "why's": Why are you interested in something? Why did you feel ___ (humbled, challenged, out of your comfort zone, etc.)? That is the most interesting part of someone's story because it tells us more about who they are and how they think about themselves.
CA: Could you tell us about the Michigan Ross MBA admissions interview process? Approximately how many applicants do you interview? Who conducts the interview (students, admissions officers, alumni) and what is the nature of the interview (resume-based, behavioral)?
TS: Our one-on-one interviews will continue to be conducted virtually by Michigan Ross MBA alumni. We know that applicants have ample opportunity to connect with our current student ambassadors throughout the application process, but there are fewer opportunities for candidates to connect with alumni outside of their personal networks. The virtual interviews allow us to facilitate more of these connections. The Q&A portion at the end of the interview is a great way for applicants to gain perspectives on the Michigan Ross experience from alumni who have recently participated in the program.
Interviews are "semi-blind" — i.e., interviewers only see an applicant's resume, not their application or test scores. We conduct about 1,500 interviews each year. One thing my team is often asked is whether we match interviewers and interviewees based on past work experience or career interest. We don't, and interview assignments are random. Given that, applicants should be prepared to talk about their professional experiences and stories with someone who may have a very different background from them.
CA: What is your testing policy? Do you offer exam waivers? Why or why not?  
TS: For the past two years, we have given applicants the option of requesting a standardized test waiver. We have admitted strong candidates with the test waiver, and we want to continue allowing students to demonstrate their academic readiness without a test score.
Instead of the waiver, this year we are requiring that all candidates either submit a standardized test score (GMAT, GRE, MCAT, LSAT, PCAT, or DAT) or evidence of academic readiness for the Michigan Ross Full-Time MBA as part of the admissions application.
Further details on this new policy can be found in our application requirements and FAQs page.
CA: Tell us briefly about two popular courses at your institution.
TS: There are so many great courses at Michigan Ross to choose from, but here are the top 10 most popular electives. If I had to pick two, one of our long-time most popular courses is Business Leadership in Changing Times, which is taught by Michigan Ross Professor Mike Barger. In this course, students take on the role of CEO for a company that is facing a huge challenge publicly and have to create a plan of action to address stakeholders. During simulated press conferences, students reenact crises by role-playing members of different stakeholder groups while the real-life executives that faced these challenges are watching. Among the executives that participated last year are: David Brandon, chairman, Dominos; Cathy Bessant, chief operations and technology officer, Bank of America; Derek Kerr, CFO, American Airlines; Kofi Brice, CFO, General Mills; Jen Hollingsworth, COO, Lionsgate Pictures; and Ram Krishnan, global chief commercial officer, PepsiCo.
In addition, a new and increasingly popular course is Equity Analytics, which is taught by Ross Professor Chris Rider. In the extremely timely course, students learn how to analyze equity issues in real-world situations, augmented by new case studies and visits from industry experts and executives with relevant experience. The course covers analytical frameworks for identifying "differential treatment" and "disparate impact", enabling equity analytics with real-world data and custom cases situated in various contexts; for example, Airbnb, Glassdoor, Hollywood, the NFL, U.S. venture capital. By the end of the course, students are able to analyze inequity in organizations, markets, and industries; infer plausible determinants of such inequities; and design interventions to reduce documented inequities.
CA: As we learn to live with COVID-19, campuses have opened up and students are back. What about prospective students? Will they have the opportunity to visit campus? Will admissions interviews be conducted virtually?
TS: We are excited to welcome prospective students back to Michigan Ross in a safe and healthy way this year. Starting in September, our Friday campus visit days will offer prospective students the opportunity to take a tour of our building, connect with current students, and attend a Q&A session with the Admissions team. In addition, prospective students will have the opportunity to join club events based on their career interests on certain visit dates. These include Human Capital Club Bootcamp, Tech Day, General Management Conference, Healthcare & Lifesciences Symposium, Marketing Symposium, Taste of Ross, and more.
There are also many opportunities for prospective students to learn more about Michigan Ross and the Full-Time MBA program virtually. We have a number of resources on our website, including a virtual tour of the Ross buildings and a playlist of MBA students talking about life in Ann Arbor. Prospective students can also listen to our student-run MBA podcast Business Beyond Usual to hear first-hand about the Michigan Ross experience or connect with one of our over 300 student ambassadors virtually.
All admissions interviews will be conducted virtually and scheduled with one of our trained alumni interviewers.
CA: Is there anything else you'd like to highlight about your MBA program or admissions process?
TS: This year, we are launching a new Design Thinking and Innovation concentration, which will allow students to explore human-centric design thinking and innovation topics to prepare for careers that require meaningful solutions to people's needs. The 12-credit concentration is geared toward MBA students with an interest in design-thinking, product management, or related career fields in tech, impact, consulting, marketing, and beyond.
In addition, Michigan Ross seeks to create an inclusive community where all members are welcomed and empowered to be their best selves. That includes fostering a culture of accessibility that encourages students of all backgrounds to take on leadership roles. We are proud that 82% of our professional club presidents are led by women. In addition, the last 11 Full-Time MBA student body presidents have all been Consortium for Graduate Study in Management members and the last five were women of color. Michigan Ross has the largest Consortium alumni network, and we continue to have one of the largest incoming classes of Consortium members each year. We also have a long-standing relationship with the Forte Foundation, and are happy to welcome dozens of Forte Fellows each year, too.
Finally, I would like to highlight one fact about our MBA program that surprises many applicants. You can find Michigan Ross graduates everywhere. In fact, we have a saying "Go Blue, Go Anywhere." That means most graduates choose to leave Michigan to pursue opportunities in other major cities and towns around the world. For reference, the Class of 2021 saw the majority (74%) graduates landed jobs on the East Coast, West Coast, or Chicago.