Sponsored Content
What is the greatest impact you wish to have in your career? What if you could help build a sustainable future?
The path to a brighter and cleaner planet begins with the Georgetown Master of Science in Environment and Sustainability Management (MS-ESM).
This jointly offered degree equips business leaders with the principles of environmental science and business management to make a difference at almost any organization in just 11 months. The program is STEM-designated to ensure students are prepared to lead in an era of rapidly evolving business and sustainability practices.
Interdisciplinary Approach: Blending Scientific Knowledge with Business Principles
Georgetown University's Earth Commons Institute, a hub for environmental and sustainability innovation, along with the McDonough School of Business and the Graduate School of Arts and Sciences joined together to design the interdisciplinary curriculum of the MS-ESM.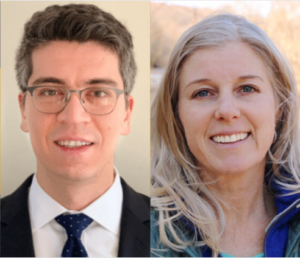 Environmental Scientist and Earth Commons Professor Jesse Meiller, explains, "The design of the MS-ESM program brings together faculty with expertise in environmental science and sustainability management to marry the two disciplines in a meaningful way. Whether taught by faculty in the Graduate School of Arts and Sciences, the Earth Commons or McDonough, each course covers topics that complement content, strategies, and skills learned in other courses. The goal of the program is to develop students who will use these skills and this knowledge and integrate seamlessly into future careers where they can apply them."
Students of the MS-Environment and Sustainability Management program complete 16 courses (30 credits) in person on Georgetown's Washington, D.C., campus in a module format. Skill-building courses span six weeks and science-oriented courses run for a full semester.
"The MS-ESM program is truly interdisciplinary!" adds Assistant Professor of Operations Management at McDonough, Safak Yucel. He currently offers a new course on the business of sustainable energy and technologies and has been involved with Georgetown's Business of Sustainability Initiative, which was launched in 2021. "In today's competitive marketplace," he says, "our purpose is to equip future business leaders in sustainability with both general business principles and the scientific background required to evaluate and to understand environmental and social implications of their business decisions. Our collaboration with the Earth Commons Institute enabled us to offer a truly interdisciplinary approach by combining science and business in the curriculum."
Here is another look at the MS-ESM curriculum: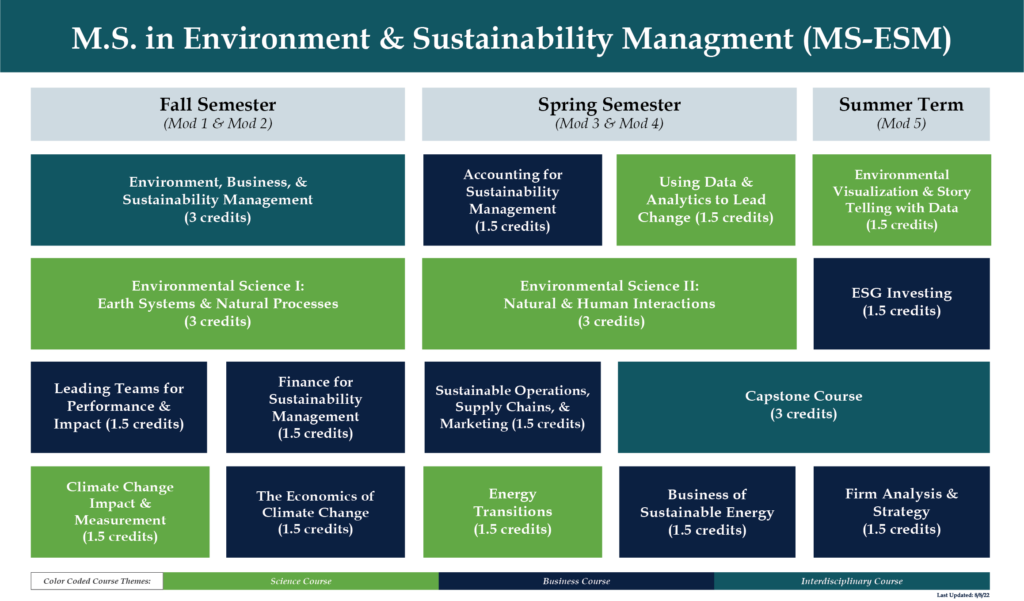 Inside the Classroom
Professor Meiller currently teaches Climate Change: Impacts and Measurements and co-teaches Environmental Science I and II, a year-long course she helped to develop with colleagues, Brian Griffiths, an Assistant Teaching Professor, and Maria Petrova, Academic Co-director of the MS-ESM program. Environmental Science I focuses more on ecosystems, nutrient cycling, community, and population ecology, as well as conservation and restoration. Environmental Science II covers topics of environmental science that intersect with anthropogenic factors, such as human population growth, water resources and water pollution, air pollution, and waste.
Inside the classroom, Professor Meiller says, "I am an experiential teacher and strive to bring active learning into the classroom that allows students to apply their knowledge in ways that they see as being relevant and applicable to their lives and current or future careers. Most of my classes include components of active lecturing, which are integrated with small group discussions and applications of knowledge, as well as case study deep dives into certain areas of topics covered. There is always a team or group approach; team projects throughout the semester empower students to work together as well as contribute individually to course assessments."
Prospective applicants can also expect a lively classroom setting with Professor Yucel, who adds, "I strive to create a classroom environment in which students are engaged and encouraged to participate and design my course materials accordingly. In particular, for the Business of Sustainable Energy and Technology course, I rely heavily on case studies across different contexts, including solar energy, energy efficiency, and electric vehicles. The course also includes a group project, which will be an exciting opportunity to learn about a current business issue in the context of the class in more depth. It will also provide students with an opportunity to 'customize' the course to their own interests and needs by analyzing a company, an industry, or a broader business strategy that they will choose themselves."
Admissions Requirements for the MS-Environment and Sustainability Management Program
The McDonough admissions team reviews applications in four rounds. The deadlines for admission in Fall 2023 are November 30, January 30, April 3, and May 15. Non-U.S. citizens are encouraged to apply by the April 3rd deadline.
Interested applicants need to complete the online application form, submit a CV or resume as well as a personal statement and video essay. The application also requires two professional or academic recommendations, academic transcripts, and proof of English proficiency (if applicable). The application fee is $90. Applicants may also submit an optional 500-word essay regarding the contribution their personal background would make to the Georgetown community. The application also affords an optional essay to explain any issues such as gaps in work experience or inconsistent academic performance, etc. GMAT, GRE, or Executive Assessment test scores are also optional to submit. Interviews are not a part of the admissions process.
Application Checklist:
Application Form (via the online application portal)
CV or Resume
Personal Statement
Video Essay
Two Professional/Academic Recommendations
Academic Transcripts
Demonstration of English Language Proficiency (if applicable)
Application Fee: $90 USD
Optional Components:
Diversity, Personal Background, and Contributions Essay
Additional Information Essay
Standardized Test Scores
All MS-ESM students are eligible for partial scholarship funding. Scholarships are awarded at the time of admission and are based on a holistic review process with the goal of admitting a competitive, diverse class.
In the words of Professor Yucel, "This degree is ideal for students who would like to become leaders in building the sustainable future within any industry. With its unique approach of combining scientific understanding and business principles, this degree will prepare students for a stellar career in sustainable business."
Request more info about the Georgetown MS-Environment and Sustainability Management or register for an event.
Introduce Yourself to Georgetown
If you like what you hear and want to connect directly with Georgetown, please provide your information. NOTE: By completing this form, you consent to having your information shared with Georgetown