Luis Casas, IESE MBA Class of 2024
Age: 31
Hometown: Barcelona, Spain
Undergraduate Institution and Major: Universtitat Politecnica de Cataluña, Industrial Engineering
Pre-MBA Work Experience (years, industry): 8, Finance; Consumer Goods; Tech
Why did you make the decision to attend business school? Why now?
I have never had any academic business experience apart from my self-learning exercise. I felt it was the perfect opportunity to take it to the next level by joining IESE in particular, sharing all my professional experience with other students and nurturing each other with all the learnings we have lived. Now, in particular, for two main reasons: 1) I have relevant professional experience; 2) time to define what I want to do next and focus on a particular industry through an executive role. 
Why did you choose IESE? What factors figured most prominently into your decision of where to attend? 
There are many reasons why I chose IESE, but three main ones: 1) Ranking – Top 10 MBA programs in the world; 2) Alumnae feedback – I talked to many different MBA's from top tier business schools around the world (Europe, Asia, US) and the best feedback I got was from IESE; 3) Culture – The values you find in IESE are not found elsewhere, transforming IESE community into your family.
What do you think is your most valuable or differentiating contribution to the Class of 2024?
I have worked in finance, strategy and sales/marketing roles over the last years, both in the national (Spain) and international (Australia) markets. The exposure to different sectors and departments has made me a versatile and problem-solving person. My contribution to the class comes from different angles, which enriches the conversation and helps to find ways to overcome the challenges.
Tell us a fun fact about yourself that didn't get included on your application:
I lived in Australia for almost 6 years, surfed on a weekly basis and my most feared animals are sharks. I had to face my fear every time I would go surfing, particularly after spotting a great one two meters from me 🙁
Post-MBA career interests:
I want to explore opportunities through the Diversified Opportunities track. Particularly in Technology, Consumer Goods and Sustainability industries. I am determined to find an Operations, Strategy or Business Development role in either a big industry player or a start-up. Company size is not the main focus, but its objective and the world's positive impact potential.
Advice for Current Prospective Applicants:
–What is one thing you would absolutely do again as part of your application process?
I would encourage everyone (you) to be part of the MBA Open Day and get a taste of what you will be doing at IESE. It is definitely a key differentiating factor from other MBAs. It shows how confident IESE is of the process.
–What is one thing you would change or do differently?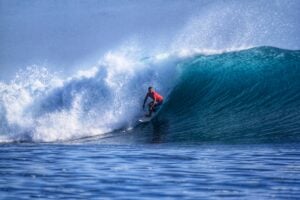 I would have liked to apply sooner to the MBA or at least have more time to prepare for the application process. It is difficult to find the best time to invest the effort, so just start the process as soon as possible and you will not have to rush any of the parts.
–What is one part you would have skipped if you could—and what helped you get through it?
It is never easy to ask for a recommendation letter from your boss when he/she doesn't know you may quit your job and start an MBA program. That is something I would have skipped that I managed to overcome by getting cover letters from previous employers and a current customer I had built a good professional relationship with.
What is your initial impression of the IESE students/culture/community?
It is better than what I was expecting. Professors, Students, and rest of IESE staff are always there to support you in your MBA journey, both at a personal and professional level.
What is one thing you have learned about IESE that has surprised you?
How real are the things that get advertised through media and the website. I can't highlight a single thing that is not true or different from how IESE is positioned as a Business School.
What is one thing you are most anxious about in your first year?
Combining Academics, Professional and Social life is not an easy task in such a high-excellence and demanding institution.
What is one thing you are most excited about in your first year?
Getting to meet all my professors and students in the MBA24 program to share experiences and learn from each other