Many turn to an MBA so they can change careers, but sometimes, the b-school experiences with real-world projects and clients can change even those plans! For Alyssa Singer, her experience at the Michigan Ross MBA program sparked her interest in a wider array of industries and opportunities. In this edition of Real Humans: Alumni, Singer explains how Ross influenced her post-MBA planned destination of project management to consulting at Bain.
Alyssa Singer, Michigan Ross MBA '22, Consultant at Bain & Company
Age: 31
Hometown: Evanston, IL
Undergrad: John Carroll University, Political Science
Business School: University of Michigan, Ross School of Business, 2022 grad
Pre-MBA work experience: 2 years in nonprofit consulting, 4 years in banking
Post-MBA work experience: 1 year consulting
Why did you choose to attend business school?
My primary reason for pursuing business school was to make a career transition from working in the banking sector doing process improvement work, to working as a tech PM or PMM (a career path I ultimately decided not to pursue post-graduation). 
Why Ross? What factors figured most prominently into your decision of where to attend?
There were 3 factors that most strongly influenced my decision to go to Ross: 1. Attainability of my desired career outcomes, 2. Proximity to my partner and family, 3. Cultural fit.
On attainability of desired career outcomes, I evaluated potential b-schools based on whether there was a strong recruiting pipeline to companies I was interested in, as well as providing some flexibility on career paths because I thought I may change my mind throughout the process (which I ultimately did). This looked a lot like reviewing employment reports and weighing the strength of different schools' placements with companies I was interested in. I ultimately felt like Ross would provide me strong marketing opportunities, along with the flexibility to pursue another career path.
For geographic proximity, I wanted to be within driving distance of my partner. This was prior to covid, so remote work was not common, and we weren't sure if he would be able to move from Pittsburgh, where we were living, to wherever I went to school. For this reason, I wanted the distance to be drivable. The community at Ross is also exceptionally welcoming to partners, which was a huge bonus for us.
Finally, I was looking for a good cultural fit. I wanted to attend a program where I would work with bright, interesting, diverse, and down-to-earth people. In my interactions with Ross students, I felt these traits came through every time.
What about your MBA experience prepared you for your current career?
Reflecting on my MBA experience, what stands out to me in terms of post-MBA career prep is participating in MAP (Multidisciplinary Action Project).
MAP is an experience that all full-time first-year MBA students complete in the last quarter of their first year. Instead of taking class, I worked with 5 of my classmates and a sponsor company to complete a 7-week consulting engagement. Our team worked with a video game company to help them determine the types of products and services that will most appeal to Gen Z consumers. Although I have no experience with video games or entertainment, I had to work with my team to quickly drive a strong, data-backed recommendation. Being able to rapidly get up to speed on a new industry, and develop a data-driven recommendation, is a skill I have used almost every day as a consultant.
What was your internship during business school? How did that inform your post-MBA career choice?
I interned at Dell in product management, working on their education products. I had a really great summer at Dell and learned a lot about the laptops that are sold to kids (like that some are made to continue operating while an entire glass of water is poured on them). At the end of the summer, I ultimately felt that I wanted more variety of industry and project opportunities, which led me to re-recruit my second year for consulting. 
Why did you choose your current company? What factors figured most prominently?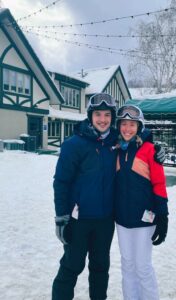 Three factors led me to Bain: the ability to be a generalist, the home-staffing model, and the people.
After my post-internship realization that I wanted more variety in my next role, it was important to me that I could go to a firm where I could try out different industries and types of engagements, which is something Bain enables all its consultants to do.
Additionally, the idea of a home-office staffing model where I would always work with team members from Chicago, and be able to build a strong community at work, really appealed to me.
Finally, I had nothing but stellar interactions with everyone I spoke to at Bain. 
How has covid impacted your industry/career plans?
The rise of remote work from covid, and decrease in consulting travel, is a big reason why I'm in consulting now. Traveling every single week for years was never super appealing to me, so having periodic travel and working in the office has made consulting much more workable for me.
Advice to current MBA students:
–One thing you would do again?
Leverage your classmates. When I was re-recruiting for consulting, I cased weekly with two of my friends (fellow MBA2s) who were at the two firms I was most interested in (one of them being Bain). Their coaching was invaluable and a huge reason why I was able to successfully re-recruit.
–One thing you would do differently?
Improve my time management, especially my second year. Admittedly, my focus on classwork really fell off during the fall of my second year as I was re-recruiting. I regret that I didn't dedicate more energy to class, because everything that was taught was super interesting. If I could go back, I would manage my time better such that I could focus a bit more on class.
–Were there any surprises regarding your current employer's recruiting process?
I was surprised by how gracious everyone was with their time. I had a coffee chat with a partner while I was recruiting, and we ended up talking for an hour – and I think he would have kept talking if I had more questions. The genuine interest in getting to know me and supporting my recruiting journey really came through in all my interactions with Bain. 
–What piece of advice do you wish you had been given during your MBA?
Pre-MBA, spend some time reflecting on the 3-5 most important experiences/outcomes you want from business school and then prioritize your time around those. The first couple months are really like drinking from a firehouse. Having an idea of what you want to prioritize can help the experience feel less overwhelming and cut through the noise.