Aditya Mahadevan nearly passed up attending Chicago Booth for his MBA until his research revealed the school's pay-it-forward culture and its responsive, helpful, and candid alumni. Mahadevan wanted a program focused on more than quantitative skills, and he found it at Booth. In this edition of Real Humans: Alumni, Mahadevan shares his journey from Booth to beginning a management consulting career with McKinsey.
Aditya Mahadevan, Chicago Booth MBA '22, Associate at McKinsey
Age: 28
Hometown: Chennai, India & Calgary, Canada
Undergraduate Institution and Major: University of Calgary; Major: Mechanical Engineering; Minor: Entrepreneurship
Graduate Business School, Graduation Year and Concentration (if applicable): University of Chicago Booth School of Business; Class of 2022; Concentrations in General Management, Behavioral Science, and Entrepreneurship
Pre-MBA Work Experience (years, industry): Engineering 1 year; Technology consulting 3 years
Post-MBA Work Experience (years, industry): <1 year (6 months) – Management Consulting
Why did you choose to attend business school?
I chose business school for two reasons. 
Firstly, as someone who had primarily worked in technical roles, I wanted to pivot to more strategic positions. Given that I didn't have a business background, I saw business school as an opportunity to build a strong foundation in the fundamentals of business. Before business school, I simply wasn't getting interviews for the types of jobs I was interested in.
Secondly, I wanted a career that was both fulfilling and had a positive impact on the world. Business school presented a unique opportunity to explore different career paths and industries and see what was most satisfying to me.
Why Booth? What factors figured most prominently into your decision of where to attend?
Initially, I didn't consider Booth because I wrongly presumed that it was a program that only focused on quant skills. But as I researched the school further, I was pleasantly surprised by the culture of paying it forward that I saw at Booth. During the application process, I reached out to students from multiple schools, and I found that Boothies were the most responsive, helpful, and candid in answering my questions. They went out of their way to connect me with people pursuing similar career paths to mine, and I was impressed by their willingness to help. I wanted to be part of a community like that, where everyone was committed to helping each other succeed. Ultimately, Booth's pay-it-forward culture, combined with its reputation for academic rigor and strong alumni network, made it the clear choice for me.
What about your MBA experience prepared you for your current career?
My MBA experience at Booth prepared me well for my current career (in management consulting) in two key areas: teamwork and working under constraints.
Most of my classes involved group projects, which taught me how to work with people from diverse backgrounds and manage conflicting opinions. This has been valuable in my current role, where I work on cross-functional teams with colleagues from different geographies and cultural backgrounds. 
In addition, I also learned how to work effectively under constraints. Many of our assignments required us to generate insights and recommendations based on a limited amount of information. This skill has proved critical in my role as a consultant, where I often need to quickly synthesize large amounts of data to arrive at a recommendation for my clients.
What was your internship during business school?  How did that inform your post-MBA career choice?
I interned with the Environmental Defense Fund as part of their climate corps fellowship. In this role, I worked with America's largest public housing authority to develop a roadmap for implementing solar panels and battery storage systems that would reduce the emissions of 400K NYC residents. This internship helped me discover my passion for implementing and promoting clean technologies that facilitate sustainable development.
Why did you choose your current company? What factors figured most prominently into your decision of where to work?
When considering where to work upon graduation, I prioritized finding a company that valued apprenticeship and provided opportunities for growth and development, as I knew I had much to learn. I chose management consulting because I also wanted my work to be strategic and impactful. 
I chose McKinsey specifically because I am passionate about sustainability and McKinsey's sustainability practice was the most well-established within the consulting firms, with over 1000 consultants specializing in the area. I was impressed by how McKinsey had made sustainability a key strategic priority in their client service, including helping clients develop green businesses and decarbonize traditional emitting industries. Overall, McKinsey's dedication to sustainability aligned with my values and professional aspirations.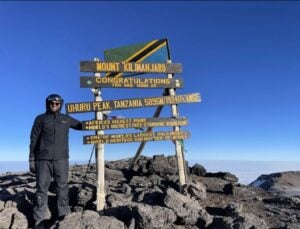 How has COVID impacted your industry/career plans? 
Covid has had a significant impact on the consulting industry. Most firms have found ways to reduce travel and offer more flexible working arrangements. However, this is still very team/client specific. While some teams are fully in-person, others are fully remote, and some are hybrid (most of my projects so far have been remote). While I miss some of the in-person camaraderie with my teammates, I appreciate the flexibility of not having to travel as frequently. It has allowed me to maintain a better work-life balance and focus more on delivering high-quality work to clients.
Advice to current MBA students:
–One thing you would absolutely do again as part of the job search?
Seek out opportunities that you have never experienced before. 
During business school, I took the initiative to do internships with non-profits, government agencies and early-stage startups and this allowed me to gain valuable insights into how these entities operate. I highly recommend stepping outside of your comfort zone to explore new industries or fields that may be of interest to you because this can broaden your perspective and help you discover new career paths that align with your passions.
–One thing you would change or do differently?
I would have taken more time before on-campus recruiting to reflect on my career and life goals because it can be easy to get caught up in the recruiting process and lose sight of what truly matters. Having a clear understanding of my priorities would have made it easier to stay focused and get what I want out of the business school experience. 
–Were there any surprises regarding your current employer's recruiting process?
No. I think the consulting recruiting process, in general, is well structured and transparent, so I knew what I was getting into. 
–What piece of advice do you wish you had been given during your MBA?
One piece of advice I wish I had received during my MBA is to prioritize building relationships with peers and enjoying the experience. I initially focused too much on academics and career, especially since my first year was fully remote. However, I realized the importance of getting to know my peers in my second year and I made an effort to prioritize that. Building relationships and having fun can enhance the MBA experience and create long-lasting connections.