An MBA provides opportunities to lead, work in teams on competitions and projects, and connect with a tight-knit community. In this Real Humans: Alumni, Priyasha Chaturvedi discusses her life changing MBA experience at Cornell Johnson and how such opportunities and the supportive environment propelled her to success at Bain & Co.
Priyasha Chaturvedi, Cornell Johnson MBA '20, Manager at Bain & Company

Age: 30
Hometown: Shrewsbury, MA
Undergraduate Institution and Major: Boston College, Economics
Graduate Business School, Graduation Year and Concentration (if applicable): Samuel Curtis Johnson Graduate School of Management, SC Johnson College of Business, Class of 2020
Pre-MBA Work Experience (years, industry): 4 years – Financial Services
Post-MBA Work Experience (years, industry): 2 years – Management Consulting
Why did you choose to attend business school? 
I chose to attend business school for three primary reasons: (1) expand my foundational business toolkit, (2) enhance my leadership and management skills, and (3) pivot into a career in management consulting. After graduating from undergrad, I knew that I intended to pursue an MBA down the road to round out my business toolkit in core business subjects like Finance, Accounting, Strategy, and Operations. Further, I was excited by the prospect of devoting two years to both learning about how to be an effective leader in a classroom setting and testing out these learnings through various academic, social, and professional leadership roles. Finally, while I enjoyed my previous career in Financial Services, I wanted to pivot into a career in management consulting to tackle problems from a variety of industries and functionalities, knowing that this would accelerate my learning and growth as a professional. Business school checked all these boxes and then some, so I am forever grateful for all the opportunities it presented to me.      
Why Johnson? What factors figured most prominently into your decision of where to attend?
From the moment I entered Johnson's campus, I felt like I was a part of a uniquely tight-knit community, driven not only by a relatively small class size (~300) but also by virtue of its location in Ithaca, NY. It was clear that Johnson students leaned into their MBA experience and were active members of this community, and I was able to see myself fitting right into that kind of environment. I also appreciated Johnson's invitation to join the Class of 2020 as a Roy H. Park Leadership Fellow, knowing that would enhance my ability to focus on developing as a leader through targeted, experience-based programming and reflection over my two years in the MBA. Finally, I was impressed by the rigor of Johnson's consulting program and felt I would be well supported and prepared for the consulting recruiting process.
What about your MBA experience prepared you for your current career?
A huge part of my job as a management consultant involves working in and managing teams, breaking down ambiguous problems into manageable chunks, and communicating effectively. Johnson prepared me for all these activities in several ways. Through the Core Team experience in my first year in the MBA, I had the opportunity to work closely with my assigned team members on several case competitions and projects while rotating leadership roles. Further, I was able to take advantage of several other leadership opportunities through campus activities to get additional reps at managing a team. The Johnson academic curriculum combines both the lecture and case method, which created daily opportunities for both problem-solving and presentation. More than anything else, Johnson provided me with countless opportunities to explore and test any new skills or interests in a supportive environment, which helped me accelerate my learning and development.
What was your internship during business school? How did that inform your post-MBA career choice? 
I interned with my current employer and office (Bain & Company, Chicago) and had a great experience. Being able to get exposure to the job as a management consultant over a 10-week internship made the decision to return to Bain post-MBA easy.
Why did you choose your current company? What factors figured most prominently into your decision of where to work?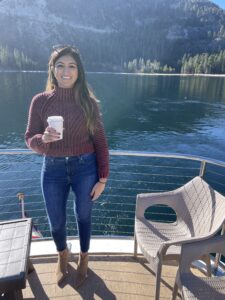 I chose Bain for three main reasons – (1) the supportive culture, which is enhanced by our home-office model, (2) the opportunity for exposure to a wide array of industries driven by the generalist model, and (3) the acute focus on coaching and development at all stages of your career. Bain's home-office culture is often talked about as a tight-knit community and that comes across clearly during the recruiting process, which made me excited to be a part of it. Additionally, my primary motivation for pivoting into a career in management consulting was to drive impact across a wide variety of industries and functionalities, and I loved that Bain allowed me to remain a generalist so I could get that broad exposure. Finally, while I was excited to be a part of a fast-paced environment, I wanted to ensure I would be supported along all steps of my career and get the coaching I need to continue to grow and learn.  I was excited to learn about Bain's focus on mentorship and coaching and experienced it first-hand as a summer intern, which solidified that this was a great place for me to build a career.
Advice to current MBA students:
–One thing you would absolutely do again as part of the job search?
Do your homework and ask questions – get to know the companies you are interested in just like they are trying to get to know you!
–One thing you would change or do differently?
Ignore the noise – there are a lot of distractions in the recruiting process, and it can be easy to compare yourself to others. Make a plan that works for you and stick to it – don't worry about what others are doing.
–Were there any surprises regarding your current employer's recruiting process? 
I was surprised by how many people I met throughout the recruiting process.Bain was very thoughtful about connecting you with mentors and buddies to answer your questions and help you with case prep and that made me feel very supported. 
–What piece of advice do you wish you had been given during your MBA? 
Explore academic coursework and other opportunities for growth in your broader university community. Cornell, for example, has several amazing schools with great classes outside of the traditional MBA coursework, and I wish I had taken advantage of that sooner.