Changing careers can be considered rebranding oneself. Our Real Humans: Alumni featured today, Eric Tinnell, did just that. Find out how he walked into Carnegie Mellon Tepper as a wealth manager and walks out this spring with his MBA and a coveted position as an investment banker at Morgan Stanley.
Eric Tinnell, Carnegie Mellon Tepper MBA '23, Investment Banking Associate at Morgan Stanley
Age: 32
Hometown: Ephrata, WA
Undergraduate Institution: Central Washington University
Major: Finance
Graduate Business School, Graduation Year and Concentration (if applicable): Carnegie Mellon University, Tepper School of Business, Class of 2023, Concentrations: Finance, Entrepreneurship
Pre-MBA Work Experience (years, industry): 7 years, Wealth Management
Post-MBA Work Experience (years, industry): Investment Banking (starting July 2023)
Why did you choose to attend business school?
Attending business school is an opportunity to professionally rebrand yourself. I was looking for a career pivot and initially wanted to pursue consulting or investment banking, and inevitably decided to recruit for IB. Coming from wealth management, it would have been nearly impossible to pivot directly into investment banking (or consulting, for that matter) without an MBA. It is a bit surreal that new career doors opened the moment I stepped foot on campus at Carnegie Mellon when those same doors seemed to be closed just days before!
Second, business school is an incredible way to meet smart, talented, and diverse people from all walks of life. Expanding my network with people who are driven and offer perspectives that are drastically different than my own was extremely important. These connections will be valuable for the rest of my life, whether it is a simple, ongoing friendship or a potential business opportunity down the road. The people make the program.
Why Tepper? What factors figured most prominently into your decision of where to attend?
There are a few big reasons why I chose to apply to and attend Tepper. First, Carnegie Mellon University is a world-class, multi-disciplinary institution that employs some of the brightest minds in many fields. Tepper has a very flexible curriculum so I wanted to be able to design my MBA experience in a unique way.
Second, Tepper has a reputation for being a "quantitative" school. Although I prided myself on quantitative analysis in my previous job, I knew I needed to brush up on quantitative concepts to prepare me for a career in investment banking.
Third, the MBA cohort is relatively small at Tepper, and all of the alumni I met were incredibly helpful and proud of their affiliation with Carnegie Mellon. This proved to be an invaluable resource as I was searching for an investment banking internship. It would have been nearly impossible without help from extremely generous alumni.
Lastly, the Master's Career Center is perennially top-ranked. People attend MBA programs to advance in their professional lives, so having access to incredible advisors in the Career Center was important.
What about your MBA experience prepared you for your current career?
First, like I mentioned above, I have been able to apply concepts that I learned in nearly all of my classes to the job of investment banking. From statistics classes to management classes to, obviously, finance classes. Second, incorporating ideas and changing my thought processes based on input from unique perspectives has proven to be extremely helpful.
What was your internship during business school?  How did that inform your post-MBA career choice?
My internship was investment banking at Morgan Stanley in the summer of 2022. I had a great experience over the summer and was humbled to be surrounded by so many impressive, smart, and kind people. I decided to join full-time in the summer of 2023.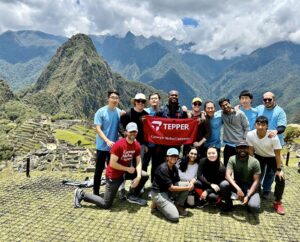 Why did you choose your current company? What factors figured most prominently into your decision of where to work?
Like mentioned above, the people at Morgan Stanley are impressive. Beyond that, there is definitely a team-oriented culture. Nobody seemed to care about where you went to school or what your background is. They seemed to care most about working hard, learning fast, and being enjoyable to work with.
How has COVID impacted your industry/career plans? 
Fortunately, COVID did not directly impact my post-MBA career plans. It did help influence my decision to apply to business school, which I will forever be grateful for.
Advice to current MBA students:
–One thing you would absolutely do again as part of the job search?
 Meet as many people as possible! Have coffee chats with anyone who will have a coffee chat with you. It doesn't matter if the person doesn't work at your "target" company or in your target city, you never know what doors can be opened and what can be learned during a conversation. Having an abundance mentality will create so many more opportunities.
–One thing you would change or do differently?
Early on in the recruiting process, I realized I was trying to answer questions in a way that I thought interviewers wanted rather than answering in a way that was more genuine to myself. There are obviously some "must-dos" and "must-says" during the investment banking recruiting process, but being yourself and letting some personality shine is much more important than answering questions robotically.
–Were there any surprises regarding your current employer's recruiting process?
 The biggest surprise was the pace of the process. There was only about two weeks or so between the first formal interview and my final superday interview. Being available and prepared was at the top of my priority list, so this wasn't an issue, but it definitely did go quickly, which I was thankful for!
–What piece of advice do you wish you had been given during your MBA?
Take a few classes that are outside of your comfort zone. It is easy to default to registering for classes that are in one's area of expertise, but learning about concepts that are completely foreign is a great way to "cross-train" during the MBA.