Out of the finals of the 2023 Edward L. Kaplan, '71, New Venture Challenge (NVC), Alnair Therapeutics, a company with the mission to fight cancer, claimed the top spot. Launched in 1996, the NVC is an esteemed accelerator program and competition held at the University of Chicago's Booth School of Business.
Whittled down from 25 participants in the NVC, a credit-bearing spring quarter course, the remaining 10 teams presented their ventures to a panel of distinguished judges in the finals earlier this month. The judges — investors, entrepreneurs, and industry leaders, many of them Booth alumni — included Mark Leahy of Fenwick & West LLP; Matthew McCall, founding partner of FORGE Capital; Laura Desmond, founder and CEO of Eagle Vista Partners; and David Silverman of Crosslink Capital. 
The winning team, Alnair Therapeutics, is an oncology startup developing a platform technology to improve drug delivery for difficult-to-treat cancers. Out of $1.4 million in investments awarded overall, they received $585,000, including the $205,000 Rattan L. Khosa First-Place Prize. Alnair Therapeutics was founded in September 2022, led by Xiaoyang Wu, associate professor of cancer research and stem cell biology at the University of Chicago.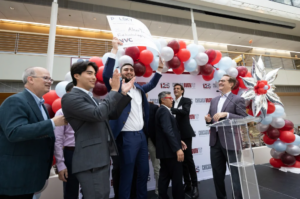 "Alnair is thrilled to represent the University with this win. We feel like this is the perfect company to win this great honor, and we've really gone through everything to grow this company, from participating in the Compass accelerator and  I-Corps, and winning the George Shultz Innovation Fund before now competing in the NVC, it's just been incredible," said Ryan Meyers, Booth MBA '23, cofounder and CBO of Alnair in the University's press release on the win. "Our team is unbelievable, but we really owe thanks to professors Mark Tebbe and Steve Kaplan and all the resources at the Polsky Center. We really wouldn't be here without them."
The second-place team, taking home $280,000 in investment, was reOrbital, whose ZBLAN ultra-attenuation performing glass for the next generation of fiber optics must be manufactured in microgravity. Third place went to luxury leather items restoration company EverLeather, with a $315,000 prize. 
The rest of the finalist teams were: 
FlashForward

, an AI-enabled digital platform to streamline exporting material goods and create a unified, sustainable supply chain. 

Inclusive+

, improving health outcomes for LGBTQ+ patients with a diagnostic tool that creates a customized CME curriculum to train providers to serve the LGBTQ+ community.

Kadia Health, a digital mental health app that provides highly specialized and researched-backed techniques specifically for therapy and support of family members of people with substance abuse disorder. 

MARview

, an SaaS company working to create a high-quality source for ocean data designed to aid ship crews and fleet operations save fuel, lower risk, and have accurate information on ocean surface conditions. 

WattShift

, whose software takes advantage of "time of use rates" and demand response programs through utility providers by shifting energy demand away from peak times on energy devices.

Zaars

, a one-stop-shop marketplace for new and secondhand South Asian clothing that improves access to hard-to-find clothes, provides an e-commerce platform for sellers, and reduces environmental impact by increasing resale.

Zelia App

, which uses machine learning and AI to generate a virtual personal stylist for the average person. 
The event is run by The Polsky Center, established in 1998 to provide venture support for student entrepreneurs and training for those interested in venture capital and private equity careers. The NVC has become a launchpad for more than 370 successful companies like Grubhub and Venmo.