In the latest installment of our Admissions Director Q&A, we take a deep dive into MBA admissions with Paula Amorim, the Director of Admissions of the Full-Time MBA at IESE Business School.
Paula joined the Admissions team after completing her MBA at IESE in 2016 and was previously responsible for the Latin American market, based in the Sao Paulo campus. She is an Industrial engineer from the Federal University of Minas Gerais, in her hometown, Belo Horizonte, Brazil. Prior to the MBA, she dedicated her career to management consulting in local firms in Brazil.
Read on for her take on what to expect this year with respect to essays, interviews, and more on the MBA program at IESE.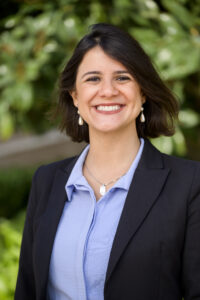 Clear Admit: What is the one aspect of your program that you wish applicants knew more about?
Paula Amorim: The learning environment at IESE is a special one. Community and collaboration are strong pillars of the IESE culture. This is embodied in the strong emphasis on the case method, which is a hands-on learning approach that allows you to learn complex business concepts by studying real-world examples. It is a very community-based style of learning that replicates the real workplace, since you must rely on your team and diverse voices to come to solutions. The fact that our students hail from all over the world and a broad variety of professional backgrounds enriches and challenges the perspective of each student. Students learn by doing, and not merely by reciting the pages of textbooks or the words of professors.
The professors make up an integral part of the IESE community. Since the case study is so collaborative and engaging, professors and students get to know each other more deeply than they might in a lecture-based setting. Professors are also a resource for students beyond the classroom. It is typical for them to build relationships and act as mentors for students well beyond their time in the program.
CA: Walk us through the life of an application in your office from an operational standpoint. What happens between the time an applicant clicks "submit" and the time the committee offers a final decision?
PA: Our Admissions team is organized by region to ensure candidates are assessed fairly based on the academic and professional context of their particular country of residence. Typically the Associate Director managing regional events is the one responsible throughout the admissions journey. Our approach is very high-touch, and our team endeavors to know every student who joins the MBA.
Each submitted application is reviewed by admissions staff along with the rest of the applications received in that particular round. Afterward, they may be invited for a process interview or are rejected for that cycle. Occasionally, we might ask an applicant to improve upon some element of the application, like retaking the GMAT or GRE, before giving a final decision.
Applicants may also be asked to join us for an Assessment Day, where they either attend in person (in Barcelona, New York or Sao Paulo) or virtually. For a number of reasons, not everyone who ends up being admitted to the program receives an invitation to the Assessment, so don't be anxious either way. Those who do attend the Assessment will do an MBA exercise that will last a few hours. Generally speaking, this is a chance for the admissions team to see how you work and think, but it is also an opportunity to the applicant to get a taste for the IESE MBA experience.
Once interviews and Assessment Days are completed, the IESE admissions and scholarship committees get together to review applications from that round as well as any Waitlisted applications from previous rounds to make decisions. Once decisions are made, we inform our applicants. Timelines can vary depending on the round. We always list deadlines and timings for decisions on our website.  However, individual decisions may come out at slightly different times leading up to the decision deadline, depending on when the admissions committee is able to review their application. So don't be anxious if others get decisions ahead of you.
CA: How does your team approach the essay portion of the application specifically? What are you looking for as you read an essay? Are there common mistakes that applicants should try to avoid? What is one key thing they should keep in mind as they sit down to write?
PA: The essay is our chance to get to know you as a person. This is your chance to show your personality, beyond the facts that are covered in the rest of the application. This is your chance to show what drives you and how you fit with the school.
When approaching the essay we recommend making sure that you answer the question in your authentic voice, rather than trying to guess what the admissions committee wants to hear. Before you start, take some time to think about your answer. Typically people find themselves working on multiple essays at once, so one of the easiest mistakes to make is trying to repurpose essays from other schools. This can lead to generic responses that do not actually answer the question.
IESE takes a lot of time each year working on our essay questions to gear them towards what we want to know so you want to make sure that you actually answer the question. This year, we are introducing a video essay component to our application so that we can get a better sense of how a candidate thinks on their feet and how well they can express their ideas.  
CA: Could you tell us about your interview process? Approximately how many applicants do you interview? Who conducts the interview (students, admissions officers, alumni) and what is the nature of the interview (resume-based, application-based, behavioral)? Will your admissions interviews be in-person or virtual for the 2023-2024 admissions season?
PA: Interview questions vary from interview to interview and are generally conducted by admissions staff members (who are also typically alumni from IESE) as well as alumni volunteers. Interviewers review applications ahead of the interview, so try to not to regurgitate what is already in your CV and essays. Like the essays, this is a chance for us to really get to know our candidates as individuals.  It also gives you a chance to highlight your values, accomplishments and fit with the program.
While each interviewer has their own style, candidates will likely be asked a blend of questions about features of their CV and application, behaviors from past professional situations, and hypothetical or thought-provoking questions. I always appreciate when candidates ask thoughtful questions about the program as well.
Given the global nature of our MBA applicants, many of our interviews are conducted virtually. However, whenever possible, we will give our candidates the option to do the admissions interviews in-person either on campus or in other international locations.
CA: What is your testing policy? Do you offer exam waivers? Why or why not?
PA: Though an imperfect tool, we do require either the GMAT or GRE.  However, we have a holistic approach and view your score within the context of your larger application. For some this can be a way to balance out weaknesses in undergrad or show you have strengths that are not highlighted in your professional background.
IESE has applicants from around the world with a wide variety of professional backgrounds. The standardized tests are the one thing everyone has in common. That said, our admissions decisions are not based solely on standardized tests and other qualities of an applicant, like professional excellence, can compensate for weaker test scores.
CA: Could you tell us about the waitlist? What can waitlisted applicants do to maximize their chances of being accepted to your program? Does your office allow for waitlisted applicants to submit additional materials (e.g. letters of support, job updates, new test scores, etc)?
PA: Due to the highly competitive applicant pool, after each round of admissions, there are usually a handful of candidates whose profiles we find interesting but, unfortunately, are not able to offer a seat to at the moment. This could be due to some type of perceived weakness in the application, for example, low test scores, lack of preparation in the interview process, unclear goals… It is a positive sign that we want to keep someone on the waitlist, as it means the Admissions Committee sees some potential in your candidature.
Waitlisted candidates should take some time to reflect and review their application to discover any possible weaknesses. It is important to keep in touch with the Admissions Committee and keep us posted on any updates to your application, whether it's an improvement in test scores or learning new skills that would be relevant to your career goals. 
Waitlisted candidates might have the chance to submit a video essay to give complementary information on their candidacy. I encourage candidates to only submit information that is meaningful and would strengthen their application. Every year, we have candidates who are eventually admitted from the waitlist so try your best to be patient and don't lose hope! 
CA: Tell us briefly about two popular courses at your institution.
PA: While the majority of IESE is taught through case study, I would highlight two courses that divert from that: Geopolitics & Strategy and the Executive Simulation, both of which are very popular amongst generations of IESE graduates.
Geopolitics & Strategy explores the geopolitical context in various parts of the world and how historical and current events can impact business. This course leans heavily into the international makeup of the IESE classroom, giving students the opportunity to learn from their classmates' first-hand experiences. It is a fascinating way to see how deeply politics impact businesses, and where companies can stumble into problems if they are unprepared or insensitive to local differences.
The Executive Simulation is another incredibly popular course in which students spend a week as a C-Suite executive competing with the other teams to create a strategy and make the best business decisions. They even have meetings with real-life executives playing the role of their board.
CA: Is there anything else you'd like to highlight about your MBA program or admissions process?
PA: IESE has always been strong in sustainability and ESG. The school is very purpose-driven and given our mission to support leaders to have a positive, lasting impact, responsible business has been focus of the institution before it was in the mainstream. Our Responsible Business Club has been running the largest student-run sustainability conference in Europe, called Doing Good Doing Well, for over 20 years now. We have also proudly launched a concentration in Responsible Business and Sustainability, so students have the option to specialize in this important area and bring their knowledge into their careers, whether they go on to work in an ESG role, or become more socially and environmentally conscious leaders no matter where their professional journey takes them. The establishment of our Alumni Sustainability Chapter will also help to further support our global alumni working in the sustainability fields with the resources and networking opportunities they need.