Let's dig into MBA admissions at the University of Rochester, Simon Business School with Senior Assistant Dean of Admissions and Programs Rebekah Lewin in this edition of our Admissions Director Q&A series.
Rebekah has over 20 years of undergraduate and graduate admissions and program management experience. In her current role, she oversees strategy related to recruitment, admissions, financial aid, career management, and student experience aspects for full-time, part-time, and online MBA and MS programs. Rebekah is involved in board and advisory roles, including as a Board Trustee for the Consortium for Graduate Study in Management and Consortium OP Planning Committee Chair, as well as the Forté School Advisory Council. Rebekah holds an MBA from the University of Rochester, Simon Business School, and a BS in Business Administration from Roberts Wesleyan College.
Keep reading to get her insight on this year's essays, interviews, and more.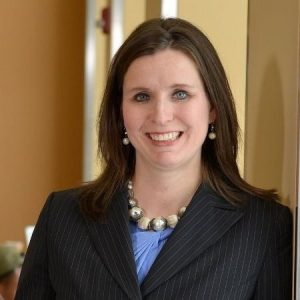 Clear Admit: What is the one aspect of your program that you wish applicants knew more about?
Rebekah Lewin: Simon has a long history as an academic leader in research, teaching, and scholarship in Pricing. We offer several popular Pricing elective classes and Simon students in many career paths choose to take these courses. Simon graduates pursuing a career in Pricing may work in Pricing Consulting or Corporate Pricing in several top firms including Amazon, Dell, EY, FedEx, Honeywell, PWC, Vendavo, and many others.
CA: Walk us through the life of an application in your office from an operational standpoint. What happens between the time an applicant clicks "submit" and the time the committee offers a final decision?
RL: An application is processed as soon as it is submitted and sent to the Admissions Committee once the processor confirms that all materials are properly submitted. From there, a candidate may be sent an interview invitation (on campus or via Zoom depending on location) and another staff member will read and review the application while the interview is being scheduled and completed. Then the candidate is sent to the Admissions committee for a final review and decision. The timing for the entire process is based on when a candidate applies and the guaranteed response deadlines that we set for when decisions are released.
CA: How does your team approach the essay portion of the application specifically? What are you looking for as you read an essay? Are there common mistakes that applicants should try to avoid? What is one key thing they should keep in mind as they sit down to write?
RL: The essay is the portion of the application where we want to get to know a candidate – why are they applying to B-school, why specifically they want to come to Rochester/Simon, what will they contribute, and what are they hoping to take from the experience? We want to make sure candidates answer our specific essay questions but do not overthink answers – be genuine and share what makes you unique and special!
CA: Could you tell us about your interview process? Approximately how many applicants do you interview? Who conducts the interview (students, admissions officers, alumni) and what is the nature of the interview (resume-based, application-based, behavioral)? Will your admissions interviews be in-person or virtual for the 2023-2024 admissions season?
RL: Interviews are primarily conducted by staff members and occasionally by trained alumni interviewers. Our policy is that interviews are offered by invitation and typically after a candidate has applied for admission. Interviewers conduct a resume-based interview that typically includes some behavioral questions. Interviews are in person (primarily on campus) for individuals based in the U.S.  For applicants who are not based in the U.S., we offer virtual interviews via Zoom.
CA: What is your testing policy? Do you offer exam waivers? Why or why not?
RL: We offer the option to waive the standardized test component of the application. However, we encourage students to submit test scores supporting candidacy–this is an important way for applicants to demonstrate their quantitative skills if they had a more qualitative undergrad background.
CA: Could you tell us about the waitlist? What can waitlisted applicants do to maximize their chances of being accepted to your program? Does your office allow for waitlisted applicants to submit additional materials (e.g. letters of support, job updates, new test scores, etc.)?
RL: Our waitlist process allows candidates to provide updates to the Admissions committee including job updates, test scores, or coursework taken. I encourage waitlist candidates to review the instructions about when their application may be reviewed, what they can do to update the Committee, and most of all to remain engaged with the Admissions committee. That engagement may include attending online webinars and being responsive to any direct outreach from the Admissions Committee.  
CA: Tell us briefly about two popular courses at your institution.
RL: Advanced Marketing Strategy is a semester-long simulation that extends concepts related to strategic marketing decisions about R&D, production, pricing, product, advertising, and channels. Students also learn frameworks related to negotiations and crisis management, while more deeply exploring their individual strengths and weaknesses as they learn to work effectively within a team environment.
Intro to Business Analytics is taught by award-winning faculty member, Ravi Mantena and teaches how analytics can support and improve business operations. It covers the fundamental principles and techniques of business analytics, in particular supervised and unsupervised machine learning methods, and uses real-world examples and cases to illustrate these. The objective is to train students to approach business problems data-analytically—translate business problems into related analytic problems; identify the appropriate techniques to solve these problems; and critically evaluate the results and their impact on business performance.
CA: Is there anything else you'd like to highlight about your MBA program or admissions process?
RL: Our fall 2023 on-campus conference and event dates are an excellent opportunity to experience the school first-hand. We encourage students to try and attend one of these group visit days where you can meet other prospective students, current students and alumni and interact in a variety of academic, co-curricular and social activities.