Sponsored Content
The Emory Goizueta Full-Time MBA program not only supports your vision for the future, but challenges you to dream bigger. When Connor Marshall matriculated into the full-time MBA program in 2021, she had a clear plan within the pharma industry. However, with access to the community, knowledge and support of Emory Goizueta, she discovered more possibilities—not only within herself, but also for her career. Read on for Connor's journey and how Goizueta empowered her to switch careers.
Connor Marshall, Emory Goizueta MBA '23
Age: 27
Hometown: Charleston, SC
Undergraduate Institution and Major: Boston College, Psychology and Biology
Graduate Business School, Graduation Year and Concentration (if applicable): Goizueta Business School, 2023, Strategy and Global Management
Pre-MBA Work Experience (years, industry): 3 years, pharmaceuticals
Post-MBA Work Experience (years, industry): Consulting (starting Dec '23)
Clear Admit: Tell us a bit about your pre-MBA professional history. Why did you choose to attend business school?
Connor Marshall: Prior to business school I, worked in clinical operations in the pharmaceutical industry. In the role, I oversaw the implementation, management, and execution of a global oncology trial. While I was passionate about the work, I began to notice the clinical and commercial sides of the industry were silos and it created a significant gap in communication. This ultimately influenced me to apply to business school with the goal of coupling my science background with business acumen to help bridge that gap and help create an environment more conducive for healthcare innovation.
CA: Why Emory Goizueta? What factors figured most prominently into your decision of where to attend?
CM: I've always gravitated to small academic environments and Goizueta not only provided a smaller class size, but it had a family feel. The students, alumni and faculty were supportive of one another, and I knew I was walking into an environment that would allow me to reach my full potential. Outside of campus, Atlanta gives you a metropolitan fix while maintaining its Southern charm. The variety of job opportunities, incredible weather and diverse culture ultimately sold me on the move back down South and Emory itself.
CA: What about your MBA experience prepared you for your current career? In particular, how did the Emory Goizueta MBA program help you to switch careers?
CM: When I began at Emory, I intended to pursue an internal strategy role at a pharmaceutical company, but I completely pivoted in the first 2 months. The faculty and alumni network not only encouraged me to broaden my scope as to what opportunities were available, but pushed me to take a chance on myself. This led me to focus my attention on consulting. The Core curriculum, which is taken during first semester, was especially impactful during recruiting as someone without a business background. Having an advanced understanding of how each function worked together and played a role in long- and short-term operations of a business gave me the foundation to go into recruiting with confidence.CA: What was your internship during business school? How did that inform your post-MBA career choice?
CM: I interned at EY Parthenon as a generalist consultant and will be returning full time in December. I cannot say enough about my experience over the summer – while it was challenging, I could tell the work and the people were a great fit for me and it exceeded my expectations. That experience made my decision to return full time post-MBA a no brainer.
CA: Why did you choose your current company? What factors figured most prominently into your decision of where to work?
CM: EYP found a way to maintain a small boutique feel while being part of the larger EY organization. This gave me the best of both worlds: the abundance of resources and name recognition, and small office feel. While evaluating firms, I also looked for a strong internal women's network and it was clear to me that EYP was intentional about D&I networks and programs.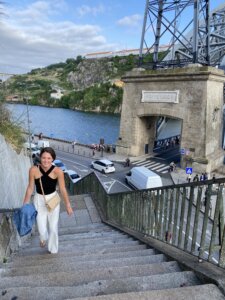 CA: What piece of advice do you wish you had been given during your MBA?
CM: (1) Travel travel travel. You can't put a price on time – take advantage of it! (2) Be kind to yourself. One of the most important parts of your MBA experience is learning about yourself and giving yourself the space to explore new things. That means it's okay to change your plan, try a new concentration, or even the type of company you are recruiting for. Changing plans doesn't mean you failed, it's a part of the experience so give yourself grace.
Learn more about Emory Goizueta's Full-Time MBA
---
Loading…