In this edition of our Admissions Director Q&A series, Bailey McChesney, Director of MBA Admissions at Vanderbilt University's Owen Graduate School of Management, sheds light on the MBA admissions process and more.
With over a decade of recruiting and admissions experience, Bailey focuses on the admissions side of the Vanderbilt MBA Recruiting and Admissions Team, managing the application evaluation process and incoming student onboarding. She also co-leads the MBA Recruiting & Admissions Fellows. Bailey began with Vanderbilt Business in March 2011 and has served in several roles on the Recruiting & Admissions Team, managing a variety of initiatives.
Read on for Bailey's insights into MBA admissions at Vanderbilt Owen and what to expect during the coming admissions season.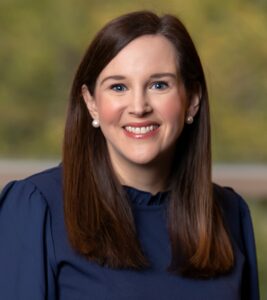 Clear Admit: What is the one aspect of your program that you wish applicants knew more about? 
Bailey McChesney: Our mission is to "provide world-class business education on a personal scale." I think sometimes how that personal scale can impact a student's experience gets lost on students researching business school options. We are a small to midsize program with the resources and infrastructure to really support students at the personal level. We are committed to providing the most personalized experience for students among top business schools. Almost everything in our program is personalized: from the curriculum to the leadership development program to the career support. At the same time, the personalized program allows students to really get to know faculty, staff, classmates, and other community members, supporting the fact that collaboration is essential in the world of business.  
CA: Walk us through the life of an application in your office from an operational standpoint. What happens between the time an applicant clicks "submit" and the time the committee offers a final decision? 
BM: We recognize the time and effort that candidates take in crafting their application and we designed our application evaluation process to ensure we are evaluating the full potential of an applicant. We have an Enrollment Management Team who is instrumental in managing an application through the process. Upon submission, we offer interviews by invitation to give candidates the chance to share their story. After the application is complete, the application undergoes a thorough review and is touched by four different members of the MBA Admissions Committee before a decision is rendered. The Admissions Committee includes representatives from the MBA Recruiting & Admissions Team, including a team of application evaluators, and the Career Management Center.  
CA: How does your team approach the essay portion of the application specifically? What are you looking for as you read an essay? Are there common mistakes that applicants should try to avoid? What is one key thing they should keep in mind as they sit down to write? 
BM: Candidates really have an opportunity to leverage the written statements in our application to give the admissions committee a full picture of their background and career goals. We have 2 required written statements: one is focused on career goals and one is an open opportunity for candidates to highlight something about themselves not already in the application. We put a lot of thought into the questions we ask in the essay portion of the application so the first piece of advice I would give a candidate is to make sure you are actually answering the question. This is the part of the application where applicants have the most control, so candidates can use that to their advantage. One key thing for candidates to keep in mind is that in a lot of the application, they have a chance to highlight their work experience and skills, but our essays allow them to highlight something about themselves beyond those things. 
CA: Could you tell us about your interview process? Approximately how many applicants do you interview? Who conducts the interview (students, admissions officers, alumni) and what is the nature of the interview (resume-based, application-based, behavioral)? Will your admissions interviews be in-person or virtual for the 2023-2024 admissions season? 
BM: We like to consider ourselves generous with interview invitations. Ultimately, we want to give as many people an opportunity to share their story as possible. Our interviews are behavioral based, so we look forward to hearing about a candidate's background, examples from professional experiences, and what has led them to the decision to pursue an MBA. Our interviews are conducted by second-year MBA students or members of our Recruiting and Admissions Team.  
We will continue to offer only virtual interviews for the 2023-2024 application cycle. We want our admissions process to be as accessible as possible, so by offering only virtual interviews, it gives candidates the opportunity to interview wherever and whenever is convenient for them. We find it also allows the pressure of the interview to be taken off when candidates come to visit campus – we want candidates who visit to really get to know us without the stress of having to interview too.  
CA: What is your testing policy? Do you offer exam waivers? Why or why not? 
BM: For the 2023-2024 application cycle, we require a standardized test or an approved test waiver. At Vanderbilt, we will accept the GMAT, GMAT Focus, GRE, or Executive Assessment. We want incoming students to be ready for the academic rigor of the program and a standardized test is an additional data point we can use to evaluate that readiness. At the same time, we want our process to be accessible so for those candidates who cannot take a standardized test, we offer a test waiver approval process. Applicants who demonstrate multiple examples of academic and professional accomplishments are more likely to receive a waiver. 
CA: Could you tell us about the waitlist? What can waitlisted applicants do to maximize their chances of being accepted to your program? Does your office allow for waitlisted applicants to submit additional materials (e.g. letters of support, job updates, new test scores, etc)? 
BM: We recognize that being on the wait list can be a stressful position for an applicant. Because of this, we offer two opportunities for applicants to add additional materials to their application once they have accepted a spot on the waitlist. This includes an additional waitlist essay and an additional recommendation. For wait-listed candidates, it is important to keep in mind that the admissions committee saw something in your application that they liked. By offering additional opportunities for applicants, we are giving applicants the opportunity to do some self-reflection on where the weak points in their application might have been and share any updates they might have to improve their candidacy.  
CA: Tell us briefly about two popular courses at your institution.
BM: Sports Analytics is a popular course within our Operations and Analytics concentration. Michael Lapré centers the course on applying quantitative methods to problems in sports, focusing significantly on baseball and football. The course concentrates on using data to analyze and answer typical questions in sports analytics including future performance, player rank, and how much a player is worth. Even if a student isn't interested in seeking a role in the sports industry, the course is an opportunity to use quantitative and analytical skills to approach problems.  
Michael Burcham's Launching the Venture course has long been a favorite among students. In the course, students examine the stages of a new venture, understanding how one might design, plan, and fund a new venture. It is a crash course for entrepreneurship, and students talk about how the structure and innovative nature of the course challenged them to think creatively about applying foundational business skills. It is one of the most popular courses mentioned when speaking with alumni as well.  
CA: Is there anything else you'd like to highlight about your MBA program or admissions process? 
BM: We are thrilled to be in our brand-new Vanderbilt Business building right in the heart of Nashville, Tennessee. With more collaboration and event spaces, the building really is a connection between Vanderbilt Business and the city. Not only is Nashville vibrant and friendly, but as one of the fastest-growing cities in America, the city has become an epicenter for healthcare and has both an established and growing corporate community. Students come to Vanderbilt and fall in love with living in Nashville.