In this Admissions Director Q&A, we welcome back Eric Askins, Executive Director of Admissions at the UC Berkeley Haas School of Business. Eric leads the admissions and enrollment efforts at Berkeley Haas, having spent over a decade in higher education with a mission of advancing access and opportunity. At Haas, he partners with students, faculty, and staff to recruit a diverse student body. Read on to get Eric's insight into MBA admissions this year, including what to expect from interviews, how to put your best essay forward, and more.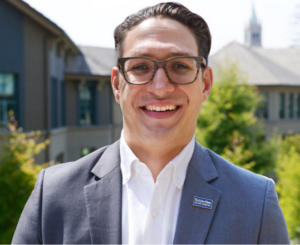 Clear Admit: What is the one aspect of your program that you wish applicants knew more about?
Eric Askins: This year we celebrate 125 years of mission-driven innovation and entrepreneurship, with a more recent priority on sustainability and DEIJB deeply connected to a powerful tech ecosystem creating the future of business. Students come from diverse backgrounds, experience a sense of belonging in our community, and go on to lead with impact in many sectors. The secret to our success is our ability to attract outstanding community members who, every day, carefully cultivate a culture at Haas, exemplified by our four defining leader principles (DLPs): Confidence Without Attitude, Students Always, Question the Status Quo, and Beyond Yourself. These DLPs identify who we are and what we prioritize at Haas. You will see students, faculty, and staff emulating these DLPs and they unite and define us. We are known as a tight-knit community solving challenging problems and creating new opportunities that, through our global reach, make the world a better place.
We have doubled down on our purpose-driven priorities on innovation, sustainability, and inclusion in the context of a deep commitment at the University of California to support social mobility. Fully 20% of our full-time MBA class entering Fall 2023 are the first in their families to attend college. Extensive investments have been made to execute on our strategic plan in Diversity, Equity, Inclusion, Justice, and Belonging, including faculty and staff hiring, the hiring of a DEIJB faculty instructional consultant, funding for DEIJB student-led initiatives, additional staff in our program office and DEIJB Team to support students and practice at the cutting edge of our equity and justice work. 
CA: Walk us through the life of an application in your office from an operational standpoint. What happens between the time an applicant clicks "submit" and the time the committee offers a final decision?
EA: The "life of an application" starts long before a candidate hits submit and it does in our office as well. Applicants to The Haas School of Business MBA program can find guidance from our team throughout the application in the form of video instructions within the applications, links to worksheets, recorded application prep webinars, and our application bootcamp page with step-by-step guidance to complete the application. Once candidates are ready to hit submit those applications end up in a queue for review. On our application submission dates,  our team reviews each application to ensure all required components are present and the application is assigned to a member of our evaluation team for an initial review. Applications are Berkeley Haas are evaluated based on specific competencies relating to success within our program and not by specific application components; for example – one competency our team looks for is evidence of the candidate's ability to handle the academic rigor of the program (specifically the core course work). Our team will look for that evidence in undergraduate performance, or standardized testing, or professional experience or graded short courses or certifications/licenses…etc. Each application is reviewed at least twice. Candidates who have sufficient evidence in their application to suggest they will be successful at Berkeley Haas are invited to an interview to round out our application materials. The Admissions Committee deliberates candidates every Friday during the "evaluation season."  Applications will be presented to the committee by an advocate (usually the 2nd reader of an application). That advocate will present the candidacy to the committee for discussion and final recommendation. Fun fact: If the candidate is admitted, the advocate is the person who gets to make the admissions phone call.  
CA: How does your team approach the essay portion of the application specifically? What are you looking for as you read an essay? Are there common mistakes that applicants should try to avoid? What is one key thing they should keep in mind as they sit down to write?
EA: We've made some adjustments to our essays this year that we are very excited about. First, we understand that candidates are writing these essays for multiple schools and we wanted to lessen the burden of writing for "unique" or overly clever prompts. Our Essay 2 is now a simple short-term/long-term goals career prompt. We have held on to our long-standing "what makes you feel alive" essay. A strong essay has three parts (1) An experience or event from the candidate's life, (2) "The Why?" – What did you learn from the experience, how has it impacted you, why this example over others, and (3) How it relates to the overall narrative of the application. These essays are the most interesting to read and get a sense of who the candidates are as individuals. 
Lastly, we've added a video introduction this year. This is a candidate's chance to briefly describe themselves and give us a sentence or two about one of our Defining Leadership Principles. 
CA: Could you tell us about your interview process? Approximately how many applicants do you interview? Who conducts the interview (students, admissions officers, alumni) and what is the nature of the interview (resume-based, application-based, behavioral)? Will your admissions interviews be in-person or virtual for the 2023-2024 admissions season?
EA: Candidates are invited to interview after a thorough review of their applications. In most cases, interviews are conducted by current students (in their 2nd year) and alumni of the program. The interviewers receive bias training as part of their onboarding to ensure we are monitoring for that in the engagement with candidates. Interviews can be conducted via video conference or pre-recorded video and in addition, we are returning to in-person interview offerings as well. Interviewers only receive access to a resume and at the close of the interview, they submit an interview assessment form to be included with the application materials. The assessment forms don't indicate the interview format – they only cover the responses to the defined question set.
CA: What is your testing policy? Do you offer exam waivers? Why or why not?
EA: We require the submission of a standardized test for all our regular application submissions. A holistic review process like ours is focused on collecting as much evidence as possible of a candidate's ability to succeed in the program. In most cases, a test result provides another piece of evidence. The review doesn't specifically weigh application components, so test submissions shouldn't be viewed as a negative in the submission. In addition, we are happy to see that both the GMAT and GRE are making efforts to provide a more applicant-centered experience in their test instruments. 
CA: Could you tell us about the waitlist? What can waitlisted applicants do to maximize their chances of being accepted to your program? Does your office allow for waitlisted applicants to submit additional materials (e.g. letters of support, job updates, new test scores, etc.)?
EA: One of the unique aspects of our program is that we remain among the smallest among our peer set. As such, we tend to have more wonderful candidates in our application pool than there are seats in our program. As a result, we have typically leveraged our waitlist to hold on to those candidates to see if seats become available. We invite candidates to submit supplement material while on our waitlist, among them an additional letter of recommendation, a letter of support from a Berkeley Haas community member, updated resume or test scores and supplemental narrative covering any noteworthy accomplishments since the original application submission. 
CA: Tell us briefly about two popular courses at your institution.
EA: International Business Development (IBD) is a management consulting opportunity that has been running for nearly 30 years. IBD partners with corporate, government and not-for-profit organizations to help redefine how they do business around the world. Over 1,800 MBA students have delivered innovative and value-enhancing engagements to 89 countries around the globe. Some of these projects are just so interesting, like a family-owned Egyptian company that exports fresh fruits and vegetables asked us  to provide an overall market assessment. Our students assessed market opportunities in key fresh produce categories, identified operational, financial and marketing challenges, and explored ways the company could manage risks and enter new markets. They employed local and international market research while conducting multiple stakeholder interviews and site visits.
It's important to remember that Berkeley Haas is part of the #1 public research university in the world, and 90% of our graduate programs ranked in the top 10. So I'd also point out that our students have the opportunity to learn from some of the world's smartest people – by taking courses across the campus with six units of non-Haas electives credited toward their graduation requirements.
CA: Is there anything else you'd like to highlight about your MBA program or admissions process?
EA: Even after 125 years, the Haas School of Business has staying power. Primarily because we continue to educate entrepreneurial leaders to address society's biggest challenges. Including developing a sustainable, climate-resilient economy,  in every aspect of business! This includes agriculture, real estate, energy, finance, and corporations, as they all will need to be reimagined and redesigned to address the current environmental, social, and economic crises. That's why we've invested a considerable amount of our efforts towards building out our sustainability programming. Which include five areas of focus, world-renowned faculty research and academic leadership, established and internationally recognized Centers, Institutes and initiatives, top-ranked curriculum, extracurricular student programming, and industry conferences and engagement. 
In the last few years we launched the Michaels Graduate Certificate in Sustainable Business to empower new leaders to create the economic and social transition to a climate-resilient, low-carbon, and equitable future. We aren't stopping – expect more from us in this space soon!