In this edition of our Admissions Director Q&A series, we welcome Shelly Heinrich, associate dean of MBA admissions and director of marketing at Georgetown University's McDonough School of Business.
Heinrich leads the MBA Admissions team in both its marketing and operational strategy to build awareness, recruit, yield, and retain the Full-time and Flex MBA programs. She also develops the integrated marketing strategy for the team and manages the internal marketing team and external marketing firm in its execution.

Heinrich is a senior marketing professional with over 19 years of experience in the higher education, corporate, and nonprofit sectors. Her responsibilities have included marketing, recruitment, business development, event planning, and public relations. With experience in five business schools, Heinrich brings a strong and tested knowledge of the business school industry and changing market trends. She received her Executive MBA from Georgetown University's McDonough School of Business, Master of Education from the University of Texas at Austin, and Bachelor of Business Administration from Texas Christian University. 
Read on for Heinrich's insights into MBA admissions this year, including essays, interviews, and McDonough's MBA program.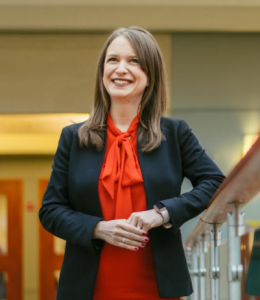 Clear Admit: What is the one aspect of your program that you wish applicants knew more about?
Shelly Heinrich: There are too many things that I want to talk about. Do I have to choose just one?
The community and culture at Georgetown McDonough are truly special. We have a phrase called "Hoyas Helping Hoyas" that exemplifies the spirit of our global community. Hoyas are always willing to give back, support one another, and care for each other. We see this spirit through our alumni community and their eagerness to mentor, recruit, and hire Georgetown students, through the attentiveness and personalized care that students receive from McDonough faculty and staff, and through the meaningful relationships that students build within their cohorts that grow into lifelong friendships and connections. Our Jesuit value of cura personalis, or care for the whole person, extends far beyond the classroom to include a focus on mental and physical wellbeing, enriching community experiences, and an emphasis on teamwork and collaboration. We work together, celebrate together, and care for each other and for our entire community – together. Our community is transformative and integral to the Georgetown MBA experience. 
Okay, I know I'm only supposed to provide one, but I also appreciate the benefits of our small class size. With only 250 students in a cohort, access to curricular and co-curricular activities is infinitely greater, which means there are no waitlists and no barriers to enjoying the entirety of your MBA experience. Here at McDonough, there are 350 board positions on over 40 student clubs, so the probability of earning a board position is very strong. Additionally, if you want to participate in experiential opportunities such as international treks or case competitions, or even pursue an elective, you're not competing against multiple people for spots. This type of access and exposure to opportunities is simply not the same at a school with over 900 students. Our small class size also means students receive more personalized attention from the career center, academic advisors, and professors throughout the program.
CA: Walk us through the life of an application in your office from an operational standpoint. What happens between the time an applicant clicks "submit" and the time the committee offers a final decision?
SH: Once an applicant clicks submit, we are busy at work processing applications and seeing if all the materials have been submitted. We will contact you if anything is missing. Once the applications are ready, we then pass along files to our team of readers to review. Readers are able to move you to the interview stage. When you are invited for the interview stage has no bearing on your competitiveness as an applicant, but once you have been interviewed, the committee reviews all applications again in multiple ways and will release a decision on the date posted on our website.
CA: How does your team approach the essay portion of the application specifically? What are you looking for as you read an essay? Are there common mistakes that applicants should try to avoid? What is one key thing they should keep in mind as they sit down to write?
SH: What I love about the Georgetown McDonough essays is that we offer three prompts, but you only have to choose one. This allows you to choose the essay that speaks to you as an individual and truly highlights your unique selling proposition. 
Additionally, we have a video essay that allows you to present yourself on camera to the entire admissions committee. This can be a benefit to you for several reasons. First, there is only one person interacting with you during your evaluative interviews, so a video provides exposure to the whole committee. Second, if you happen to have an "off" interview day or don't connect as well as you would like with the interviewer, the video essay gives you a second chance to showcase who you are and what you'll bring to the McDonough community. And the best thing is, you can record and re-record as many times as you would like and submit the video when you feel it's the best product.
In essays, we want to hear personal examples and stories. This is what sets you apart from other candidates and what makes us know that ChatGPT didn't write your essay. In terms of common mistakes, please don't write another school's name, don't be sloppy with your responses, and answer the prompt – don't just try to fit another school's essay into our question. Additionally, the optional essay is only to explain gaps or inconsistencies in your resume. So, if you have below-average academics or a longer than three-month work gap, then you'll want to explain it.
CA: Could you tell us about your interview process? Approximately how many applicants do you interview? Who conducts the interview (students, admissions officers, alumni) and what is the nature of the interview (resume-based, application-based, behavioral)? Will your admissions interviews be in-person or virtual for the 2023-2024 admissions season?
SH: You have to be interviewed in order to be admitted, but not everyone who applies is interviewed. The interview means you've made it to the second cut of the application process. Interview invites go out after your application is read. So, from the time that you apply until the time you get an invite could be as little as one to two weeks. However, you could also receive an interview invitation all the way up until the decision deadline. When you receive an interview invite has no bearing on the competitiveness of your application. Interviews could be conducted by staff, students, or alumni and you'll have the ability to conduct them on campus, virtual, or in select locations throughout the world. The interviews are 20-25 minutes with five minutes of Q&A. Part of the interview is behavioral, and the other part is to understand more about you, your goals, and your fit within the program. We want to get to know you – please know that these interviews are intended to be relaxing and informative, not stressful. If you can come on campus or meet in person, I always think this is the best opportunity to make a good first impression and see the campus to experience if this will be the right fit school for you. 
CA: What is your testing policy? Do you offer exam waivers? Why or why not?
SH: We offer waiver options for both the Full-time and Flex MBA (online and in-person) programs. The criteria are listed on our website. We realize that standardized testing is one criterion that can be used to assess a person's quantitative readiness. But, it is not the only criterion. We can look at quantitative courses during your undergraduate program, any tests or certifications you may have taken, and your quantitative responsibilities at work. Ultimately, we want people to be successful in the quantitative portion of the classroom so we may need multiple indicators to determine quantitative success.
CA: Could you tell us about the waitlist? What can waitlisted applicants do to maximize their chances of being accepted to your program? Does your office allow for waitlisted applicants to submit additional materials (e.g. letters of support, job updates, new test scores, etc.)?
SH: Students are put on the waitlist at each round. They are then evaluated for admission in the next round. If you are waitlisted, you could potentially be admitted in the next round or waitlisted again. We keep people on the waitlist all the way through the summer, while also releasing people at certain points throughout the admissions process. We always offer waitlist webinars and waitlist coaching to share with people how they can best improve their applications. We encourage them to submit additional materials, new test scores, quantitative classes, promotions, or anything else that may have changed since their application was first submitted to help enhance their chances of being admitted from the waitlist in upcoming rounds.
CA: Tell us briefly about two popular courses at your institution.
SH: Intensive Learning Experiences (ILEs) are widely popular. ILEs are elective courses offered in short time periods (one to two weeks) that provide one and a half or three hours of academic credit. These courses use innovative pedagogies, such as experiential learning, client-centered work, and off-site visits that take advantage of the concentrated time format. ILEs are consistently some of our most popular courses available in each cohort. 
Additionally, during Opening Term in August before the semester starts, we have the Structure of Global Industries and Leading Teams for Performance and Impact (LTPI) classes. Structure of Global Industries is offered in an intensive format using multiple instructors, teams, and projects, and an immediate immersion into international business. The first objective of the course is to develop skills of critical thinking and business decision-making. The second objective is to learn the foundations of international business and economics that are necessary for managerial success and to incorporate ethical considerations into business decisions. A third objective is to learn how to function effectively in teams and make persuasive professional presentations. A feature of the course is a global industries project that is conducted by teams of students focused on a firm's decisions about business in a range of global industries. Similar to a corporate strategy exercise, each team determines where to locate production and sales and how to organize a firm in each of the industries, and how the firm's business is affected by a major macroeconomic shock.
In LTPI, the course focuses on developing your social intelligence by developing the self as a leader, understanding cultural and interpersonal differences, and leading change in the organizational context. Social intelligence skills are crucial for influencing, persuading, motivating, and leading people and change. Both of these courses set the stage for the first year. They are demanding, intense, exciting, and where you make some of your lifelong friends during the long coffee-intensive hours.
CA: Is there anything else you'd like to highlight about your MBA program or admissions process?
SH: Georgetown University's brand resonates throughout the world. We are consistently ranked as a top-20 school overall with many of our programs ranked in the top 10. We are located in the global capital city of Washington, D.C., which offers unparalleled access to employers and alumni across industries and increases your ability to network and expand opportunities to maximize your probability of success.
Our signature experiential learning projects, such as the Global Business Experience course, immerse students in global business issues and provide exposure to real-world experience with international clients. McDonough is committed to building principled leaders in business, so each student will gain important ethical foundations to solve business challenges and put their principled leadership skills into practice.