In our new series, we're focusing on sustainability at MBA programs–how it's incorporated into their curriculum, related resources for students, and more. For this edition, Katherine Baird, Associate Director of the Office of Sustainability and Climate Change at Berkeley Haas, shares how the school has made sustainability a priority.
Clear Admit: How does the curriculum for full-time MBA students support leadership in sustainability, or how is it evolving to do so?

Katherine Baird: Haas has doubled down on sustainability under the leadership of Dean Ann Harrison, who has made integrating sustainability skills into the curriculum one of her three top priorities. We want every student to leave Haas with a basic understanding of sustainability. In addition to an MBA certificate—and a summer minor—in sustainable business, Haas will retool all of its MBA core courses by the end of 2023 to incorporate thinking about climate change and other sustainability challenges throughout various business disciplines.
Leveraging our robust elective offerings, we launched the Michaels Graduate Certificate in Sustainable Business in 2021. Open to both full-time and evening and weekend MBA students, the certificate requires nine units of required coursework. Students can create a pathway that's focused on either bringing a sustainability lens to a mainstream business function or building expertise into a specific industry such as renewable energy or green infrastructure. All told, Haas offers over 25 courses with a focus on sustainability.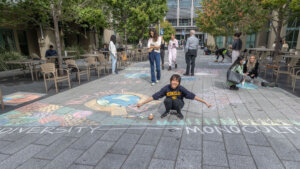 To that end, Haas is now the only top business school to foster leadership across five major sustainable business areas: energy, sustainable agriculture and food, real estate and urban economics, and corporate accountability, and sustainable finance and accounting.
Under each of these five areas of strength, we have world renowned faculty research and academic leadership, established and internationally recognized Centers, Institutes and initiatives, top ranked curriculum, extracurricular student programming, and industry conferences and engagement. Haas also exists within the wider UC Berkeley campus, providing unparalleled opportunities to collaborate in engineering, health, bio-sciences, technology and social sciences.
CA: What additional resources, such as clubs, centers, etc., are available for those who want to pursue careers in sustainability?

KB: In addition to the academic programs, Haas offers students opportunities to engage with practitioners, leaders and companies dealing with sustainability challenges through its specialized institutes and centers.
The Center for Responsible Business (CRB) develops leaders who redefine business for a sustainable future, connecting students, businesses, and faculty to mobilize the positive potential of business to create a more sustainable society. Focus areas include sustainable supply chains, business and human rights, sustainable food, and sustainable innovation.
Sustainability is infused into the Haas finance curriculum through Haas' Sustainable and Impact Finance Initiative, including through its three sustainable, impact and climate investment fund courses. Valued at over $7.5million in total, these courses offer  MBA students real-world experience in delivering both strong financial returns and positive social impact.
The Center for Equity, Gender and Leadership educates current and future business leaders and supports academic research on topics related to diversity, equity and inclusion for a sustainable workforce and work environment.
The Energy Institute at Haas (EI@Haas) is the premier research organization of energy economists in the country and benefits from close ties with UC Berkeley's Department of Agricultural and Resource Economics (ARE) in the College of Natural Resources. The Institute's cutting edge research delves deeply into energy efficiency, energy and inequality, energy in developing countries, transportation and climate change.
As the country's first cleantech accelerator, the mission of Cleantech to Market (C2M) is to address climate change. C2M is a capstone, experiential, interdisciplinary program in which Haas students collaborate with 20+ other graduate programs across UC Berkeley and, in partnership with entrepreneurs, researchers, and industry professionals, help accelerate the commercialization of promising cleantech innovations.
The Fisher Center for Real Estate and Urban Economics focuses on shaping the built environment and conducts research related to sustainability and green building. They are planning to totally revamp the introduction to Real Estate MBA course to focus on sustainability and investment in low-carbon real estate development. New research focuses on fire risk and insurance pricing and on the risks to CA housing and mortgage markets.
Alongside these Centers, students at Haas also have access to the Net Impact Club, the Berkeley Energy & Resources Collaborative and the Food@Haas Club, which host events and networking opportunities throughout the year.
CA: How is your business school embracing sustainable practices in terms of campus life? Are there any environmentally-friendly features you would like to highlight about the facilities?

KB: The Haas Sustainability Task Force (HSTF) is at the center of creating tangible change at Haas, the wider Berkeley campus, and beyond. Staff, students and faculty from Haas and campus are HSTF members.
Our newest building, Chou Hall, is officially the country's greenest academic building, having earned TRUE Zero Waste certification at the highest possible level along with a LEED Platinum certification for its energy efficient design and operation and a WELL Gold certification.
Haas earned TRUE Platinum Zero Waste certification after more than a year of dedicated waste sorting, composting, and other efforts to divert over 90 percent of Chou's landfill waste. The official notice came from Green Business Certification Inc. (GBSI), following an on-site audit by the U.S. Green Building Council.
In Feb. 2023, Danner Doud-Martin was named the first full-time director of campus sustainability. For more than six years before her appointment, she led the school's progress in sustainability—from leading the effort to make Chou Hall the first zero-waste building on campus to planting pollinator gardens around Haas to leading volunteers planting hundreds of trees in the community. Her plans address not only what we are diverting from the landfill at Haas, but also understanding what emissions we produce at Haas and how we can reduce our scope 1, 2 and 3 emissions.
Additionally, UC Berkeley has committed to the strongest ban on plastic in the country and has mandated that we need to eliminate single-use plastic by 2030.
Haas is leading the charge. (We eliminated plastic water bottles from our graduations this year) We've continued to roll out and/or pilot reusables programs with utensils, mugs, and water bottles, while working on the logistical piece: can they be washed on site or do they need to be transported to be washed? What is the footprint? Are we really helping the environment with reusables versus a compostable?
CA: Do you have any future plans related to sustainability that you'd like to share?

KB: Haas is planning to launch a new joint master's program in 2024 with the Rausser College of Natural Resources – to offer an MBA/MS in Climate Solutions. Graduates of this program will be equipped to be sustainability leaders within traditional finance, consulting and tech companies, and be prepared for specific sustainability roles that require both deep knowledge of climate science and business.
CA: Anything else you'd like to add?
KB: A few more highlights:
FoodWare, a student startup that we've been working with since last spring, helped us replace 4,200 clamshell food containers with reusable containers between spring and winter of 2022.
We're also working with Fill It Forward, which offers an app that works with barcodes to track when you refill your water bottle or coffee mug. It sends the information from campus users to Fill It Forward, which donates water to communities in need.
We are also working to make the new Berkeley Haas Entrepreneurship Hub a more sustainable project. As the hub is being renovated, we are thinking about integrating sustainability during the construction and operations phases. Because this is a renovation rather than new construction, we won't be able to obtain the same level of certification as we did with Chou Hall, but we still hope to have a significant impact.
Feature image courtesy of Kelcey Christen, Haas student.