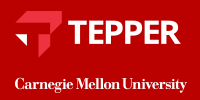 James Frick calls himself a lifer at Carnegie Mellon University's Tepper School of Business. "I have been at Tepper since 1998," he says "Scary! How did that happen?"
Frick began on the program side, which means that for his first five years there his function was much more working with students once they came to campus. In this role he did a lot of systems work, a lot of advising, etc. But the fact that Tepper is such a small organization really benefitted him, he says. "It allowed me to have half a foot in career services, half a foot in admissions." And the more of admissions he did, the more he loved it. He transitioned officially to the admissions team in 2003 and became director of admissions in 2010.
In the interview that follows, he shares his enthusiasm for Pittsburgh and its baseball team and highlights a new leadership coaching program that he thinks will help students really learn to communicate and implement the analytical skills they get through the Tepper program. He also shares some sage advice for how to approach the essay portion of the application – advice that will be useful whether you are applying to Tepper or to any other top MBA program. So don't miss out.
Clear Admit: What's the single most exciting development, change or event happening at Tepper this coming year?
James Frick: Wow. It has been a bit of a process in that it was introduced last year, but this class coming in is the first that will take advantage of some of the new things in our curriculum. The first thing that I am most excited about is the Accelerate Leader Center, or Accelerate for short. Our students, as soon as they get here, will have really individual sessions with leadership coaches. They will start early on with the assessments and next they will work one on one with these coaches on action plans. Finally, they will implement these action plans as they go through the program.
At the end of two years they are not only going to be good at getting the right answer using excellent analytic and problem-solving skills, they will also be able to communicate that answer and implement that answer. It is really going to be an amazing positive for our students.
Outside of work I am excited that the Pirates are above 500 for the first time in I can't remember how long.
CA: What is the one area of your program that you wish applicants knew more about?
JF: I think people know they are going to get a great education here and I think they know they are going to learn a lot from their classmates. One thing I think people are surprised by is how much they enjoy working with their classmates. Ours is probably one of the most difficult course loads of any MBA program – with good reason and good outcome. But as a result, you kind of have to check your ego at the door and really learn to work with your classmates. How well they come to do that seems to be one of the things that surprises students most.
As does Pittsburgh itself. I sometimes think people come in spite of the fact that we are in Pittsburgh. What they discover when they're here is that it is really a very vibrant city. A recent Washington Post article actually said that we've outranked Portland to become the new hippest city. It is amazingly affordable and very accessible, which gets back to the first point of how much Tepper students end up enjoying their classmates. They will find themselves going out together and doing all sorts of fun things together in Pittsburgh.
CA: Walk us through the life of an application in your office from an operational standpoint. What happens between the time an applicant clicks 'submit' and the time the committee offers a final decision (e.g. how many "reads" does it get, how long is each "read," who reads it, does the committee convene to discuss it as a group, etc.).
JF: We offer several rounds in a given year, and on our website we provide a specific date for each round when applications are due and when decisions will be delivered. In Round One, which is usually at the end of October, half of our admissions team will be out traveling to events. So exactly who takes part in the review process depends a little on where we are in the rounds.
Once submitted, the application goes into the very capable hands of our support team. They start to take stock of which application components have come in, communicate with candidates about what's still needed, etc. From there, the application will go for the first of up to four reviews. At that time the reviewer can take some action. Perhaps he or she says, "Wow, I think I want to invite this candidate in for an interview." In other instances, the application will get another read, and then maybe the candidate will be invited to interview.
Interview invitations are extended beginning about a week from the submission deadline and continuing all the way up to a week before the decision deadline. A lot go out early, but they really do go out throughout the whole process. It is a very continuous process.
If the candidate is interviewed, his or her application is then generally read generally by the person who conducts the interview. And if not it will be read by someone else. So every application will get at least two reads. From there, it will go to committee, and then to myself or to Kelly Wilson, a new executive director who joined us August 1st, for a final read, after which a decision will be made.
We take great pride in making sure we do hit those deadlines for letting candidates know our decision. And we certainly will be communicating to candidates along the way as well. I'd also like to add that candidates are welcome to communicate with us throughout the process. I know sometimes people think, "Oh, I don't want to bother them," but we really do welcome your questions and communication all throughout the process.
CA: How does your team approach the essay portion of the application specifically? What are you looking for as you read the essays? Are there common mistakes that applicants should try to avoid? One key thing they should keep in mind as they sit down to write them?
JF: This is an area that is near and dear to my heart because I was once on a course to be a professor of composition. So I get really excited about essays, although I realize that not everyone shares my enthusiasm.
To me, writing is a process. In many respects it is no different than typical writing, but it is writing about yourself and in the first person, which is very often a style that candidates are not used to. What we are looking for from this portion of the application is to be able to put the essays down after having read them and say, "I now know this candidate a lot better than I did before."
To approach the essays, you really need a lot of reflection. Unlike the interview, you know exactly what the question is that you have to answer. I like to introduce it as a process. Just get some ideas down – I call it free writing, others may call it brainstorming. You just start to get some ideas of things you want to talk about and then you flush those ideas out. Maybe it's an outline, maybe it's blocks of content – whatever it takes to get it down, do it. Then you put it away for a bit and come back to it to add flesh to those bones. And then you share it. It really is meant to be collaborative. So you want other people to read it and really give you feedback.
To me the essays are a good place to articulate the fit. So in broad strokes tell us what brought you to this point, in broad strokes describe where you see yourself going, and in specific strokes explain why you see a Tepper MBA as helping you get there.
One last thing I'd like to add – and I hinted at it before – is that I think sometimes this process can be an anxious one and the Admissions Committee can seem stodgy or intimidating. The Tepper School is a small school and we really pride ourselves on knowing all of our community. So I really encourage people to not hesitate to get to know us as they are going through the investigative process of deciding whether Tepper might be a good place for them.
We know our students really well, so if you want to speak to someone who has done x or come from y background, we can almost definitely connect you. I believe the more you know us the more informed a decision you are going to make.