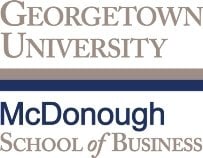 We were lucky enough to catch Katelyn Rosa Stephenson just weeks into her role as interim assistant dean and director of MBA admissions at the McDonough School of Business. But though she is new to heading up admissions, she is not new to McDonough. She joined the admissions staff in March 2008, bringing with her plenty of experience from time spent working in undergraduate admission at the George Washington University.
Read on to learn what Rosa Stephenson has to share about the new curriculum McDonough will implement this fall, including the steps the school is taking to provide its students with a truly global education. She also highlights the contributions of Georgetown's Jesuit origins to the MBA program and provides practical advice and insight regarding the admissions process. Check it out.
Clear Admit: What's the single most exciting development, change or event happening at McDonough this coming year?
Katelyn Rosa Stephenson: We are very excited about the new MBA curriculum being implemented this fall. It seeks to strengthen students' education in core functional areas through semester-long courses, instead of seven-week modules. This will allow more time for reflection and the opportunity to integrate learning with other course content. Courses have been designed to reflect complementary functional knowledge and to involve cross-disciplinary teams of faculty.
The new curriculum also deepens our commitment to educate principled leaders with a global mindset in service to business and society. For example, the new leadership course will integrate knowledge and perspectives from leadership, ethics and corporate social responsibility in order to explore the challenges of modern business decision-making. In addition, we have added a new three-week intensive course – the Structure of Global Industries (SGI) – at the very beginning of the first year to set the stage for a global discussion throughout the entire curriculum. We also are expanding and revising the Global Business Experience (formerly the Global Residency) to take into account students' experiences, talents, connections and careers in the planning of these international consulting projects.
While there are many changes on the horizon, the curriculum holds fast to the principles that define an MBA education, and we are excited about its launch this fall.
CA: What is the one area of your program that you wish applicants knew more about?
KRS: The Georgetown McDonough School of Business goes beyond what an applicant might typically expect from an MBA program. In the Jesuit tradition of "men and women in service to others," we teach students to be principled leaders in service to business and society.
In addition to weaving this concept through the curriculum, the Georgetown McDonough School of Business offers multiple opportunities for students to experience this philosophy. For example, the Global Social Enterprise Initiative engages students through events in advocating for transformative solutions to the world's significant challenges in health and well-being, economic growth, the environment and international development. The Georgetown Entrepreneurship Initiative supports the work of many social entrepreneurs throughout the school and engages with a vibrant entrepreneurship community in D.C. The new Georgetown Institute for the Study of Markets and Ethics brings together the finest scholars and teachers from different fields to advance the understanding of the ethical issues inherent in the functioning of the market society.
Student organizations are another way in which students experience the Jesuit philosophy. For example, the Net Impact chapter at Georgetown McDonough also has received Gold Status – the highest honor for a chapter – for the third consecutive year. Other student clubs, including Clean Tech and the MBA Volunteers, seek to make an impact in our community as well. Finally, classes like the Small Business Clinic provide opportunities for MBAs to consult with local small businesses and nonprofits to provide strategic direction on a specific project.
CA: Walk us through the life of an application in your office from an operational standpoint. What happens between the time an applicant clicks 'submit' and the time the committee offers a final decision (e.g. how many "reads" does it get, how long is each "read," who reads it, does the committee convene to discuss it as a group, etc.).
KRS: We do our best to keep applicants engaged throughout the admissions process and to be as transparent as possible about what is happening with their application. For example, once applicants submit an application, they gain access to an online application status check so that they can track the receipt of specific documents, see when their file is "under review" and ultimately receive their final admissions decision.
Our evaluation process is holistic and takes into account both quantitative (i.e.: undergraduate academic performance, standardized test scores, etc.) and qualitative indicators (i.e.: work experience, essays, recommendations, interviews, etc.). Our review process is set up so that several readers' perspectives are provided on each candidate's application before a final admissions decision is reached. The admissions committee meets on a weekly basis to discuss candidates' applications, and all final decisions are reviewed again at the end of each round, prior to the admissions notification deadline.
CA: How does your team approach the essay portion of the application specifically? What are you looking for as you read the essays? Are there common mistakes that applicants should try to avoid? One key thing they should keep in mind as they sit down to write them?
KRS: The essays are an opportunity for the candidate to give his or her application a voice, beyond the quantitative indicators (i.e.: undergraduate academic performance and standardized test scores). First and foremost, the admissions committee is looking to see that the candidate has answered the question in a thoughtful and succinct way. We are not looking for a specific response; we really want to gain insight into the candidate as a person and how she or he thinks.
Sometimes the more common mistakes are elementary (i.e.: spelling and grammar), while other times the content has not been fleshed out and it's unclear what the candidate is trying to communicate in his or her essay response. To that end, one key to writing a good essay is to spend time thinking about what you want to say before you actually start crafting the essay. This usually helps candidates clearly articulate themselves, and as a result their application presentation tends to be more impressive overall. Once an essay is finished, give it to someone to read and see if she or he can tell you what the essay question was. This will ensure that you've directly answered the question being asked. Lastly, make sure that whatever you present is authentic; our goal is to get to know you and to assess if you would be a good match for our program.