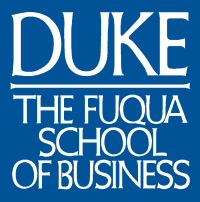 In our most recent interview as part of our continuing Admissions Director Q&A Series, we got to know Megan Lynam, the director of admissions for MBA and MMS programs at Duke University's Fuqua School of Business. Lynam is no stranger to Fuqua. She earned her MBA there in 2003 and has been working in the admissions office since 2005, focusing on marketing and operations before assuming her current role as admissions director.
Lynam spent her early career in consulting, working for PricewaterhouseCoopers and Deloitte. Upon graduation from Duke she held a role at Brunswick Corporation's Leadership Development Program, where she led the MBA recruiting effort at Duke.
Here's a little secret: Lynam was waitlisted in Round 1 when she applied to Fuqua for the Class of 2003. "When Liz Riley Hargrove (our Associate Dean) called me that March to congratulate me on being admitted, I thought I had won the lottery," she says. "I did," she adds.
Read on to learn more about the new Duke campus outside of Shanghai, the strength of the Fuqua faculty and more.
Clear Admit: What's the single most exciting development, change or event happening at Fuqua this coming year?
Megan Lynam: The Duke campus in Kunshan, just outside of Shanghai, is scheduled to be completed next spring. Our ambition is to become the world's first globally distributed business school. We strongly believe that to create the business leaders that the world needs, we must be deeply embedded and connected in the key markets that are driving the world economy. Over the past five years, we have established regional teams on the ground in China, Russia, the United Arab Emirates, the United Kingdom and India. Rather than operating from a predominantly U.S.-focused perspective, our global initiative and the respective changes that we have made to the curricula of each of our programs enables us to develop business leaders who can walk across borders and work at the intersections of business, health, policy, energy and beyond to tackle some of the major issues facing the world today.
CA: What is the one area of your program that you wish applicants knew more about?
ML: Prospective students are always seeking to understand the culture of the school, and it is incredibly difficult to put into words. I will attempt to provide a glimpse into that culture, through two of the fundamental principles that define our community – "teach as much as you learn" and "mastery takes practice."
Fuqua's faculty is consistently ranked among the top by leading media outlets. The faculty's role is not only to create knowledge and to disseminate it, but also to facilitate the discussion in the classroom that enables each student to shape the learning environment with his or her unique perspective.
Our students come from all corners of the globe, from every industry and function, and they have strengths and development areas. They have the confidence, and the humility, to take the time to teach others when something comes more easily to them and to accept guidance and support from others when it is an area outside of their comfort zone or experience.
Athletes spend countless hours preparing for each competition. Why should developing business leaders be any different? Mastery takes practice, and so we focus on facilitating hands-on leadership experience, both through experiential courses and outside of the classroom. Our students are incredibly motivated to get involved and to give back to the school and beyond. Through our practicums, our students are able to work closely with non- and for-profit companies across the United States, in Latin America and in Africa to deeply impact those organizations. Fuqua also has "Fellows" programs for most every department at the school, where the students partner with the administration and faculty to further the interests of the school. For example, our Admissions Fellows are second-year students who are selected and trained to conduct all of our on-campus interviews. They are helping to select their legacy – the students who will come behind them and shape the school in the future. If you look across Fuqua – from our Global Academic Travel Experiences (programs where you study a region of the world for a term and then spend two weeks on the ground immersed in it), to our symposiums (full-day conferences focused on industries such as Energy, Entrepreneurship and Venture Capital and regions such as India and Africa) – the incredible activities going on are student-initiated. The students are deeply invested in shaping their own experience and, in the process, are practicing to be the global leaders that they will be in the future.
CA: Walk us through the life of an application in your office from an operational standpoint. What happens between the time an applicant clicks "submit" and the time the committee offers a final decision (e.g. how many "reads" does it get, how long is each "read," who reads it, does the committee convene to discuss it as a group, etc.)?
ML: Once an applicant hits the submit button on our online application, our operations team communicates regularly with the applicant to ensure that all of the required materials have been received, including official test scores, recommendations and scanned copies of official transcripts. Once complete, each file is then distributed to an admissions committee member for an in-depth evaluation. Each application is read independently (from cover to cover) by at least two members of the admissions committee. If an applicant was not able to visit Durham during our open interview season (mid-September to mid-October), then they will be discussed in committee to determine whether an interview invitation will be extended. If invited, applicants are able to preference interviewing on campus or with one of our alumni in a number of convenient locations across the globe. All applicants are presented to the Admissions Committee for discussion and the admission decision. There is equal weight assigned to all factors in the evaluation process, which means that our decisions are never based on any one factor or criterion. The admissions committee seeks to admit students who represent a microcosm of the world. Each student's story is unique and allows us to create the diversity that is so important to the student experience at Duke. Scholarship decisions are also based on the overall strength of the application and are made concurrently with our admission decisions.
CA: How does your team approach the essay portion of the application specifically? What are you looking for as you read the essays? Are there common mistakes that applicants should try to avoid? One key thing they should keep in mind as they sit down to write them?
ML: I just recently wrote a blog post about our Daytime MBA essay questions for the 2012-13 application cycle and what specifically we are hoping to learn through them. It highlights some of the challenges that we face in admissions when creating our essay questions, as well as tips for how to approach our essays this year. We have introduced a list of 25 things as one of our essays and will be sharing highlights from the lists of our admissions staff and students throughout the year. I encourage prospective students to follow these blogs to learn more about our team as we learn about each of them through their applications!