Welcome to Fridays From The Frontline, Clear Admit's ongoing chronicle of the b-school blogosphere, from those just starting their application process on through second year students enjoying their last months or weeks of school. This week the applicants were a relatively quiet bunch while first and second year students had more to report and reflect upon as the days left of their school year began to dwindle. 
HammO visited Ross campus and enjoyed walking around campus, getting a sense of the student body and sitting in on a class. Sanket once again turned his attentions to studying for the GMAT and was loving it.
Chicago Booth '14 Cheetarah took on a number of common assumptions about the program that she thought were more like myths, including the kind of community vibe the school provides, as well as where the majority of students lived. McCombs '14 Curtis returned from a week-long trip to Southeast Asia and described some of the career management tools available to students at the Dallas/Fort Worth campus. INSEAD '13D learned valuable lessons about how to juggle responsibilities and commitments as her second period at INSEAD drew to a close. McCombs '14 Shelby asked her friends for possible topics for her blog post, but decided that recounting the looming departure of the second years was too sad, choosing instead to elaborate on other more upbeat events and activities.

INSEAD '13J Olga found herself surprised to be learning additional lessons so late in her time at the school, though the lessons were decidedly focused on the job search.  Ross '13 Judy enjoyed dancing with admitted students during the Ross Go Blue Rendezvous weekend.
And that's the news for this week. As the days get longer, we hope students and applicants alike have the opportunity to enjoy the sunnier days and lingering sunlight of late evening while still meeting all their b-school obligations. Until next week, have a great weekend!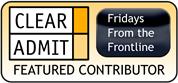 Want to join the Fridays From the Frontline community and see your blog featured regularly in this column? Just follow this link and add the FFF badge to your blog and then  email us at [email protected] with your URL so we can make sure to add you to our weekly roundups.