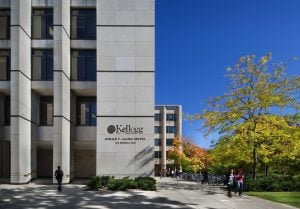 After a 7 percent drop in applications to its two-year, full-time MBA program last year, Northwestern's Kellogg School of Management saw double-digit application volume increases this year to all of its MBA programs, according to a recent article in Poets&Quants. Interest in the school's one-year MBA program for undergraduate business majors was especially great, with 30 percent more applicants this year over last, Kellogg Dean Sally Blount told P&Q.
Blount bragged about the school's waitlist, calling it "awfully beautiful" and noting that it is filled with candidates with GMAT scores of 720 and higher. She credited the school's new senior leadership team – as well as its strategy to build enrollment in its one-year program while shrinking its traditional two-year program – for the application volume growth. Kellogg last year increased the size of its one-year program by 15 percent, to 100 students.
Since joining Kellogg from New York University three years ago, Blount has been leading an effort to rebalance the school's degree portfolio. "It is not about growth. It is how do we meet the need for the marketplace for the best students in the world. It's all about building the best class of graduates," she told P&Q.
Business degrees make up 20 percent of all undergraduate degrees granted in the United States in the past 15 years, and people in their 20s feel like they have less time, Blount told P&Q. These factors taken together underscored the potential appeal of the one-year program. "We are the only top-tier school that has been in that market with this program," Blount said.
In addition to increasing its one-year enrollment and shrinking its two-year program, Kellogg has also launched an accelerated part-time program at its downtown Chicago building for students with undergraduate business degrees. And in August it will pilot a new one-year MS in management studies for Northwestern undergraduates without a business background. "It's the equivalent of an undergraduate business and the first year of the MBA degree," Blount told P&Q, adding that the inaugural class will have 30 students. Eventually, Blount hopes to enroll between 100 and 200 students in the new program each year, although she did not disclose when the program will expand to include students from outside Northwestern.
Read the complete P&Q article, "Double-Digit Increase in Kellogg Applications."
For more on Kellogg's admissions strategy, don't miss our Admissions Director Q&A with Kellogg's Kate Smith.