Dartmouth's Tuck School of Business Confers First MBA/MPH Joint Degrees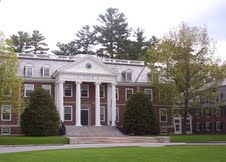 Two members of the graduating Class of 2013 at Dartmouth College's Tuck School of Business earned not only an MBA while there but also a master's degree in public health (MPH). Kate Head and Catherine Augustyn were the first recipients of the new joint degree, which Tuck now offers in partnership with The Dartmouth Institute for Health Policy and Clinical Practice (TDI). 
The new program is designed for students who want to combine Tuck's comprehensive MBA program with TDI's deep dive into health policy and clinical practice issues. "The combination of those two programs we thought would be a really terrific marriage," Paul B. Gardent, an adjunct professor of business administration at Tuck and director of the joint degree program, said as part of an article published in Tuck's online newsroom. The joint degree program is an outgrowth of the Health Care Initiative, an effort launched in 2008 to expand healthcare-focused courses and career resources at Tuck.
Head and Augustyn were drawn to the MBA/MPH joint degree because it offered them an opportunity to develop and implement the tools of management education to address the challenges and complexity of healthcare. Now, they will both apply the skills they have gained in leadership positions in this highly specialized field. Head joins the Chartis Group, a consulting firm serving medical centers, and Augustyn will go to work as a project manager under the chief financial officer at Massachusetts Eye and Ear, an affiliate hospital of Harvard Medical School.
The joint degree program integrates TDI's one-year, 56-credit, full-time MPH degree program into Tuck's two-year MBA program. Completing three years of education in two years' time is challenging but manageable, according to the first two joint degree graduates. "You lose some of the travel opportunities in the MBA to do the MPH coursework, and you sacrifice a little relaxation time in your second year, but I think it's worth it," Head said in Tuck article.
Gardent sang the praises of the program's inaugural students. "If our first two graduates are any indication, our MBA-MPH joint degree students are going to really enrich both the Tuck and TDI student bodies. And we know these graduates will play a leadership role in improving health care," he said.