Hello and welcome back to Fridays From the Frontline, Clear Admit's weekly perusal of all the news in the b-school blogosphere. This week was quiet on the student front, but crowded with posts from both bloggers who will be matriculating to b-school this year and MBA applicants.
Hamm0 explains his dread at having to attend his company's Diversity Day and talks b-school recommendations and essays. PPandey87 announces that he is moving to NYC. MBAgirljourney tries to develop a standardized scorecard for MBA admissions consulting firms.
MBA Over 30 discusses the importance of sincerity in the MBA application process.  Pru documents all the little details that go into preparing to matriculate to Chicago Booth, including applying for loans, discussing co-signers, and finding a roommate.
INSEAD '13 
Olga 
documents the school's 
Italian Week
 with ample photographs of fine Italian wine, meats, cheeses and inevitably togas. McCombs '14
Gloy
notes
how many people she's met
in her first year of MBA study.
Finally, we hear this week from a b-school blogger turned real-world blogger, as HBS '12 graduate Pankaj reflects on his first year as a manager post MBA.
That's it for this week's Fridays From the Frontline. We hope all our readers are doing well at their summer internships or finding a bit of time to relax before it comes to the real crunch time for matriculating or applying to b-school. Until next week, enjoy the start of summer!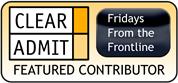 Want to join the Fridays From the Frontline community and see your blog featured regularly in this column? Just follow thislink and add the FFF badge to your blog and then  email us at [email protected] with your URL so we can make sure to add you to our weekly roundups.