Hello there and welcome to Fridays From The Frontlines, Clear Admit's weekly blog post dedicated to tracking the latest news in the b-school blogosphere. This week second year students were generally a quiet bunch, while the new class and applicants were a bit more vocal. 
HammO compiled application advice videos and statements from representatives from Wharton, Darden and Tuck.  MBA Girl Journey recounted her campus visit to Columbia, which included sneaking into the library. Pandey found the broader questions asked by many b-schools this year a little harder to approach.
Booth '15 Pru described the lengths she went to take a bus to the Bangalore airport and also reported the dialogue she had when getting her I-20 visa approved. Anderson '15 Andrew discussed the process and value of the pre-orientation career self-assessment tool. Tuck '15 Sylvia continued to describe her journey from China to Tuck's campus.
INSEAD '13J Jianggan bid the program and his classmates a fond farewell.  Anderson '14 Buzz happily debunked five application myths as they applied to Anderson.
And that's a wrap for this week's edition of Fridays From The Frontlines. We hope that as more applicants begin chronicling their application process – and more new students settle into their new b-school lives – we get to hear about it from new sources and locations. Until next week, have a great weekend!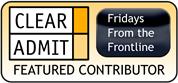 Want to join the Fridays From the Frontline community and see your blog featured regularly in this column? Just follow this link and add the FFF badge to your blog and then  email us at [email protected] with your URL so we can make sure to add you to our weekly roundups.