As we mark Veterans Day on November 11th, current NYU Stern MBA students and veterans, Tommy Jaeger and Mike Goodman, shed some light on the school's Fertitta Veterans MBA program. Read about their personal histories and what they found post-military at the leading business school.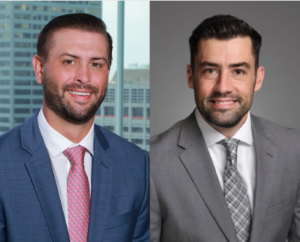 Tommy Jaeger: I served six and a half years as a US Army Armor Officer after graduating from the United States Military Academy in 2015. My time in service can be broken up into three parts: a platoon leader, an executive officer, and a staff officer. The one consistency across all three jobs I had was that I was leading Soldiers and could see the impact I was having on all the teams I was a part of. By the end of 2021, I had realized that I had achieved and done all the things I wanted to do in the US Army and it was time to think about the next steps. Thankfully, there are tons of resources available to service members to help them transition. I was introduced to the idea of getting an MBA by friends and mentors both in and out of the Army. I applied to seven schools and was fortunate enough to have several options. Ultimately, I chose NYU Stern because of the emphasis they put on helping veterans transition into the civilian world and premier access to the epicenter of business in New York City. I also loved the idea of being back near my alma mater in West Point.
As I reflect on the last 15 months, I have come to realize that I couldn't have made a better decision. I have landed my dream job, met lifelong friends, and been supported by the institution and community at Stern. I love this place and will be forever grateful for what it has done for me, my family, and my fellow veterans at the School.
Change: Embrace it!
Tommy: Leaving the military was going to be a monumental change to my life. I was leaving behind a steady career where I had been building my craft for over a decade. To say it was going to be a big change was an understatement. The best way to manage that change was by fully embracing it, and I knew Stern was going to ease that transition more than any other school.
Through the support of Stern's Fertitta Veterans MBA Program and the Military Veterans Club, I dove head first into the MBA experience, the community, and life on the other side of the military.  Now, 16 months later, I can confidently say that embracing this change and choosing Stern were the two best decisions I have made since joining the military. I feel confident that I will be successful as a consultant upon graduation. I have made lifelong friends and will forever be indebted and grateful for this school, the opportunities it has provided me, and the friends I have made along the way.
Mike Goodman: I served four and a half years on active duty as an Artillery Officer in the Marine Corps. I spent the majority of my time in the Marines serving as a Platoon Commander and Fire Support Officer, leading diverse teams and working cross-functionally with other units to provide ground and air support. My last assignment was a deployment to Iraq in support of Operation Inherent Resolve, where I worked with multinational partner forces to eradicate ISIS from Iraq and Syria. My time in the military provided me with an opportunity to lead diverse teams, work with various countries and showed me how important it is for all of us to be working towards a common goal.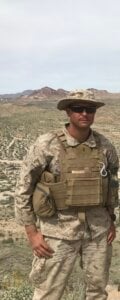 Following my departure from the Marine Corps, I worked in the corporate sector for a few years, most recently with an executive search firm called Russell Reynolds. Through my time there and in the Marine Corps, I recognized the need to improve my business acumen and decided to pursue an MBA. I was fortunate enough to know multiple people at Stern, and the more I learned about the school, the more I realized that this was the place for me.
In reflecting on the past year and a half, I feel like I could not have made a better decision. From the Fertitta Veterans MBA Program summer session, to now, I have developed lifelong relationships, improved my business skills, and assisted in other veterans' transition to Stern.  One of my favorite parts of Stern is how everyone is willing to help each other, and I think the Military Veterans Club embraces that daily. I will certainly miss Stern when I graduate, but I am forever thankful for this experience and could not imagine doing this anywhere else.
Change: Drive It!
Mike: My career from the Marine Corps, to the corporate sector, and now at Stern has been full of change. Being able to embrace that change and find peace in being uncomfortable has been a key to my career and my time at Stern.
The Fertitta programming over the summer allowed me to develop strong friendships with fellow veterans, and our tight-knit group had each other's backs while we tackled the high-pressure world of job hunting and the demanding academic challenges. Here at Stern, I've not only honed my leadership and business skills, but I've also evolved alongside my amazing classmates, forging connections that will support us throughout our lives and enable us to pay it forward.