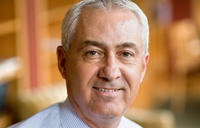 Assistant Dean of Career Management Fred Staudmyer has been leading the Career Management Center at Cornell's Johnson School since September 2009, and he brought decades of executive recruitment and human resources experience with him to the role. Just prior to joining Johnson he led the Garrett Sayer Group, an executive search firm focused on the technology, financial services and consulting industries, and he held a range of other senior positions focused on human resources and recruitment before that.
In our interview, Staudmeyer shares his most important objectives as head of Johnson's Career Management Center, his plans to expand his team of career advisors – including to support a new MBA program in New York City as part of the Cornell Tech Campus – and the book he recommends all Johnson students read to best structure their independent job searches.
Clear Admit: How do you view your role as director of the Career Management Center? Is it to administer workshops? Counsel students? Counsel companies? Manage the entire office and oversee its various functions? All of the above?
Fred Staudmyer: All of the above. The most important objectives I have are
1.       To understand the career needs of our students, how they trend, what our students are seeking and to put together programs and innovative events that will help students to self-assess, explore alternative careers, make a career decision and then build an Individual Career Plan constructed to achieve their goal.
2.       Build, train and retain a high performing staff of career advisors who have strong career coaching skills, industry credibility and knowledge and who can make connections for our students to use in their job search.
CA: Now, about your team. How many career advisors do you have? Is this a relatively constant figure? If not, how has it changed in recent years? How might it change in the near future?
FS: We have seven career coaches including myself. We also use alumni coaches and paid external executive coaches. We are planning to add two additional staff next year because our support for our two Executive MBA programs has increased and, as we build a new MBA program in NYC as part of the Cornell Tech Campus, we will need additional staff.
CA: Can you provide prospective applicants with an overview of the recruitment process at Johnson? When does it start? How does it unfold?
FS: The recruitment process begins in the fall but career prep begins even before the students arrive….webinars, blogging, suggested reading, MBA math camp, etc.
CA: How has the economy impacted recruitment at Johnson? How have you and your staff remained flexible or adapted in order to help students navigate a more challenging job market? Have you encouraged flexibility on the part of students themselves?
FS: The economy hurt the MBA job market in a big way in 2009, but the demand for top MBAs has improved each year since. We are almost back to employment rates of the 2007 peak…but not fully there. Students' career goals have changed somewhat in that fewer are going into banking and more are going into the management consulting field and into technology companies. Students today need to have a job search plan that includes not only on-campus recruiting, but also an aggressive independent job search plan. We love Steve Dalton's book, The Two-Hour Job Search, and train our students on how to structure an independent job search using Dalton's system.
CA: How does your team counsel students regarding the interview? Is there a formal mock interview process? How are interview schedules administered? Is there an established policy regarding how closed and open interviews should be conducted? What facilities are available for interviews?
FS: We train all our students in interviewing skills, and they must have at least two mock interviews before recruiting…one with our external consultant who conducts video-taped individual interviews and one with a career advisor in their area of interest.
CA: What kind of role do alumni play in Johnson's recruiting process? How integral are they to your office's success? Is alumni participation a major part of your placement platform?
FS: Alumni are a cornerstone of our students' success. They coach, mentor, act as career panelists, conduct mock interviews and act as executive champions at their companies in recruiting our students. The Johnson alumni network is highly visible, very committed and, like our school, focused on each student's career success.
CA: Do you have any advice for prospective applicants in terms of what they might do in advance of the MBA program to be better prepared for the job search process? In your experience, do you find that students who have done x, y or z before arriving on campus have a more successful experience with career services and the job search as a whole?
FS: This is a big question and to some extent depends on what the student's goals are. What I will say is that students who have thoroughly researched the career areas they might be interested in before coming to business school, and can decide within a month of arriving what their specific goals are, are more likely to achieve them. Knowing yourself and your competitive advantages and having goal clarity are big determinants of getting that right job on schedule.