Hello and welcome to Fridays From The Frontline, Clear Admit's weekly blog post focusing on the lives of the b-school blogosphere. This week many an applicant discussed the GMAT, while first and returning students happily got involved on campus.

BSchool Admit responded to a series of questions posed to her through the Liebster Award and then sent her own set of questions forward to 10 blogger friends. Domotron made a series of changes to his resume to make it a more reader-friendly length and style.  ExpectingMBAMILF checked in on an online Haas admissions chat and wondered who exactly would need to ask what the GMAT was in such a forum. GMATToMBA recounted the process and lengths he went to prepare for and retake his GMAT and the very satisfying results of all his work. Sarah began to strategize on how she would handle moving to a new apartment while simultaneously studying for and taking the GMAT.
McCombs '15 Raghav introduced himself to the McCombs blogging community and shared some of his greatest passions. Harvard '15 Keima wrote a short post about the first official day of the program, which included meeting her section mates. McCombs '15 Charlie also introduced himself to his new readers with a dose of humor and a photograph of his dog. Chicago Booth '15 Pru warned her readers that her post was going to be a long one, but assured them that each anecdote shared would help them reach the same conclusion she had: "Boothies are fun!"
Tepper '14 Ccatcher had a long day ahead of her but would consider it a success if she managed to make it to the gym by the end of it. McCombs '14 Cindy returned to campus and created a list of "18 Signs that You're a Second Year" student at the school's Houston campus. Chicago Booth '14 Cheetarah visited with MBAOver30 and created her own list of highlights from her internship at Google. Anderson '14 Kyle also shared some information about his summer internship as well as a number of photographs from orientation events.
And that's all they wrote this week for Fridays From the Frontline. We hope you had an enjoyable last few days of August, and that the first week of September has been going swimmingly. Until next week, have a wonderful weekend!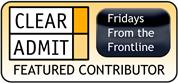 Want to join the Fridays From the Frontline community and see your blog featured regularly in this column? Just follow this link and add the FFF badge to your blog and then  email us at [email protected] with your URL so we can make sure to add you to our weekly roundups.