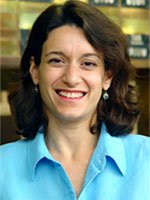 This week as part of our continuing Career Services Director Q&A Series, we touched down in Texas. Stacey Rudnick, director of MBA Career Services at the McCombs School of Business at the University of Texas at Austin, took time to participate, and we're so glad she did.
Rudnick has been the MBA Career Services Director at McCombs for nine years, and before that she worked as a senior associate in career services at her alma mater, Emory University's Goizueta Business School.
"I got into this because when I went to business school I had a really fabulous career advisor," she tells us. Though her jobs immediately out of business school – with Eastman Kodak and later in consulting with Viant – were not related to career advising, she kept in touch with that advisor from school, receiving more than one offer to come back and join Goizueta's career services team. At the time of the second call, the job represented a perfect career opportunity at the right time in her life, and she jumped at the offer.
Moving from Goizueta to McCombs was a big change. "Texas was an entirely different place for me in terms of geography, even though I have lived all over," she said. But despite not knowing a single person there, she has been thrilled with the move. "Austin is an incredible city, and McCombs and the University of Texas as a whole is a wonderful place to work," she says. "Austin is my home now, and I am lucky that McCombs has given me the opportunity to grow and develop in my role as career management has grown for Texas MBAs."
Read on to learn about McCombs' luxurious 43-room interview suites, the ways in which Rudnick and her team are trying to expand recruiter involvement, the three things she thinks students should do before starting an MBA program and much more.
Clear Admit: How do you view your role as career services director? Is it to administer workshops? Counsel students? Counsel companies? Manage the entire office and oversee its various functions? All of the above?
Stacey Rudnick: My job is first to manage the office and all of its functions, part of which is recognizing that a career office serves a lot of different constituents – students, recruiters, alumni and more. Beyond making sure that the office is running smoothly, I am focused on preparing our students to interview at the highest level they can, both now and in the future, and that we are getting the best possible talent in the door.
Part of my job is working proactively with admissions across all six of our MBA programs so that we are setting expectations with our students as they come into the Texas MBA for what they can expect to get out of business school. I also like to stay personally involved with the students. I got into this business because I loved counseling and coaching students, so I try to keep my hands in that as much as I can. Career education is a big part of that. We are grooming students not only to interview at an MBA level but well beyond that. The way I see it, our graduates will spend a lot of time interviewing for other jobs later in their careers as well as managing, interviewing, recruiting and retaining talent for their organizations. I don't just want them to get good at interviewing for themselves, but also for the organizations they are going to be part of.
Of course, another responsibility of the office is that we need to bring in a diverse set of employers. We have made some changes over the years that reflect the changes in MBA student interest as well as changes in hiring across industries and economic shifts. Most recently we have created a new advising position for our Dallas program in that city who will also assist with corporate outreach and expanding our presence at SXSW Interactive and national career fairs. Our Employer Relations team is dedicated to working with existing employers, cultivating relationships with new ones and creating new events to foster opportunities for our students to network.
In addition to the McCombs full-time and evening MBA students, we also serve Executive Education students and working professional students from our programs in Dallas/Ft. Worth and Houston. An increasing number of our Executive Education and working professional students today are seeking to make significant career transitions, so we have a full working professional career advising team that is now part of our broader MBA career management umbrella. The fact that we serve not just just full-time MBAs but all six of our MBA programs has helped us broaden our overall recruiting network.
CA: Now, about your team. How many professionals do you have? Is this a relatively constant figure? If not, how has it changed in recent years? How might it change in the near future?
SR: We have a staff of 13 including me – three in employer relations, three in working professional, five in full-time advising and one who works in administration. In the time I have been here the staff has grown to accommodate needs and additional services in the working professional and employer relations areas. One of our full-time advisors focuses on our international student population, who comprise more than a quarter of the class. We also have more than 20 second-year peer advisors and a variety of student workers who assist us throughout the year.
CA: Can you provide prospective applicants with an overview of the recruitment process at McCombs? When does it start? How does it unfold?
SR: We begin introducing first-year students to the recruiting process as part of orientation – and, in fact, even earlier. All students are working on their résumés over the summer before they come. We typically have career panels during orientation that explore the major and niche career areas – corporate finance, consulting, marketing, real estate, private equity, investment banking, operations, etc. These are meant to be a warm introduction to those industries, and they are typically staffed with alumni to provide a safe environment where students can talk to recent graduates and get a feel for whether it is an industry they want to get into or not.
We move from that into our fall career fair and career class. Our first-year full-time students have a core career services class that is designed to get them prepared for spring semester interviews. We use the career class as dedicated workshop time to work on résumés, cover letters, pitches, interviewing skills, behavioral skills, case skills and more. All students will have at least one mock interview as part of the class, and most will have more than that. The students start submitting résumés in November for interviews in January.
Which brings us to Super Week – pre-term internship interviewing for consulting and investment banking that takes place in the week before spring classes begin. After that, the first seven weeks of the spring semester continue to be pretty heavy for internship interviews. In addition, we try to get a lot of our first-year students out to visit companies. We have treks to the Bay Area for high tech, a marketing trek in Seattle, a corporate energy/clean tech trek, banking treks in Houston and New York, a consulting trek in Dallas, etc. What began as three treks when I first arrived at McCombs has grown to more than a dozen.
The second-year interviews for full-time positions typically start in the middle of September and run through the fall semester, with just-in-time recruiting for smaller and mid-sized firms happening in the spring. So that's the on-campus process. There are also job boards, numerous networking events, virtual and geographic career fairs, student organization functions and other student-led treks as well.
CA: What recent or impending development within MBA Career Services are you, your team or McCombs students most excited about and why? 
SR: I think that our expanded events and recruiter involvement are the most exciting things for all three of those audiences. We are doing some truly innovative things that capitalize on what is uniquely Austin. Our involvement with SXSW Interactive and the tradeshow in the last two years is a great example of that. It has enabled us to have a presence within the technology and entrepreneurship sectors, which are growing interest areas for students. We are very excited that the national career fairs for NSHMBA, National Black MBA Association and Consortium are all in Texas this year, so we will be very involved in those.
CA: How does your team counsel students regarding the interview? Is there a formal mock interview process? How are interview schedules administered? Is there an established policy regarding how closed and open interviews should be conducted? What facilities are available for interviews?
SR: There is a formal mock interview process as a part of the career class for first-year students and for our Working Professional students as well. We have students do mock behavioral and case interviews both with peer advisors and with staff. For formal "mocks" the students sign up for these by industry sector, so they can sign up for a mock investing interview, consulting interview, real estate interview, etc. They have to be in a suit, and they are interviewing with second-year peer advisors or staff. They do that about halfway through their first semester.
In terms of how interview schedules are administered, all students submit résumés online, which are sent to recruiters who review them and select candidates. The selected candidates can then pick their interview spots from the times and dates available. It is a closed process, but then we encourage all employers to select alternate candidates.
We have a 43-room interview suite. It is a very large facility because we service all of the undergraduate business students, masters of accounting, full-time MBA students—all business students interview here. The suite is beautiful. We also do our mock interviews in the suites, so students get the experience of coming up to that space prior to doing their actual interviews. We run more than 12,000 interviews a year through that facility. It is an exceptionally professional space that provides a very comfortable experience for both the students and the recruiters.
CA: What kind of role do alumni play in McCombs's recruiting process? How integral are they to your office's success? Is alumni participation a major part of your placement platform?  
SR: Our alumni are absolutely critical in all aspects of our recruiting. They are heavily involved with student clubs and organizations, and they come back for career fairs, case challenges, special events and recruiting on campus. Alumni are a major part of the network that is involved with students landing a job, including a lot of the recruiting that takes place off campus.
We are always excited to welcome our alumni back to campus. If you are an alumnus of the program and come to visit, the first thing we do is place a Longhorn sticker on your nametag so everyone can identify you.
We really use that McCombs alumni network to drive our recruiting. A lot of their role is in encouraging campus involvement. They are a big part of getting companies more involved on campus and with students – be that with case challenges, treks, sending speakers for the classroom, sponsoring a tailgate or hosting a "day in the life of a CPG manager" for the marketing club.
Our alumni are involved most deeply at the student level. The strength of our alumni base is a combination of their loyalty to the school based on the experiences they had here and the work we do to nurture and grow those relationships. That's a big part of what our advisors do as well as our team devoted to employer relations.
We continually welcome alumni and update them on the ever changing profile of the class because their experience is always going to be a little different than the classes that come behind them. So the further they are from graduation, the more we need to keep our alumni up to date on the students, academics, admissions, etc.
CA: In your experience, do you find that students who have done x, y or z before arriving on campus have a more successful experience with career services and the job search as a whole?
SR: I have three main recommendations. First, most people let their employers know pretty far in advance that they are going to be leaving and heading to business school. What a perfect opportunity this presents to start talking to people at your current company about your future goals. Go to your company's marketing department and explain that you are headed off to business school and really interested in a career in marketing. Utilize the resources at your disposal to learn as much as you can about your future career path.
Second, I always tell them to read the business press. When you start an MBA program, you are going to go from reading a lot of email, which is very short, to reading long cases for class. Reading the business press will help you get your business vocabulary back up if it is not already sharp and will be important in preparing you to digest huge amounts of information in a really short period of time.
Third, consider the impact of your GMAT in your career search. It is still a screening tool for recruiters, beyond its use for getting into business school, especially in consulting and investment banking. Depending on the industry you are targeting, it might be worth taking the exam again to get a higher score. It's not all about the GMAT, but it does make a difference.
I also tell prospective applicants that the first semester of any MBA program is very academically rigorous, particularly for students who are coming in that may not have a strong math, accounting or statistics background. If you are coming from a liberal arts educational background there is a lot that can be hard to digest, so anything you can do to better prepare yourself before you hit the first semester is a good idea.
Beyond that, take a break before you go to school if at all possible. Give yourself some time to recharge, to get acclimated to the city before orientation or just to relax, because things are going to get very intense very quickly.